TONE and VidOvation To Offer Audio Activated User-Engagement Technology for Live Events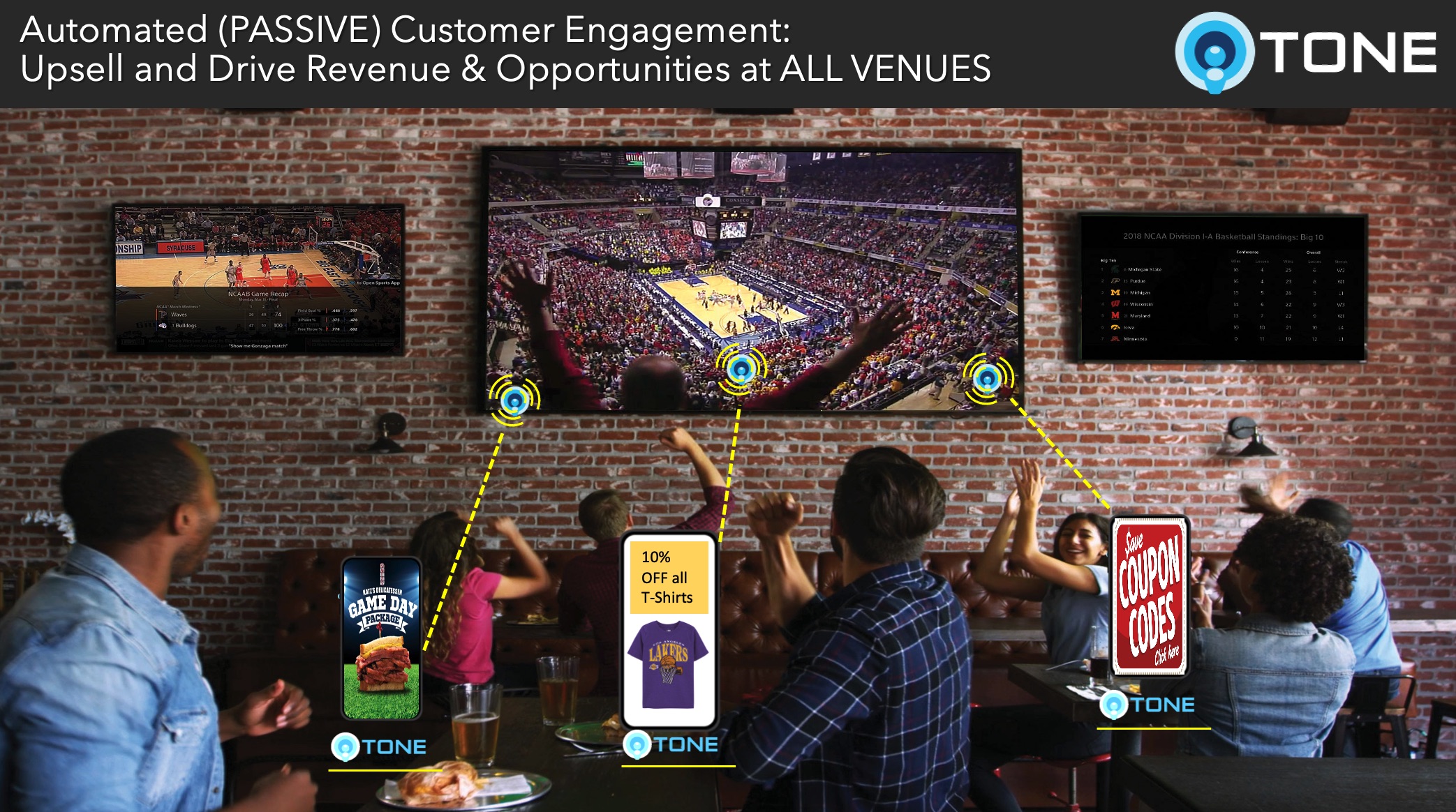 The TONE® Knows and VidOvation today announced a partnership to integrate TONE's direct-to-device marketing and analytics technology platform with VidOvation products and services in the broadcast, production, streaming, and Pro AV markets. This partnership will give VidOvation customers the ability to run video, audio, and data transmissions enabled with TONE to broaden user engagement in live events.
TONE's personalized Audio Activated QR™, with its patented TONE Technology™, gives consumers the ability to connect with their favorite brands during live events. In its simplest form, TONE delivers tiny fragments of engineered audio, aka TONE Tags®, through any audio-based delivery system. When combined with a TONE-enabled mobile app, it listens to beacons or transmitters for audio QR codes embedded in the audio tracks of film, television, advertising, digital signage, and other media. This embedded code gives the mobile app the geolocation of a user's device, identifying the media they are engaged with and pinpointing their location at a live event. By passively engaging the user with personalized content, its delivery is based on the user's location and promotional information within their vicinity, making the mobile app a perfect companion for organizations involved with live events — including trade shows, sporting events, live television, cinema, and retail sales.
"TONE is excited about the opportunity to be partnering with VidOvation," says Tom Webster, founder, president, and CEO of TONE. "Having TONE become part of VidOvation's suite of offerings will expand a brand's reach capabilities at live events, whether that's instantaneously on the field or at a concert, in their seats, at the concession areas or in pre/post programming. With TONE, VidOvation will be able to help their customers' brands build deeper fan loyalty, create new revenue opportunities, and provide the advertiser with real-time analytics."
Jim Jachetta, executive vice president and chief technology officer at VidOvation, said, "Integrating TONE technology into our existing product line will enable our users to provide enhanced experiences for their customers at just about any event. Imagine being at a hockey game and an offer to buy your favorite player's jersey is pushed to your phone when they score a goal. The system knows you are at the live game, and the mobile app profile knows the team, players, and sports you follow. It's that kind of automation and streamlining of the connection between the consumer and the brand that make it a very dynamic tool and powerful service."
VidOvation will feature TONE at booth W2113. To schedule a meeting, visit