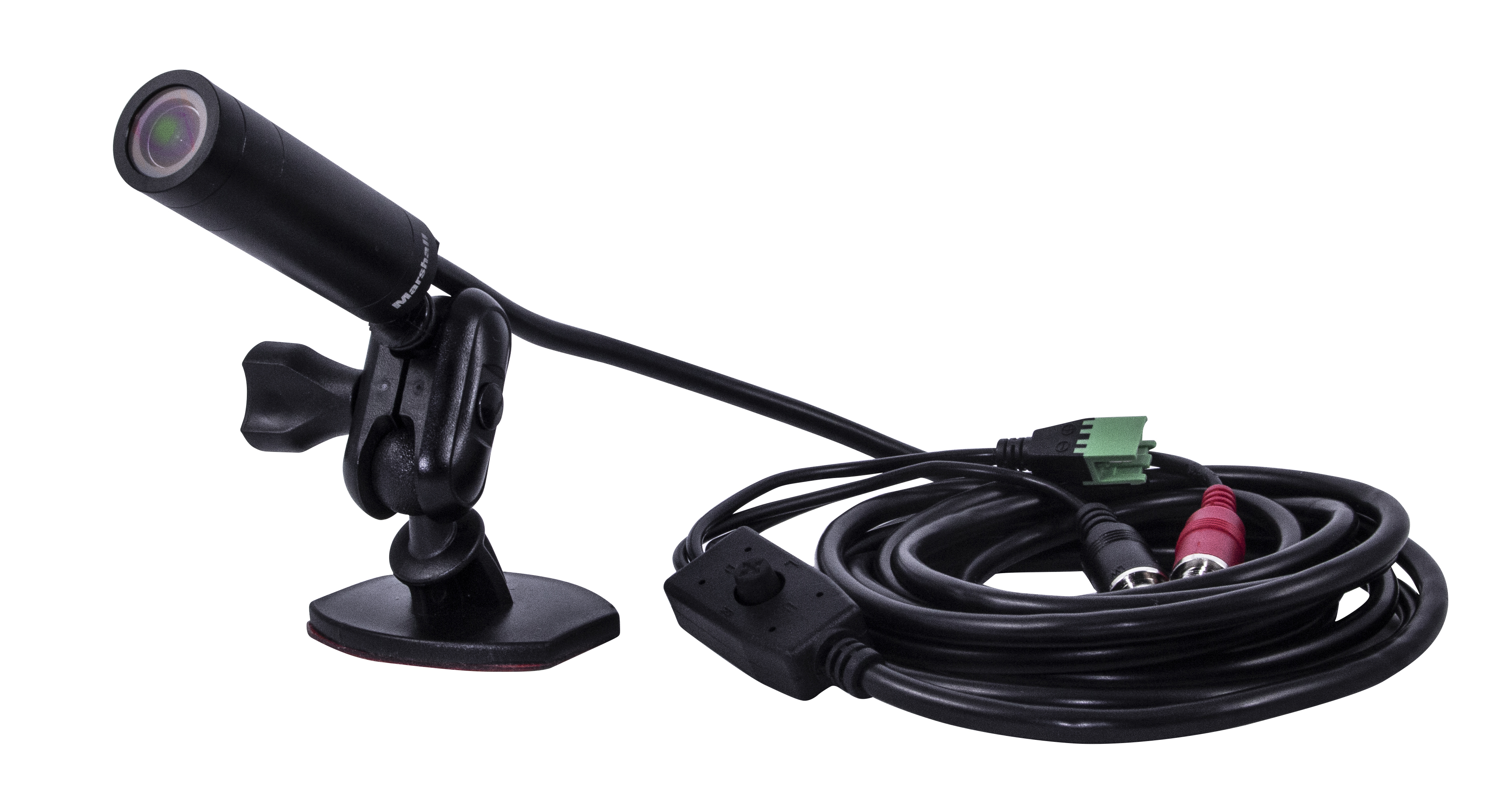 Marshall Electronics is announcing the next generation of Marshall POV cameras developed around a brand new highly optimized Sony sensor at NAB 2023 (Central Hall, Booth C5520). These new models will elevate the Marshall POV cameras to the next level of technology delivering improved video performance with cleaner, crisper images, greater pixel sensitivity and better color reproduction. Complementing the new sensors with high end processors further refines signal structure and enhances depth of remote adjust and match capabilities.
The Marshall CV226 All-Weather Lipstick camera was the first model to make the upgrade and is now offered as the CV228 All-Weather Lipstick Camera. The CV228 has 3GSDI, remote adjust/match, swappable lenses and improved video performance. The camera also has the added ability for firmware updates to be performed in the field matching all other Marshall POV cameras. The new CV228 is also designed with additional cable reinforcement and flexibility to cater to the usual heavy use of these models. In the development timeline there will be several additional models making the switch to the new design, including the CV503 to the CV504, the CV506 to the CV508 and the CV344 to the CV348.
Marshall is also introducing two new POV camera models, the miniature CV570 and compact CV370 models, which add NDI|HX3 network capability with standard IP as well as SRT codecs. The Marshall miniature CV570 and compact CV370 will use the same lenses as other Marshall POV cameras and is equipped with the same new Sony sensors. "Adding a networkable POV camera model capable of NDI|HX3, IP and SRT is a game-changer and really exciting for Marshall," says Tod Musgrave, Director of Cameras for Marshall Electronics. "We plan to make this expandable to Dante AV-H later in the year."
POV cameras have become an industry standard in live production workflows over the past decade.  The latest POV cameras from Marshall feature slightly larger physical pixel size, capturing more light information with greater sensitivity in low-light environments and has the same ability to reach into the IR wavelengths, when applications require it.
"You would be surprised how many broadcast and production events require a unique and unobtrusive angle of view, such as live concerts, reality television, nature observation programs, stage production, live sports production, news outlets, etc.," adds Musgrave. "The strategy to shift all Marshall cameras to Sony sensors was carefully vetted based on capability and development potential, then refined in signal processors to complete the package and the new models were born. This continues the Marshall heritage of broadcast quality and performance at affordable price points, while pushing the boundaries of technology at this size."