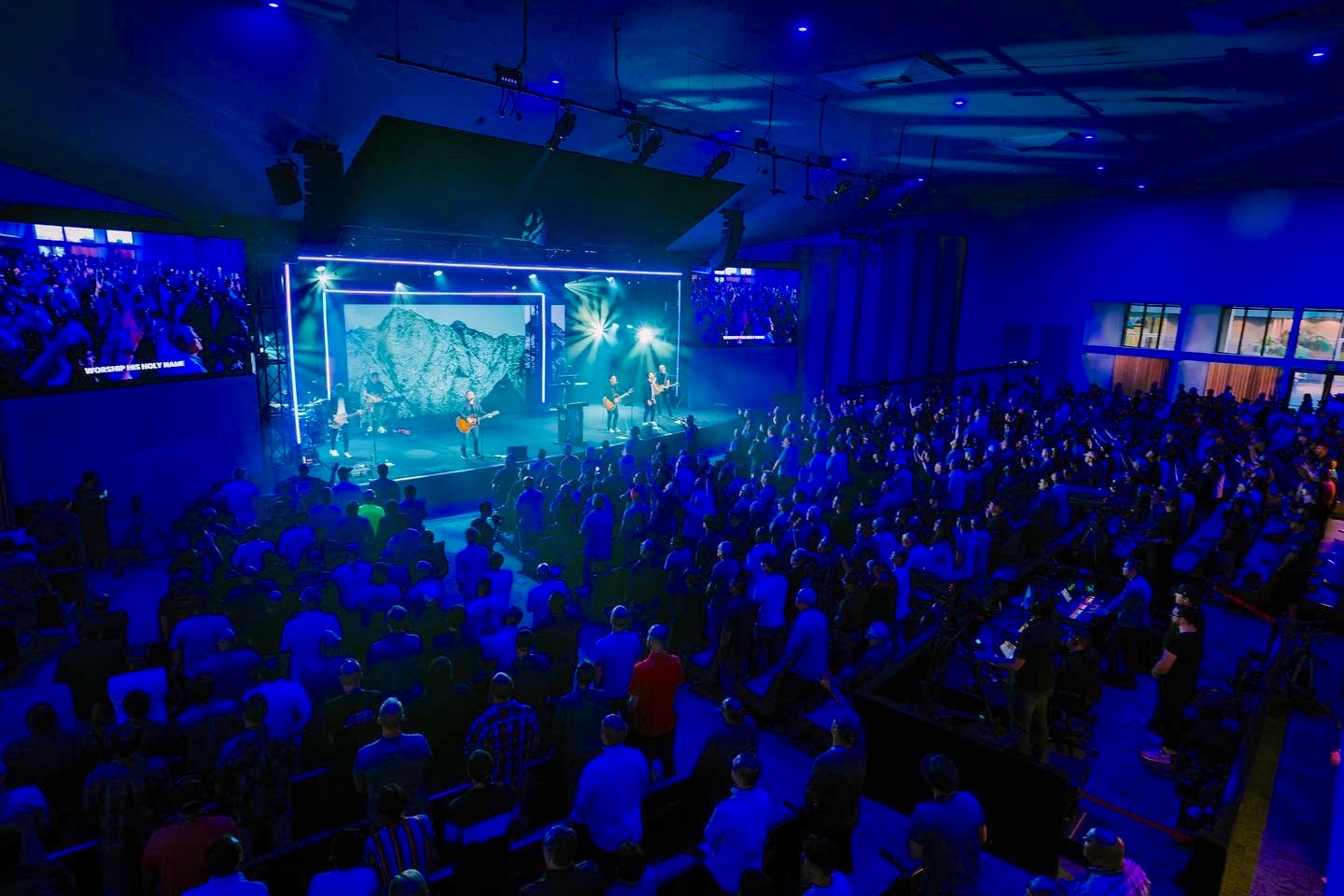 Harvest Christian Fellowship Installs d&b Loudspeakers
Harvest Christian Fellowship is a large multi-site church with over 20,000 in its congregation. Founded in 1973 by Greg Laurie, he is still the senior pastor to this day. Harvest Christian Fellowship is the eighth largest church in America and third largest in California, with dedicated campuses in Orange County (Irvine, California) and Riverside County (Riverside, CA), and Maui, Hawaii. As well as being the launching pad for the International Harvest Crusades, Harvest is known for its music-inspired contemporary worship.
Recently, the 2500-seat Riverside, CA campus installed d&b Y-Series for the main loudspeaker system and E6 loudspeakers for the under balcony in its sanctuary. The system was designed and installed by E2i Design (Brighton, MI) with support from d&b audiotechnik US. The Y-Series is small format, high performance 2-way passive line array system capable of extended low frequency response down to 54Hz. The E6 loudspeaker is a versatile 2-way compact coaxial loudspeaker with an extensive range of accessories for easy deployment in almost any situation.
"We had a 15-year-old d&b Q-Series system so it was time for an upgrade," states Christopher Eguizabal, Production Supervisor at the church. "We based our decision to install the Y, that provides the needed SPL, and E-Series because d&b audiotechnik is a quality brand that we have trusted for many years, and the two systems provide clarity and plenty of headroom." d&b's Zach Brady and Mark Rush were both involved in the design and implementation of the system. "We carefuly planned and configured the systems in ArrayCalc and determined we should use ArrayProcessing in the room."
"Given that the room has a main floor and a balcony, ArrayProcessing allows us to contour the tonality and level loss for these two vastly different listening planes, in other words, one mechanical array shape can provide very even tonality and coverage front to back of both main parts of the room," states Zach Brady, d&b applications specialist. "This is key to assuring that no matter where you sit, you get as close to the same experience as possible."
Brady said that given the room's deep balcony they decided to employ some under balcony fills to make sure the congregants seated underneath had coverage and intelligibility. "This is where ArrayCalc simulation software really come into play because we can take the real-world positions available for speakers and find the appropriate loudspeaker type and dispersion to reach our coverage goals. For the low-end reinforcement, we decided to go with two flown SL-SUBs in the center of the space. The dispersion of this sub in this center almost perfectly matches the shape of the room. It's very even from left to right and there isn't a power alley or dead spots. The sound engineers can then make things like the kick drum or bass consistent for everyone." SL-SUB is a triple 21" cardioid subwoofer that produces 144dB of precise impact and low-frequency extension.
Evan Hamilton, the CTO for E2i Design, as well as the systems engineer for this project stated, "E2i Design has had a long partnership with the Harvest team. Through that partnership, their design expertise, and an understanding of the vision that Harvest has for their worship experiences, we were able to create a system that will meet the needs of Harvest for many years to come. We knew the d&b Y-Series with ArrayProcessing would provide a system with both the impact and the technology to last them for many years, and one that will serve a dynamic and changing ministry as they continue to move their incredible mission forward."
On any given Sunday, the contemporary worship service includes a full band including drums, bass, 1-2 acoustic guitars, 1-2 electric guitars, keys/synth player, and up to five vocalists with guest artists on a regular basis performing various styles of music. "With having mixed on our new stereo d&b Y-Series PA with two SL-SUBS in the air and four 21S subs on the ground," states Bryan Goode, Production Coordinator and Audio Engineer. "I have had so much more headroom, clarity and stereo separation that our old PA was missing. The mix feels so much warmer and enjoyable to mix on every week."
"Working with E2i Design and d&b's techs to upgrade to a stereo system that complements our wide room was great," adds Brian Bauer, Senior Systems Engineer. "The power and phase response with the center hung SL-SUBs and Y12s makes it a joy to operate. Also knowing that we can arrive for each event and the d&b amps and speakers will just sound awesome with little effort or attention makes our job the much easier with our busy schedule."
Christopher Eguizabal said their previous d&b system ran rock solid for the time they owned it. "The design team knew a system that would provide a solid, long-lasting performance, while providing extreme clarity for preaching but also delivering the punch needed for our dynamic worship experience and various events that we host in the venue was essential to deciding on a PA for this remodel. Therefore, d&b was at the top of our list. The entire team, congregation, and pastoral staff is extremely happy with the amazing audio experience delivered through the d&b system installed by E2i Design."
For more information on E2i Design, visit www.E2iDesign.com.
For more information on the Harvest Christian Fellowship Church, www.harvest.church.
For more information on d&b audiotechnik products, visit www.dbaudio.com.