Bolin Technology Introduces World's First Dante AV™ Dual-Stream Cameras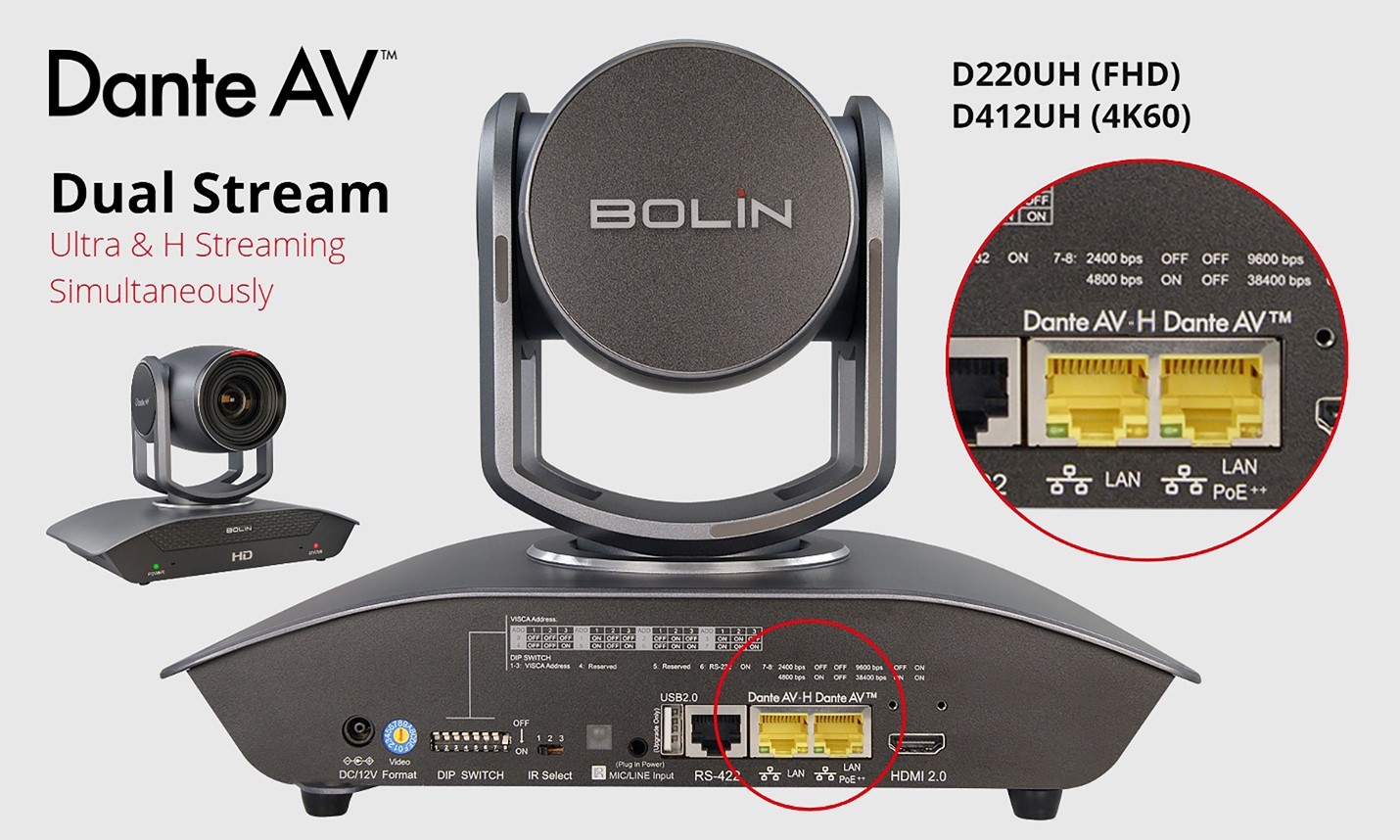 Bolin Technology expands its leadership in Pro AV with the introduction of the company's groundbreaking, dual-stream Dante AV PTZ cameras. Making their debut at ISE 2023 in Barcelona, the new D412UH and D220UH are the first PTZ cameras in the AV-Over-IP industry to offer simultaneous hardware and software codec streaming to multiple endpoints, providing total flexibility in network bandwidth and image quality selection. The D Series dual-stream cameras will be joined by another new D Series camera at ISE – the D2-220H Dante AV-H.264 camera – ideal for AV over IP applications.
Bolin Technology will exhibit in Hall #5 Stand H110 during ISE, which runs from January 31-February 3 at the Fira Barcelona Gran Via.
Using either the new D412UH (4K) or D220UH (HD) cameras, the user can designate a Dante AV Ultra or Dante AV-H stream depending on the output locations. No matter the need or destination, these dual–stream cameras can send the video flow that best fits the destination with the quality Dante-enabled devices are known for.
Prior to the introduction of the Bolin dual-stream cameras, integrators and customers were forced to choose between Dante AV Ultra™ or Dante AV–H™, which limits flexibility and video stream options from the primary video source. The D412UH and D220UH remove that limitation completely.
"With our new dual-stream cameras, it's not an either/or proposition for customers and integrators," said Hoi Lo, CEO, Bolin Technology. "This capability enables maximum flexibility when designing and deploying Dante AV™ when contemplating a choice between high-quality streaming and low-bandwidth limitations. With just one camera, customers can select either Ultra or H streams to send to multiple locations, depending on the application. If you have a giant screen in front of thousands of people, for example, you will choose Dante AV Ultra™. On the other hand, if you are using the stream for confidence monitoring or an overflow room, you may want a less bandwidth-heavy stream delivered to the overflow room than the main stage, so Dante AV–H™ is a good choice." Both streams are available for routing with Dante Controller and can co–exist on the same Dante AV™ network.
The hardware-based Dante AV Ultra™ video stream is designed for applications that need the lowest latency and completely synchronized audio and video, such as broadcast contribution. Dante AV-H™ is a software-only approach designed to allow equipment manufacturers to incorporate Dante video and audio compatibility into existing H.26x-based IP video product designs, such as PTZ cameras, encoders, and decoders.
"If Dante is your foundation for digital audio delivery, these two cameras are an ideal fit to ensure optimal video delivery," added Lo. "Users have the option to select the low latency, high-quality, and rock-solid synchronization of Dante AV Ultra or the low bandwidth requirements and quality of Dante AV-H. We can't wait to show it to the Pro AV community during ISE."
Bolin's D412UH processes 4K video, and the D220UH is designed for full HD video resolution. Both the D412UH and D220UH are scheduled for delivery in late March 2023.
The new D2-220H (H.264) is a compact camera that sends simultaneous USB 2.0, HDMI, and IP streams, including Dante AV–H™. This PTZ camera joins Bolin's Dante AV™ product line, offering customers a native Dante AV–H™ stream, along with direct-connect USB 2.0 and HDMI for connectivity in videoconferencing, education lecture hall, classroom, huddle room, and live venue applications. The D2-220H's small size, impressive build-quality, and 1080p60 image make it an ideal solution for AVoIP. The D2-220H is available for pre-order now with a projected shipping date of March 2023.