QSC Work From Home Webinars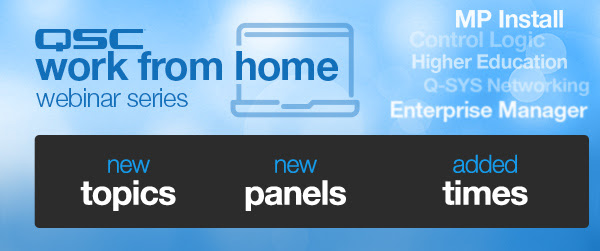 QSC Coffee Hour: "Classroom to Online in No Time"
April 9, 2020 – 9:00am PT
QSC hosts an engaging "Coffee Hour" panel discussion with Higher Ed technology specialists from Santa Clara University, University of Wisconsin and Mohawk College (Ontario, Canada) as they share how they transitioned classes to online platforms very quickly with our current world crisis. Join this very topical conversation!
Q-SYS Reflect Enterprise Manager Walkthrough
Monday, April 13 at 9am PT
In these challenging times, the ability to monitor and manage your AV investments remotely is more important than ever. Join this walkthrough of Q-SYS Reflect Enterprise Manager and receive a free extended trial until January 31, 2021!
New Times and Added Capacity!
Intro to Q-SYS Control Logic
April 7, 2020 – 9:00am & 11:00am PT
Introduction to Q-SYS Networking
April 8, 2020 – 9:00am & 11:00am PT