PreSonus Celebrates 25 Years of Innovation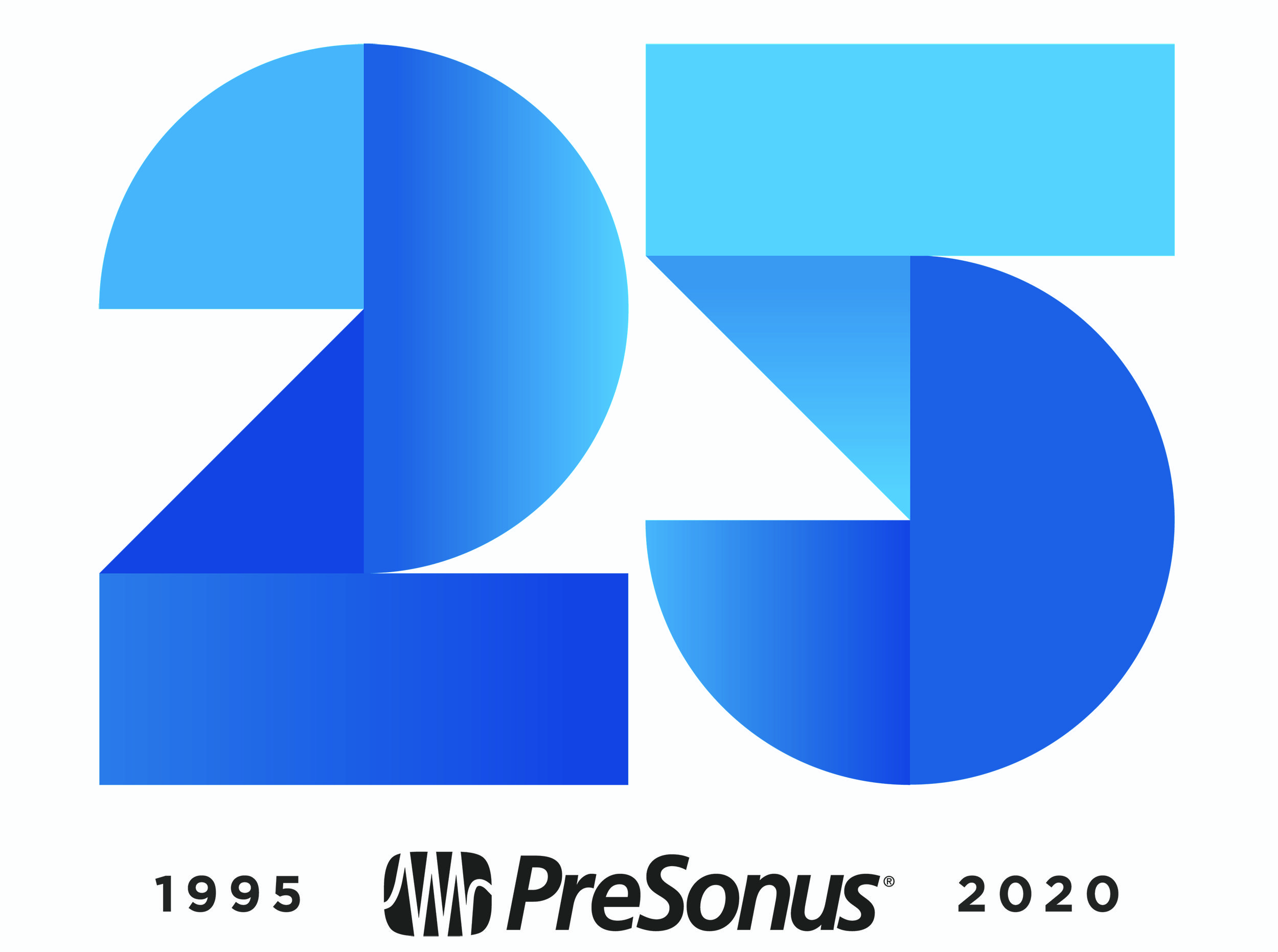 A quarter century ago, two former high school and LSU School of Engineering classmates were inspired to found a new company called PreSonus®, where they would design innovative audio products with professional sound quality and features without sacrificing affordability. Working in a borrowed garage space in Baton Rouge, Louisiana, Berklee-trained guitarist, producer, and audio engineer Jim Odom and fellow engineer (currently Vice President of Manufacturing) Brian Smith started by creating the DCP-8, which was the first product to offer digital control over analog audio circuits—a design PreSonus patented in 1995.
"At the time we designed our DCP-8, other options were esoteric gear costing tens of thousands of dollars," recalls Odom, now the company's President and Chief Strategy Officer. "We were recording and wanted the same equipment as the big studios but we couldn't afford it, so we built our own, starting PreSonus with three employees and an output of five or six units a week. Then and now, our philosophy has been to design products that people can afford."
Although the DCP-8 had reasonable success, Odom observes, "it missed on some features the customers really wanted. We were close but had to listen more closely to our customers. It was an enormous lesson for me as a product designer. Our second version, the ACP88, was a tremendous success."
Lesson learned: Listening to customers has been a key part of PreSonus' product development ever since. To this day, many of the company's best product designs and updates have been based on customer feedback.
Over the following 25 years, PreSonus went on to create a steady succession of breakthrough products. Odom and Smith introduced such innovative products as DigiMax (2000), the first 8-channel microphone preamplifier with ADAT Lightpipe output; Central Station (2004), the first monitor controller with talkback; and some of the first multi-channel FireWire interfaces, including the FirePod (2004) and FireStudio series.
Not content to rest on its laurels, PreSonus took a leap into the next generation of audio technology, including software. In 2006, a Hamburg, Germany, startup company founded by ex-Steinberg developers began working on Capture® and Studio One® for macOS® and Windows® in cooperation with PreSonus, leading to the acquisition of the company as PreSonus Software Ltd. Initially released in 2009, and now in version 4.6, Studio One quickly became one of the world's most popular DAWs.
In 2009, PreSonus also launched its revolutionary StudioLive® series of digital mixers, which then, as now, was tightly integrated with included Capture and Studio One. Since then, PreSonus has continued to focus on integrated hardware and software, developing free multi-platform UC Surface control software and offering built-in AVB networking for its current StudioLive Series III digital mixers, supported by an entire ecosystem of AVB products.
In 2013, PreSonus acquired the assets of Notion Music, adding Notion® music-notation and composition software to its product line. These innovative products were the first notation apps to run on iOS, as well as on macOS and Windows.
The same year, the Louisiana manufacturer surprised yet again, establishing itself as a maker of studio monitor speakers. The company's Eris® and Sceptre® series studio monitors quickly garnered praise and popularity for their clarity and accurate frequency response. More monitor lines soon followed that exploited an assortment of speaker technologies. Today, Eris-series monitors are among the best-selling studio monitors in the world.
In 2014, PreSonus acquired WorxAudio®, a respected manufacturer of sound-reinforcement speakers. PreSonus' WorxAudio, ULT, AIR, and CDL loudspeaker lines, along with StudioLive Series III mixers, form the basis of PreSonus' Commercial Division.
Today, PreSonus continues to develop its product lines and create innovative new ones. Its award-winning Quantum-series Thunderbolt interfaces and Studio USB-C series interfaces have succeeded its pioneering FireWire interfaces, and StudioLive Series III digital mixers and Studio One are regularly updated and improved. PreSonus' ever-popular FaderPort DAW controller line has been updated and expanded, and its ATOM pad controller quickly became a hot item. And the hits just keep on coming.
"It's hard to believe that a quarter-century has passed since we opened our doors and began developing audio and music products," reflects Odom. "On our journey, we have had the good fortune to work with some of the most talented individuals in our industry, both in product and channel development. Today, our company is comprised of individuals on five continents that make up a truly world-class team, plus incredible customers in every corner of the world. Products and technologies come and go, but it's people that make a great company, and we're all excited about the future of music and audio production!"
For more information about PreSonus visit www.presonus.com.