NEW BEGINNINGS CHURCH ELEVATES WORSHIP EXPERIENCES WITH PURELINK'S WIRELESS MICROPHONE SOLUTIONS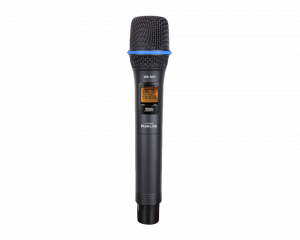 INTRODUCTION 
In the heart of Cartersville, Georgia, stands New Beginnings Church, a relatively young congregation formed just two years ago. Driven by a vision of providing exceptional worship experiences, the church's leadership, led by Senior Pastor Barry Garland, recognized the significance of investing in top-of-the-line equipment from day one. They sought not only the best value but also a robust and reliable solution to amplify their spiritual journey. 
THE CHALLENGE 
As a dynamic church with diverse worship elements, New Beginnings faced several challenges in their mission for an ideal wireless microphone system. The requirement for multiple wireless microphones to be used simultaneously, catering to various roles such as the senior pastor, worship leader, praise team, speakers, and soloists, demanded a versatile and sophisticated solution. 
Furthermore, New Beginnings Church often held services in different locations throughout Cartersville. As a result, the equipment had to exhibit exceptional durability and reliability to ensure seamless performance during their travels. 
Beyond durability, the church's leadership recognized that pristine audio quality and clarity were non-negotiable in providing an immersive worship experience. To achieve this, they needed a system capable of precise audio reproduction to uplift the hearts of the congregation. 
Lastly, the church sought a solution that offered diagnostic insights. By being able to monitor battery life, radio frequency strength, and audio levels, they could ensure the seamless operation of their audio equipment, ultimately enhancing their worship services. 
THE SOLUTION 
After an extensive search and thorough evaluation, New Beginnings Church selected PureLink's WA series of wireless audio products to meet their diverse needs. The church's setup included a WA-100 True Diversity Single Channel Receiver with Rack Mount and eight WA-200 True Diversity Dual Channel Receivers, offering the capability to accommodate multiple microphones with ease. 
To cater to the various performers and speakers, the church employed eight WA-HH1 Cardioid Wireless Microphones with LED Display microphones alongside a WA-BP1 beltpack transmitter with LED display, coupled with the WA-HS1-W Tan Headset Omnidirectional Microphone for the senior pastor. Additionally, for events where a mounted microphone was preferred, PureLink's WA-PM1 wireless podium microphone was chosen. 
To address the challenge of portability and signal strength, New Beginnings Church integrated PureLink's WA-ADS-4000 Antenna Distribution system, featuring a pair of WA-ADBS Paddle Antennas. This ensured a robust signal reception, allowing the church to hold services seamlessly in different locations within Cartersville. 
"Reliability was key in the decision to go with PureLink's wireless audio solutions," said Greg Mauldin, Technical Director for New Beginnings Church. "Along with proving to be a very reliable system from PureLink, it was a relief to experience how simple and easy the system was to get up and running as well as to have live trained and knowledgeable tech support when I did have questions. The audio quality of the microphones and overall system is impressive, and we are very happy with the clarity. The wireless podium microphone is also a great product, making podium mic setup quick and easy versus a wired version. The PureLink products will continue to be a part of our audio system going forward." 
CONCLUSION 
New Beginnings Church has shown the way in embracing advanced audio technology to elevate worship experiences for its congregation. Overall, the peace of mind that comes with PureLink's reliable and user-friendly system has allowed the church's leadership and technical team to focus on what truly matters: creating an authentic worship atmosphere that touches the hearts of every attendee. 
As technology continues to play a central role in shaping worship experiences, churches worldwide can learn from New Beginnings Church's journey. The commitment to excellence and the right technology can undoubtedly enrich the spiritual journey for both church leaders and congregants alike. PureLink's wireless audio products have proven to be the perfect fit for New Beginnings Church, underscoring the importance of selecting the right technological partner in the quest to touch hearts and uplift spirits through the power of worship.