Luminex Presents New GigaCore 30i and Araneo at Cine Gear Atlanta and NAB Show New York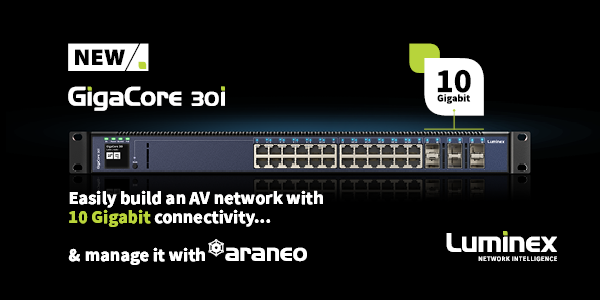 Luminex will showcase its award-winning 10GB GigaCore 30i AV network switch at Cine Gear Atlanta and NAB  (AES) Show New York in the USA with its North American Distributor A.C. Lighting Inc.
"We were excited to meet our partners in person and to present our new products at several international trade shows in the past months. The Luminex team was thrilled to have received lots of positive feedback from partners, users, and media on how the GigaCore 30i AV switch can perfectly fit into different applications, even without any IT knowledge." Said Bart Swinnen, Luminex's CEO. "We are happy to be back in the USA again, and we believe Cine Gear and NAB/ AES Show are the perfect places where to demonstrate how AV network can easily be achieved with Araneo and our GigaCore range for the broadcast, media, and the entertainment industry."
GigaCore 30i is Luminex's new 10Gb Ethernet switch tailor-made for all AV professionals. The unit comes out of the box fully optimized to be used with the most advanced AV protocols. Preconfigured Quality of Service (QoS), IGMP multicast, and PTPv2 settings will assure a responsive and extremely stable network environment for the most demanding time-critical audio protocols like Dante™, AES67, Q-SYS, and many more. With a maximum of 1 000W of total PoE budget and PoE++ on every copper port, this GigaCore switch can drive any IP PTZ camera or loudspeaker today. GigaCore 30i is the ideal solution for AV networks in fixed installation for lighting, audio, and video.
"More than two decades of experience in real market application in the professional lighting, audio, and video industry allows us to fully understand what AV professionals are confronted to. We are committed to delivering the latest technology in a complete solution. Therefore, we are pioneering Araneo, the fastest system-wide configuration & monitoring software dedicated to the AV industry, which allows you to plan and deploy a complete AV network in just a few clicks together with GigaCore switches." Said Bart Swinnen. "We look forward to showing our innovations at Cine Gear and NAB/ AES."
For more GigaCore 30i and Araneo products info, please visit:
www.luminex.be/products/gigacore/gigacore-30i/
www.luminex.be/products/software/araneo/
Luminex products are distributed in North America by A.C. Lighting Inc. www.aclighting.com