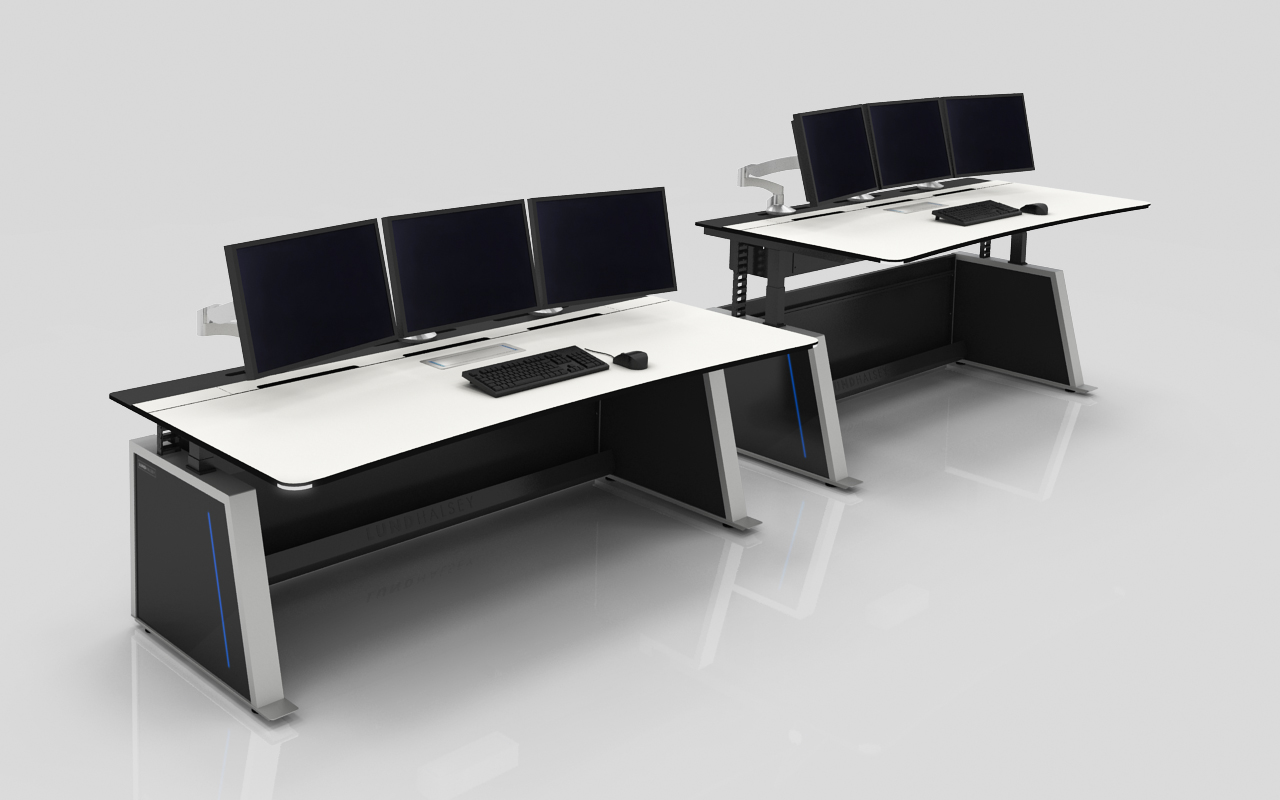 Middle Atlantic Products, a brand of Legrand | AV, today announced the new LundHalsey Visionline 24/7 control room consoles. Visionline is the latest console family directly available from Legrand | AV and manufactured by solutions partner LundHalsey, the U.K.-based market leader in the design, manufacture, and installation of control room furniture solutions. Visionline features the same stylish, ergonomic design and durability introduced in LundHalsey's premier Kontrol family, but in a smaller footprint and in straight, concave, and convex options to fit a control room of any size.
"No two control rooms are exactly alike in size, function, or setup," said Paul Dolynchuk, director, product management at Legrand | AV. "The new compact, modular Visionline console provides greater design flexibility for organizations who need customized multi-console configuration options in width, stand-alone, back to back, concave, or convex arrangements. We're excited to offer this new console directly from Legrand | AV."
The Visionline family includes two models: Visionline Air sit/stand console and Visionline fixed height 24/7 control room console. Visionline Air is a human-centered console designed to provide a sit/stand environment that optimizes operator well-being and comfort with an adjustable height between 26″- 47″. The work surface can be moved at the touch of a button or remotely via the mobile app. The Visionline fixed-height console is the perfect solution for any modern 24/7 control room. Designed to ISO 11064, the international ergonomic standard for control room design, the fixed-height model is supported by a robust frame providing perfect cable management, integration for active equipment, and class-leading industrial design.
Stylish and ergonomically designed, both models feature a modular steel bay system architecture and a .5-inch-thick compact laminate work surface with unmatched durability, manufacturability, and integrated cable management to keep cables neat and connections secure. Every console can be configured with single or side-by-side articulating monitor arm options that fully adjust to any user height and reach as well as with a range of accessories, including operated status control LEDs, corner LEDs, universal PDU, wireless charger, touch-sensitive desktop PDU, and a dimmable LED task light.
Customers will also receive complimentary custom design services to achieve the perfect solution for any control space. A dedicated project manager at Middle Atlantic will work with customers throughout the project, from design, to quote, to shipment. Services will include concept drawings and high-quality 3D renderings for an accurate vision of what the finished product will look like in the environment.
More information about Middle Atlantic Products is available at www.middleatlantic.com.