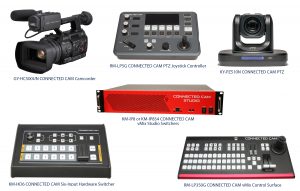 JVC Professional Video, a division of JVCKENWOOD USA Corporation, will present a wide array of solutions designed to address the evolving needs of the professional live IP production market at InfoComm 2023 (Booth 4149). Among these are a collection of affordable workflow solutions as well as NDI®-compatible PTZ and handheld cameras that are ideal for classrooms, courtrooms, houses of worship, events facilities, sports broadcasters, sports coaching and local news OTA stations, among other applications.
On display at InfoComm for the first time will be JVC's new workflow solutions, which are the perfect way for budget conscious facilities to have access to high-quality switchers and controllers. Included among the equipment on display at InfoComm will be the company's new KM-IP8 and KM-IP8S4 CONNECTED CAM™ vMix Studio Switchers, which can each manage a minimum of eight NDI inputs at 1080 60P using vMix 4K licensed software for Windows 11 Pro. Additionally, the new RM-LP350G CONNECTED CAM vMix Control Surface, a desktop controller for vMix that works with the KM-IP8 systems to enable traditional-style switching, will be presented at the show.
Also being showcased is the company's new KM-HD6 CONNECTED CAM Six-Input Switcher, which features four SDI and two HDMI inputs. Its USB Type-C output enables users to stream live programming with embedded audio through their computer to today's most popular video conferencing applications, such as Zoom, Google Meet and Microsoft Teams. Also planned for display is the RM-LP5G CONNECTED CAM Compact Joystick PTZ Controller, which is designed to be used with the KM-HD6 to create an affordable, yet powerful, turnkey system. Available only as part of a bundled offering with two or more JVC CONNECTED CAM PTZ cameras, the RM-LP5G controller features a dual-axis joystick and zoom bridge, capable of managing up to five PTZ cameras simultaneously.
The company's multi-award-winning NDI®-compatible GY-HC500 Series production cameras will also be presented at the show. Designed in direct response to systems integrator requests, these cameras ensure that schools, churches, sports programs, organizations and other facilities can seamlessly incorporate the cameras within their existing IP infrastructure as a source for live video with tally and IP remote control capability. With built-in streaming and connectivity options, the cameras provide advanced low-latency video that allows users to stream live video to Facebook and YouTube, increasing the threshold of people consuming the content.
The company's NDI®-compatible KY-PZ510N PTZ CONNECTED CAM Cameras will also be featured at the show. These cameras now include the ability to utilize NDI®|HX3 for the highest quality video with reduced latency at a fraction of the bandwidth of full NDI®. This enables integrators to take advantage of the KY-PZ510N's award-winning features, such as its super-wide horizontal angle of view (80 degrees) and focal length of 21.8 to 261.8 millimeters. In addition to the enhanced NDI® functions, the cameras also include SMART auto-tracking that follows one person and can be used to select one of multiple people within its field of view―such as an instructor, pastor or specific individual.