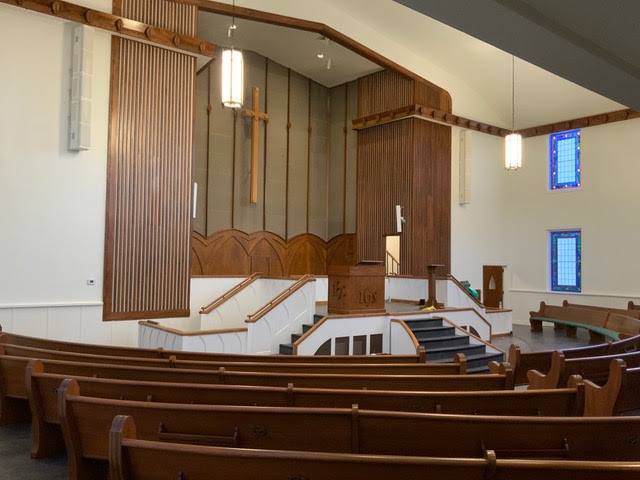 Century-old Alabama Church Welcomes Renkus-Heinz ICLive X Series to Support Thriving Music Program
First United Methodist Church (FUMC) in Prattville, Alabama, spent the past year renovating its sanctuary as more than a century has passed since the initial build – and nearly a decade has gone by since its last major update. FUMC cleaned, refurbished, and restored systems to better meet the needs of its 1,000-and growing assembly and provide for a wider range of service presentations and performances. Key to the upgrade is a Renkus-Heinz backed audio system offering impressive clarity in live performances as well as crisp intelligibility of the spoken word.
"Our church is a beautiful but very old building, and with plaster walls and other obstacles, it's difficult to install new technologies in a space that wasn't built for it, so we took the approach of doing several things at once," said Jeremy Pyles, Director of Music Ministries at First United Methodist Church. "We have a thriving music program involving people of all ages, and after years of dealing with less-than-perfect sound, we took this opportunity to upgrade our sanctuary's audio system to something we can be proud of."
For the new audio system design and installation, FUMC turned to J.M. Anderson at Auburn AV, from Auburn, Alabama. Auburn AV is the area's leading audio, video and lighting provider, offering a range of comprehensive design, installation, AV production and sales and rental services.
Anderson said the church had previously used a hodge-podge of speakers from the '70s to the '90s ranging in size and performance. In turn, the large speaker collection prevented the space from carrying a clean and uniform aesthetic – and it failed to provide quality sound performance for the congregation.
"Acoustically, the sanctuary is very reverberant. It has stained glass windows, hard walls, floors and sloped ceilings. Our main goal was to use a digitally-steerable sound system to point the sound down at the congregation and away from all of the reflective surfaces," said Anderson. "The ICLive X system was a perfect fit for this project. It delivers excellent, controllable audio with great coverage from a small footprint. It sounds great and looks great — both aspects that are very important here."
The ICLive X Series steerable arrays from Renkus-Heinz bring a high level of flexibility for integrators, contractors, and production/rental houses alike. ICLive X is a complete system, designed from the ground up, consisting of three freely combinable, steerable-array modules and a subwoofer. The system's exclusive Acoustic Source Multiplier (ASM) waveguide allows the HF section to coaxially mount in front of the LF section. The coaxial driver arrangement delivers a consistent and symmetrical dispersion of both high frequencies and low frequencies along the entire length of the array, providing the freedom to choose any acoustic center available.
The Auburn AV team made use of the Loudspeaker Recommendation services offered by Renkus-Heinz. As a part of this service, the local manufacturer's representative Richard Hembree added his 16 plus years of experience with digitally-steerable arrays to bring the initial design through to a commissioned system. Hembree and the Griffith team often trust Renkus-Heinz solutions when challenged with acoustically demanding applications.
"In addition to the need to avoid reflective surfaces such as the large balcony face and tall plaster walls, this sanctuary has three distinct audience areas – a high balcony; a deep and low under balcony; and the wide near-field area between the platform and the balcony," said Hembree. "The IC-Live X system allows the reinforced sound to focus as needed to evenly cover the congregation with a high level of intelligibility and rich, full-range sound."
Working with Hembree, to finalize the specifications, Anderson and the Auburn AV team installed a left and right array, each consisting of one ICLive LX, one ICLive X and one ICLive XL. The resulting 9.5-inch wide by 100-inch-tall array is capable of pattern control below 200 Hz. A pair of Renkus-Heinz dual 12-inch PNX212 subwoofers neatly tuck under the platform behind grille cloth to round out the low end.
"We ended up with a high-intelligibility sound system with minimal interaction between the reinforced audio and the room. The room can remain live and rich for the organ and choir, yet at the same time have very high speech intelligibility. With the ICLive X, we can steer the sound where we want it," said Anderson. "For our company, Renkus-Heinz has become the go-to system for difficult spaces like this."