BenQ Brings Must-See Ed Tech to ISTE Live 23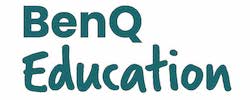 BenQ, an internationally renowned provider of visual display solutions, will host an exciting hands-on, information-packed booth experience (booth 2228) for educators at ISTE Live 23, June 25-28, in Philadelphia. During the show, educators will see the award-winning BenQ Boards in action with live demonstrations done by teachers who are users. Also at the booth will be BenQ's new LH730 LED and LH820ST laser projectors, InstaShow WDC20E wireless presentation system (WPS), as well as its latest integration partnerships.
"While we've been at ISTE before, we've never had a booth experience quite like this," said Bob Wudeck, senior director of business development at BenQ Education. "Come check out all the thoughtful ways BenQ has solved educator challenges. From purpose-built solutions and intuitive, license-free software to on-demand training available through BenQ Academy and integration with leading technologies and platforms, we've worked to enable a classroom ecosystem that will transform and shape the future of learning."
One Smart Board to Rule Them All
During ISTE Live 23, BenQ will highlight all the features of its BenQ Boards. At the booth, teachers from Grayslake, Illinois, schools will offer hands-on sessions that reveal the intuitive nature of the smart boards. The germ-resistant BenQ Boards boast BenQ's Tap 'N Teach technology, which features one-tap NFC log-in to load lesson materials and interactive teaching apps, cloud storage, settings, and tools instantly and securely. The smart boards also feature a germ-resistant screen, pen, and remote; split windows for multitasking; array microphones; 16W speakers with 16W Dolby Digital Plus surround sound; InstaShare wireless screen sharing; AWS certification; Eyesafe® technology for reducing blue light emissions; and more. BenQ will also offer a presentation specifically to address the unique ease of personalized account set up and district-wide device management features for its BenQ Boards using its AMS and DMS capabilities. In addition, BenQ will highlight its growing list of BenQ Board integration partners, including Kahoot!, Anton, Curipod, Genially, and ClassLink. Attendees will also be able to see the BenQ Boards in the ClassLink booth 1329. 
BenQ Introduces the New Era of Classroom Projection
Also at the show for the first time will be BenQ's new LH730 and LH820ST. The LH730 is the first LED projector in the company's professional lineup designed specifically to meet the rigorous standards that commercial applications such as education demand. In addition to 4,000 lumens of brightness, the professional-grade LH730 1080p LED projector innovates with 98% Rec. 709 color coverage, a single DLP 1080p chip for a sharp and artifact-free image and video, HDR for high contrast, no limitations on daily use, zero maintenance, and flexible installation features that make it easy to install in a multitude of setups.
The LH820ST short-throw laser projector is built for smooth and realistic interaction, thanks to its Fast Mode offering a latency that's less than 17ms with a resolution of 1080p/60Hz. It is built to deliver 30,000 hours of light source life and produce large HD resolution images even when installed within a short distance from the screen. The BenQ LH820ST is unique in that it has a 9-degree offset — enough to project the image all the way to the floor. Along with multiple digital correction tools, BenQ minimizes the need to tilt the projector and solves perplexing installation challenges. The LH820ST also boasts two color specifications: 90% of the Rec. 709 color space and a low Delta E specification of less than two for accurately depicting colors, including those with complex variations. Like the LH730, it is also maintenance-free with an IP5X dustproof, sealed engine that eliminates messy, ineffective filters, which can require hours of continuous manual labor to keep clean.
Just Tap 'N Teach
With the InstaShow WDC20E education WPS, teachers simply Tap 'N Teach — sharing their screen to the classroom's smart boards or projectors at the touch of a button. The affordable WDC20E is a smart solution for classroom collaboration. Its network-free, software-free, and app-free design makes it easy to use. It supports video streams up to 4K resolution via the latest wireless 802.11ac standards and can split the screen among four devices — whether it's a Google Chromebook, notebook, phone, tablet, microscope, or any device with an HDMI out port. Moreover, with the ability to connect up to 32 devices or input sources at a time — the highest of any WPS — no student is left out of collaborative learning opportunities. It's also the first all-hardware, plug-and-play WPS designed to ensure data and content privacy using advanced 128-bit algorithms. Available in models even for the latest USB-C-enabled laptops and notebooks, teachers simply plug the InstaShow button into their device and tap to share content. Classrooms equipped with interactive displays will benefit from the Touch Back feature, which allows users to control and annotate their presentations originating from Windows computers directly from the display. In addition, the split-screen mode can be used to control up to four laptops. Annotations made on the touch screen can also be displayed and saved on the laptop for a seamless content pipeline that students can refer to later.
To schedule one-on-one demonstrations and for the full educational schedule, please visit https://www.BenQ.com/en-us/education/events/benq-education-at-iste-2023.html.
More information on BenQ is available at http://www.benqboard.com.