BenQ Board RP03 Series Recognized as First Smart Board to Achieve Eyesafe® Certification for Low Blue Light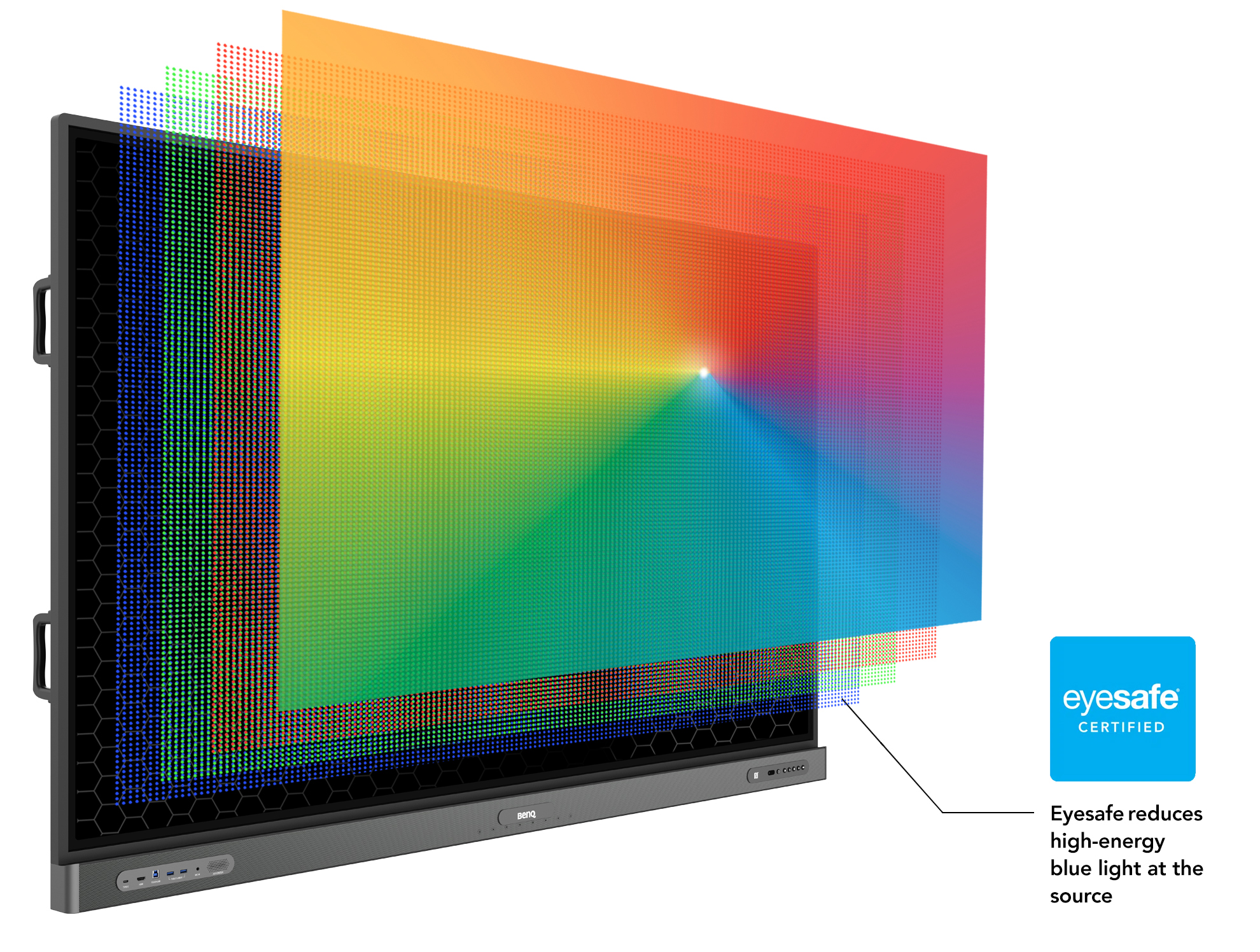 BenQ, an internationally renowned provider of visual display solutions, is helping to minimize blue light emission with the Eyesafe® Certification of its latest interactive display, the BenQ Board RP03. The industry's only interactive display to meet the safety standard, BenQ Board RP03 features built-in EyeCare™ technologies that have been tested and certified to protect users' eyesight by reducing high-energy blue light while maintaining optimal color performance.
"Blue light may contribute to visual discomfort and sleep problems," said Bob Wudeck, senior director of business development at BenQ Education. "Our built-in blue light technology and Eyesafe Certified screen effectively reduces the potential risks from blue light. Together with our other EyeCare technologies — flicker free and antiglare features, germ-resistant screen and accessories, air-quality sensors, and air ionizer, schools and other organizations can feel confident that the increased screen time that comes with the demand for greater interaction and engagement doesn't come at a risk to users' health."
Minimizing Blue Light is Critical
Blue light, also known as high-energy visible (HEV) light, is a color in the visible light spectrum that can be seen by human eyes. These wavelengths of visible and non-visible light are measured in nanometers (nm), and, in general, the shorter the wavelength, the higher the energy. Blue light is a short wavelength, which means it produces higher amounts of energy. Unlike other forms of light, the eyes cannot effectively filter blue light, so more can pass through the eye to the retina. While a moderate amount of blue light promotes alertness, boosts memory and cognitive function, elevates mood, and regulates circadian rhythms, higher and more prolonged amounts of blue light can impact eye and body health. The largest source of blue light is the sun, but it is also emitted by the latest devices and displays. This is of particular concern because of the close proximity to the screens, duration of use, and the cumulative impact of using devices and displays every day.
"It's clear to me that the future of classroom learning includes BenQ's Eyesafe Certified interactive displays," said Dr. Dagny Zhu, M.D., a board certified ophthalmologist and member of the Eyesafe Vision Health Advisory Board. "These devices are designed with student health in mind, which is critical to protect the next generation from the potential risks of blue light."
Products with Eyesafe Certification manage light energy at the source, selectively reducing blue light and dispersing it across the light spectrum with no need to adjust settings. Eyesafe Certification is performed by well-known and trusted independent third-party TÜV Rheinland.
BenQ Board RP03 Series Paves the Way
The germ-resistant BenQ Boards are purpose-built for teachers so that they can provide exciting learning opportunities, starting from the moment they sign on. Encouraging active participation in class while protecting student and teacher health, the 65", 75", and 86" RP03 BenQ Boards feature one-tap NFC log-in to load lesson materials instantly; interactive teaching tools for more hands-on lessons; germ-resistant screen, pen, and remote; split windows for multitasking; array microphones, 16W speakers, and 16W Dolby Digital Plus surround sound for lesson clarity in class and online; InstaShare wireless screen sharing; and new Eyesafe technology for reducing blue light emissions. It's also the first display from BenQ to include an air ionizer.
Teachers can use their RP03 smart boards like a whiteboard, display, computer, and wireless screen-sharing system thanks to BenQ's license-free EZWrite 6 software. It's packed with classroom tools for all subjects, including timers, rulers, protractors, compasses, and more. EZWrite 6 also lets educators save whiteboard sessions in the cloud, allowing them to continue giving lessons at a later time or for students to access on any device and refer to later. They can also open documents and image files directly on the whiteboard to facilitate discussions. To complement the experience, the split-screen windows function enables multiple applications to be opened side by side — with no need to tap between content — making it even easier to conduct lessons and further comprehension.
More information on BenQ is available at www.BenqBoard.com.