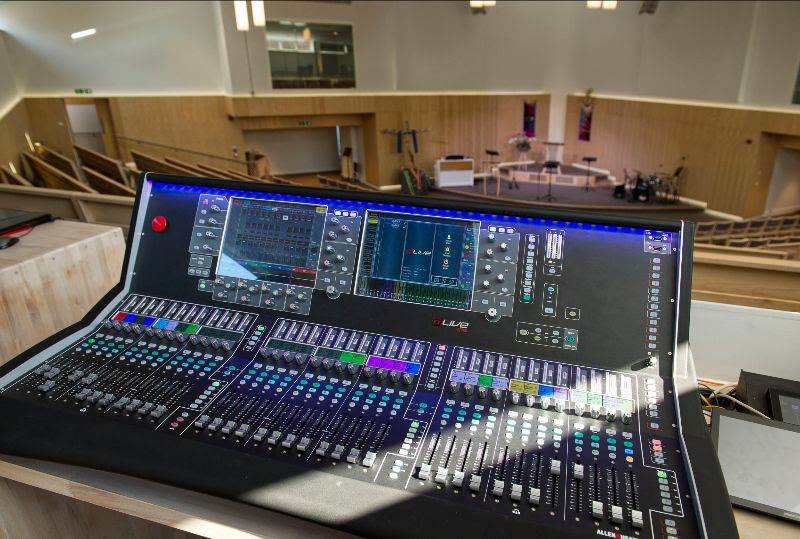 ALLEN & HEATH DLIVE AND SQ PERFORM IN PERFECT HARMONY AT GUILDFORD BAPTIST CHURCH
Situated 30 miles south-west of London, Guildford Baptist Church recently concluded an extensive £7 million refurbishment programme that included an overhaul of the audio system in the building's 600-seater auditorium.
Supplied and installed by church sound and AV specialists DM Music, the new system includes an Allen & Heath dLive S7000 Surface and DM32 MixRack, complemented by a compact SQ-5 digital mixer and a pair of DT168 Dante-equipped audio expanders.
Serving multiple rooms and employed for its flexible deployment options, the dLive and SQ-5 combination is used for both the church's own services and for community events and concerts. "When it came to providing a new system, we needed something that was rider-friendly for visiting engineers to use, so the dLive and SQ-5 were ideal" explains Graham Bennewith of DM Music. "When the church hosts large-scale concerts, the dLive is used at FOH with the SQ-5 for monitor duties and for various other uses. The ability to network everything via Dante adds very valuable flexibility, and the network capabilities allow for a very joined-up and versatile system which enables the dLive and SQ-5 to be used in multiple locations around the building very easily."
All dLive and SQ mixers include advanced AMM (Automatic Microphone Mixing) capabilities, with the option for multiple zones to be mixed simultaneously, a feature that DM Music leveraged to assist less experienced operators. "The church was in need of a versatile audio solution that could be used in a variety of situations and by people of very different levels of experience – from professional sound engineers to church volunteers" adds Bennewith. "Although the Allen & Heath systems are extremely powerful, we can set them up for simple operation to take care of a handful of radio mics with an automix if necessary."
With SQ and dLive both being built on Allen & Heath's XCVI Core – a powerful 96kHz FPGA engine with ultra-low 0.7ms latency – there have been additional benefits for users at the venue. "The fact that the SQ-5 architecture makes it feel very similar to the dLive also makes it a great training platform for inexperienced users that need eventually to get hands-on with the bigger system" concludes Bennewith. "It's been a great solution for the church's needs".