Waves Now Shipping the CR8 Creative Sampler and the COSMOS AI-Powered Sample Finder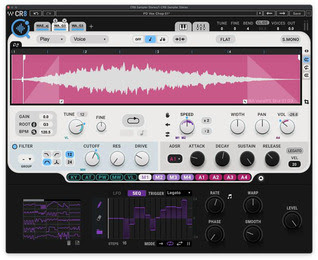 Waves Audio, the world's leading developer of professional audio signal processing technologies and plugins, is now shipping the CR8 Creative Sampler, together with the built-in COSMOS AI-powered Sample Finder and over 2,500 free samples.
The Waves CR8 Creative Sampler takes all of the most powerful creative sample manipulation options and puts them in one easy workflow, so you can get creative fast. With CR8 you can turn any sound into an inspiring playable instrument in seconds – with the easiest access to:
Eight sample layers, allowing you stack and mix samples, or split them across your keys
Five stretching algorithms – Voice, Beats, Melodic, Harmonic and Classic – each allowing you to control pitch and time independently
Key & BPM analysis to get you in tune and in sync with your session in seconds
Easy Loop, Reverse, Freeze options and more, for instant control over your sample playback
In addition, you can shape color and timbre using the built-in filters and ADSR envelopes, with drag-and-drop assignment of four powerful LFO/Sequencer modulators and four ADSR envelopes to practically any CR8 control. You can also assign your keyboard's aftertouch, velocity, mod-wheel and pitch-wheel to most of CR8's controls, making your samples playable in a responsive musical way.
CR8 also includes the built-in Waves COSMOS, an AI-powered Sample Finder that sorts all the one-shots and loops on your computer and auto-tags them by instrument, key, BPM and other musical characteristics. With COSMOS, you can find any sample in your collection quickly and easily. With CR8 and COSMOS working together, you can browse and audition all your samples right from within the CR8 sampler, while the track is playing, in the context of your session, without leaving your creative workflow to search for sounds.
CR8 comes with over 800 sampler presets, plus over 2500 free one-shots and loops (included with COSMOS).
CR8 Creative Sampler Features:
The most creative sampler options in a fast and easy workflow
Eight sample layers to create rich sample textures
Stack and mix the eight layers, or split them across your keyboard
Five stretching algorithms: Voice, Beats, Melodic, Harmonic, Classic
Play and Launch modes
Root and BPM detection
Drag and drop four LFO/Sequencers and four ADSR modulators on any CR8 control
Individual Cutoff, Resonance and Drive for each sample with four assignable group filters
Assign keyboard functions to CR8 controls for extra playability
Internal sample mixer with tune, pan and width settings
Includes the COSMOS AI-powered Sampler Finder
Over 2500 free samples (with the built-in COSMOS)
Over 800 creative sampler presets
Waves C48 Creative Sampler videos:
NEW Waves CR8 Sampler | Create Infinite Instruments. Quicker: https://youtu.be/RDyPOjQZ6Wc
5 MUST-KNOW Sampling Tricks | CR8 Creative Sampler: https://youtu.be/9IhHwTmgTv4