Waves Audio Now Shipping MultiMod Rack, the World's Most Versatile Multiband Distortion & Saturation Suite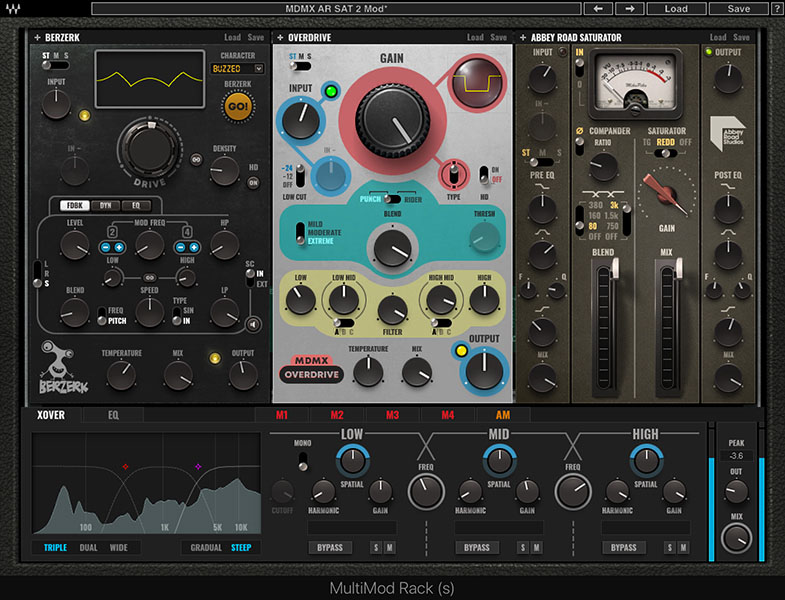 Waves Audio, the world's leading developer of professional audio signal processing technologies and leading maker of audio plugins for mixing, music production, mastering, sound design, broadcast, post-production and live sound, is now shipping MultiMod Rack, a multiband modulation rack for Waves' latest distortion plugins.
MultiMod Rack is a powerhouse suite that takes multiband distortion to the next level of both musical creativity and precision engineering. It allows music producers to create the wildest palette of richly modulatable distortion FX; and it allows mixing engineers to achieve multiband distortion and saturation with pinpoint surgical precision.
MultiMod Rack has three plugin slots, each of which can host Waves' newest distortion and saturation plugins: the vintage analog-modeled Abbey Road Saturator, the modern waveshaper-based Berzerk, and the classic-soundingMDMX Screamer, Overdrive and Fuzz modules. The unique combination of diverse distortion colors, all working side by side, makes MultiMod Rack the most versatile distortion and saturation suite in existence.
Achieve Surgical Multiband Distortion Control: MultiMod's three slots divide your signal into three frequency bands — lows, mids and highs — with adjustable crossover controls. Want the insanity of Waves Berzerk on your lows, the crunchy overdrive of MDMX on your mids, and analog Abbey Road saturation on your highs? Simply assign the different plugins to different frequency bands, and separately control the flavor of distortion in each. Reshuffling the chosen plugins between frequency bands will significantly change the sound, for serious tonal diversity. Each band also offers controls for level, stereo panning and harmonics, for pinpoint control of the distortion in each frequency area.
Get Creative with Infinitely Modulatable Distortion: MultiMod's five powerful modulators allow you to modulate nearly every individual parameter of the Abbey Road Saturator, MDMX and Berzerk plugins, for ultimate musical and creative flexibility. LFO, sequencer and amplitude modulation options will bring you into sound-design territory. And if that isn't enough, there's also a post-processing EQ section, which can be modulated to no end.
Leading industry professionals have this to say about MultiMod Rack:
GRAMMY®-winning producer/mixer Joe Barresi (Tool, QOTSA, Slipknot): "From intricate multiband distortion, to fully over-the-top destruction never before realized — there's so much under the hood and so much potential to unlock with MultiMod Rack."
GRAMMY-winning producer/mixer Jacquire King (Kings of Leon, Tom Waits): "My favorite thing about Waves is the selection of unique plugins that do what no other processing does simply, or at all. MultiMod fits right into that landscape and is incredibly fun to mangle sounds with. Another inspiring innovation from Waves."
MultiMod Rack features:
1.) Multiband modulation rack for Waves' Abbey Road Saturator, Berzerk and MDMX distortion plugins
2.) The most versatile distortion & saturation suite in existence: vintage analog saturation to futuristic waveshaper distortion, all in one place
Clever multiband distortion processing with adjustable crossover points
3.) Five modulators allow you to modulate individual plugin parameters
LFO, sequencer and amplitude modulation options.
4.) Independent level, pan and harmonics controls per slot/band
Built-in FX including reverb, delay, chorus.
5.) Hundreds of categorized factory presets to get you started.
6.) Artist presets by award-winning producers/mixers Joe Barresi, Jacquire King, Michael Brauer, Devin Townsend, Juno Reactor & many more.