Vectorworks, Inc. Congratulates the 2023 Kennedy Center American College Theater Festival Regional Winners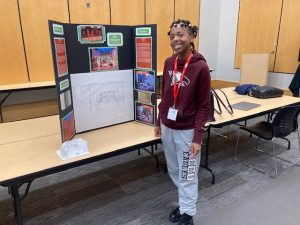 As a continued supporter of student designers, global design and BIM software provider Vectorworks, Inc. honors the winners of this year's Kennedy Center American College Theater Festival (KCACTF) regional awards. KCACTF is a national theater program involving 18,000 students from colleges and universities across the United States.
KCACTF held eight in-person regional festivals this year, providing students across the U.S. the chance to not only showcase their outstanding productions but also participate in a wide range of professional development opportunities in all areas of theater.
Since its inception, KCACTF has given over 400,000 college theater students the opportunity to have their work critiqued, improve their dramatic skills and receive national recognition for excellence. Vectorworks continued its partnership with KCACTF for another year to help encourage and support students in the Design, Technology and Management (DTM) industry by providing each student winner with a free professional annual subscription of Vectorworks Spotlight 2023.
"The Kennedy Center American College Theater Festival celebrates accomplishments and achievements for theatrical works produced on university campuses. We are extremely grateful that Vectorworks provides an opportunity to support outstanding student designers and technicians with the chance to enhance communication, effectiveness, innovation and industry standards in craftsmanship for these emerging artists," said Val Winkelman, KCACTF National Chair for Design, Technology, and Management
Winners were chosen for their design quality, effectiveness, originality, innovation and visual presentation techniques.
Congratulations to this year's winners for their outstanding work in sound, scenic and lighting design:
Region 1
Isaac Roussak, Wellesley College, for "Cabaret"
Region 2
Cierra Miller, Indiana University of Pennsylvania, for "Measure for Measure"
Region 3
Keyla Marie Soto Pabón, Illinois State University, for "Bonnie and Clyde"
Region 4
Mari Davis, North Carolina Central University, for "Long Time Since Yesterday"
Region 5
Olivia Palmer, Grand View University, for "The Cherry Orchard"
Region 6
Halcyon Piper, Oklahoma City University, for "Machinal"
Region 7
Michelle Ludlow, Idaho State University, for "The Spitfire Grill"
Region 8
Paige Mills, Glendale Community College, for "You're a Good Man Charlie Brown"
"These students are the industry's future, and we are honored to celebrate their achievements and help them excel in their future endeavors," said Vectorworks Academic Marketing Program Specialist Jennifer Hart. "We hope these awards, in addition to our other academic programs, help propel their career so they can continue to bring their visions to life."
Students looking for an additional way to showcase their designs can do so by applying to the Vectorworks Design Scholarship. Submissions are now open until July 31 for a chance to win up to $10,000 USD.
For more information and to apply, visit vectorworks.net/scholarship.