Roland Offers Free Piano Lessons Powered by Pianote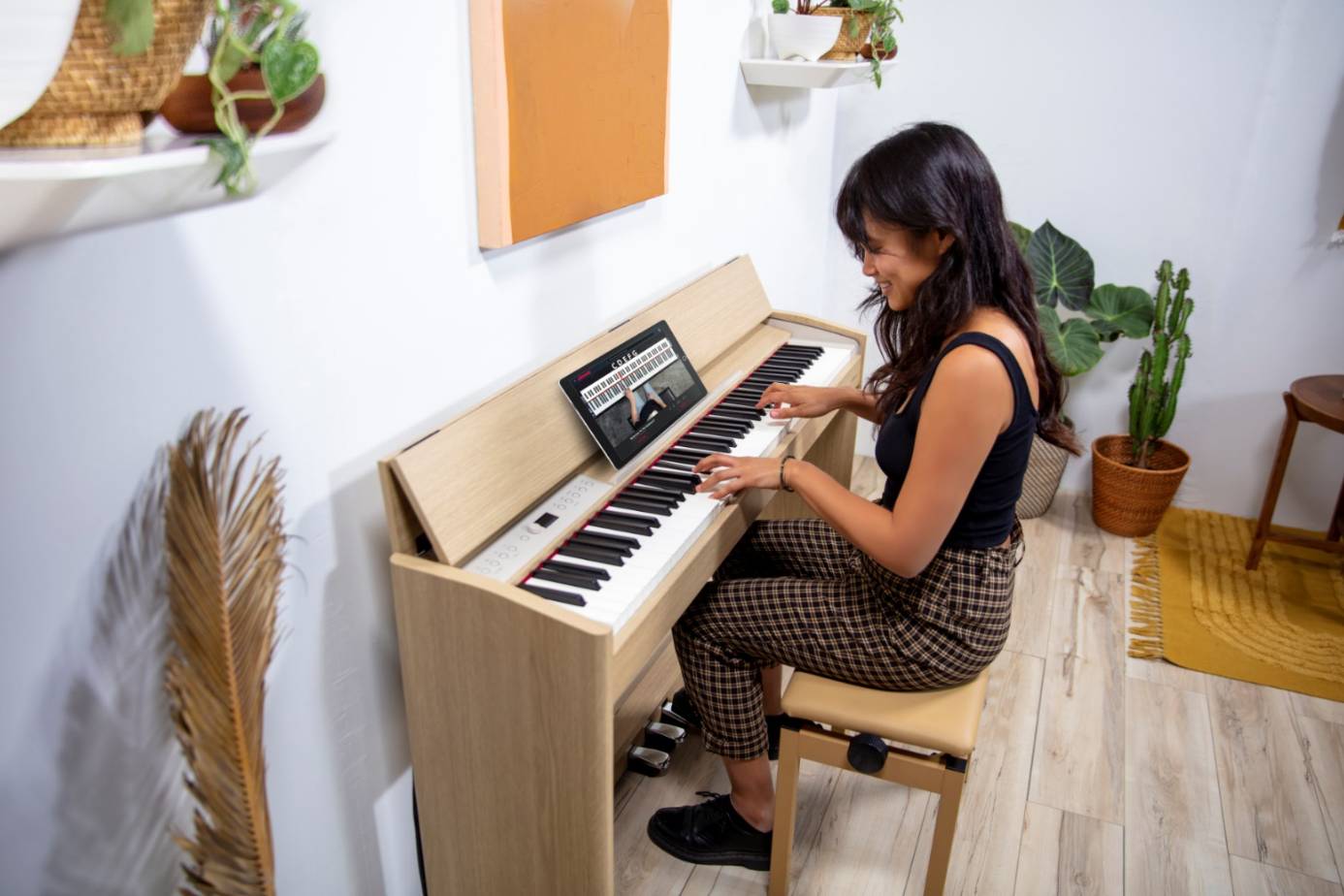 Following a record-breaking year for piano sales, Roland, a leading manufacturer of electronic musical instruments and professional video products, announces its partnership with Pianote, offering three months of free online piano lessons to users across the U.S. and Canada. Whether it's looking to hone piano skills or pick up the instrument for the first time, owners of qualifying Roland pianos* will get unlimited access to everything inside Pianote – from step-by-step lessons to detailed song tutorials, access to live lessons, and support from real piano teachers.
The pandemic brought a boom in music instrument sales. According to Pattern, a global ecommerce company, pianos, which are the most commonly played instrument in America, saw one of the biggest surges (+32%) among musical instrument sales during the first few months of the pandemic in 2020. Both Pianote and Roland experienced strong growth, with Pianote doubling its memberships in the past year and members spending more time on average (+20.14%) engaging with the platform. Roland had a record-breaking year as well, with keyboard sales up 60% in 2021. Its piano models have been selling exceptionally well during the last 12 months, with Roland's award-winning FP-30 ($699.99) being a standout among them. Roland introduced the FP-30's replacement model in January, the FP-30X ($749.99), which is receiving a record number of orders and is expected to be one of Roland's best-selling pianos, ever.
"At Roland, we've always believed in the power of music and have been blown away by the demand for pianos during the pandemic, driven by so many people looking for an activity that was both fun and fulfilling. I'm also thrilled to see this growing community of piano lovers being fueled by the next generation of players entering the market," said Chris Halon, Roland Americas Vice President of Marketing. "Having been a piano player all my life, as well as a former piano teacher and parent, learning to play requires such dedication and consistent practice. So when we were searching for a new motivational tool, Pianote was an obvious choice. One of our missions is to make more musicians, and we knew that the Pianote Method was a big step forward in inspiring our customer's musical journey."
"I've been playing Roland pianos for years. As a piano teacher, I love how accessible Roland keyboards and pianos are," said Lisa Witt, Director of Content and Keyboard Artist at Pianote. There's something for every student at every skill level and price point. And when you buy a Roland piano, you know you're getting quality. The sound, feel, look, and most importantly, the musical experience is consistently amazing across the board."
"Pianote is incredibly excited to collaborate with Roland as we share a mutual vision of a world without dusty closet-stored instruments," said Jared Falk, founder and CEO of Pianote. "We believe the best music is yet to be made, and together, we will inspire more people to start and stay playing music."
Playing a musical instrument has not only added a source of entertainment during the pandemic but has also been linked to mental health benefits. Research has shown that playing an instrument can help alleviate stress, inspire creativity, improve focus and cognitive performance, and potentially affect overall health and well-being.
Now, players can achieve musical freedom with Roland pianos and Pianote lessons from the comfort of their own home and be immediately inspired by their own creative expression. From players diving back into their craft to sleeping musicians who haven't touched a piano since their youth, or parents considering enrolling their children in piano lessons, Roland is devoted to bringing a "Waku Waku" (the Japanese phrase describing thrill and excitement) experience to everyone through its complimentary lessons with Pianote.
The Pianote Method breaks the mold of old stuffy piano lessons. The platform combines new-age technology while paying homage to the tradition of classic piano lessons with online video lessons that are accessible anytime, even late night 2 a.m. sessions. Its online courses and real teachers make it fun and easy to start playing your favorite songs, with more than 100+ popular hits to learn and play. And for piano teachers, Pianote is a great way to supplement lessons and reinforce teaching techniques. It also offers support every step of the way with live feedback, weekly live-streaming video lessons, and connects players with teachers and students in its community forums.
Availability & Pricing
Three free months of Pianote online lessons are now available to Roland users in the U.S. and Canada. To sign up and get 90 days free, visit https://www.roland.com/us/promos/pianote_piano_lessons/.
To learn more, visit Roland.com.