New Level 1 & 2 Dante Certification Now Available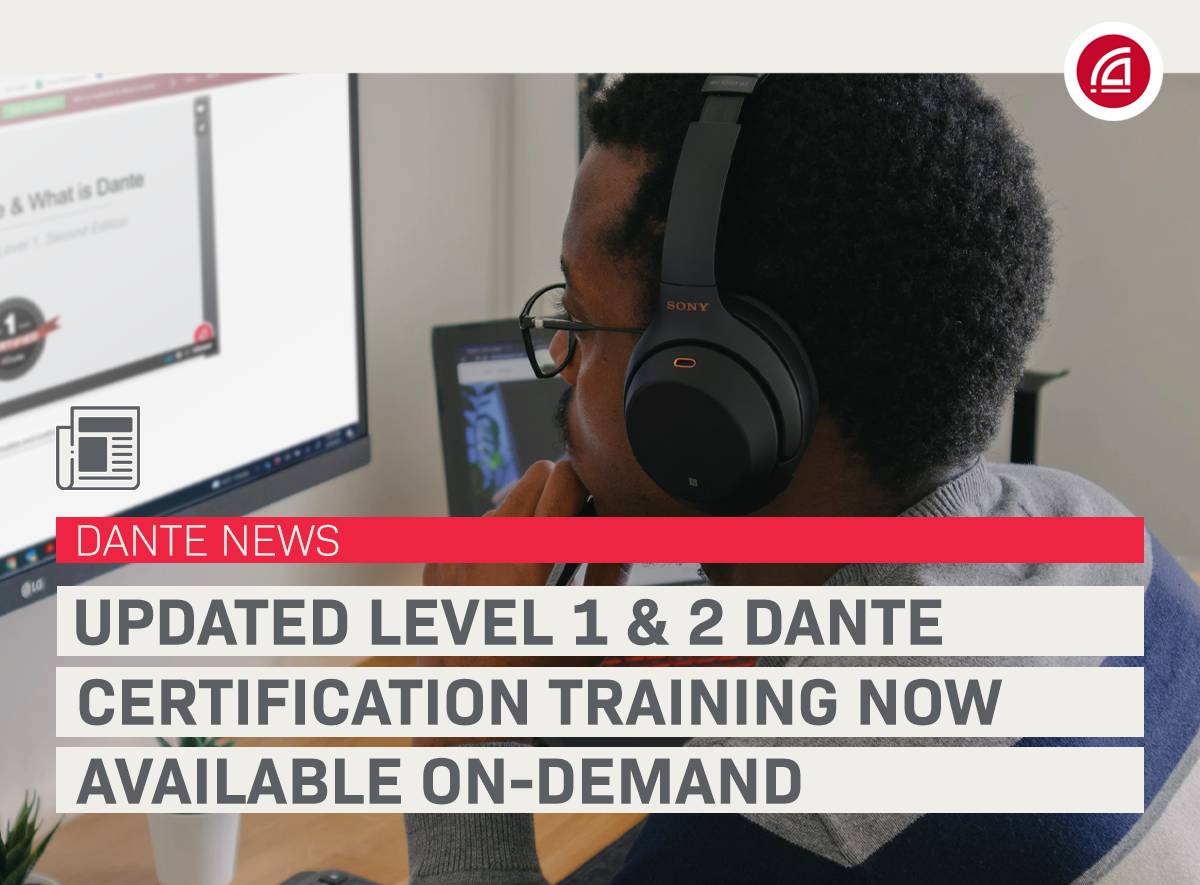 Over the last five years, Dante Certifications have become recognized as valued, essential knowledge in the AV industry. We are pleased to announce that we have updated the certification program to include evolving industry trends as well as new Dante features that have come about after the program's inception.
Whether you are taking the class for the first time, or looking for a quick refresher, the new Level 1 & 2 program can help many in our industry strengthen their skills. Get started today at audinate.com/certify.
For class enrollment instructions, visit the Dante Certification page.
LEVEL 1 (2nd Edition)
Dante Certification Level 1 introduces attendees to the Dante platform. It offers fundamental knowledge on digital audio, networking addresses and how to use Dante Controller with your Dante devices. This is enough knowledge to operate a Dante system in daisy chain mode or on a single network switch.
Collectively, the Level 1 videos are approximately 2 hours in length, and certification is contingent on passing a knowledge exam.
This course is currently available in English, Spanish and German, with additional languages coming soon.
LEVEL 2 (2nd Edition)
Dante Certification Level 2 offers a deeper explanation of how to create larger networks. This class offers insights on how much bandwidth is used, how to manage it, basic optimization and factors if you wish to chase an external clock. This is helpful when working on systems that will involve multiple network switches.
Collectively, the Level 2 videos are approximately 2.5 hours in length. You will receive certification upon passing both a knowledge and a skills exam.
This course is currently only available in English, with additional languages coming soon.
What about AVIXA CTS RU Credit?
The new "second edition" courses are approved for renewal units (RUs) for CTS, CTS-D and CTS-I programs. Each class is worth 3 units, and you are eligible for full credit even if you finished Dante Certification before.
AVIXA CTS RU Provider
Certified Technology Specialists should submit their certificates of completion for "second edition" Dante Certification Level 1 and 2 to the independent AVIXA Certification Committee.
I already took Level 1 and/or 2. Should I take them again?
Yes. Both levels (even Level 1) add several new topics and live demonstrations that can illuminate each topic like never before. As we have been teaching the new materials on live webinars, most people find it helpful to watch Levels 2 and up multiple times to absorb all of the material.
Is there a "second edition" of Level 3?
Not yet, but there will be. We expect it to be available in the fall of this year. In the meantime, brush up on the new Level 1 & 2 now – the new classes were designed to properly prepare you for Level 3 when it becomes available.