Just Add Power MaxColor 4K60 Series Now Shipping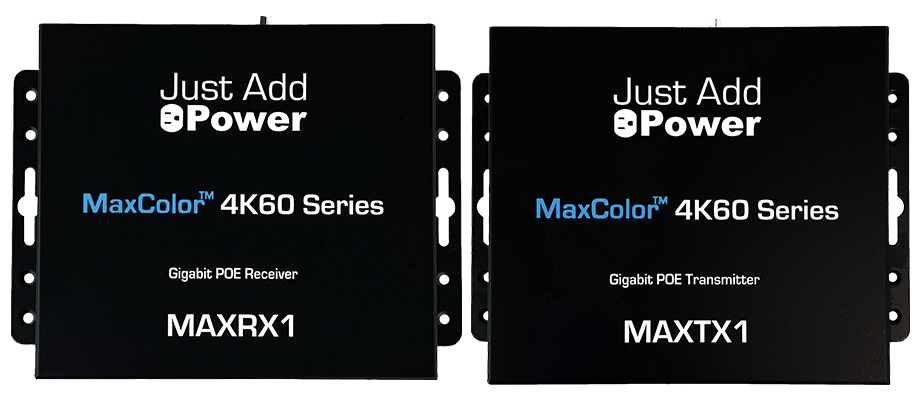 Just Add Power, a leader in AV-over-IP distribution, announced today that its hotly anticipated new MaxColor™ 4K60 Series is now shipping. The award-winning transmitter and receiver family provides integrators with an affordable and scalable 4K UHD distribution platform to natively support today's 4K source content over existing network infrastructures. The products were available for preorder in 2021, with orders shipping today.
The MaxColor 4K60 transmitter and receiver natively support 4K60 in and out, allowing end users to play Ultra HD video from the growing number of 4K sources and devices now available. With MaxColor 4K60, video at 36-bit color and 4:4:4 chroma can be distributed over existing Cat 5/Cat 6 cable, eliminating the expense of upgrading to fiber and buying costly network switches. In addition, the transmitter and receiver support MPEG downstreaming for connected devices, such as a laptop or tablet.
The series delivers instant, seamless switching, 4K up- and downscaling, and HDR management while supporting all lossless audio formats and HDR10, HLG, and Dolby Vision for the best viewing experience. Additional features include image pop, push, and pull as well as integrated control.
"The response to this product line has been even more positive than we initially expected. Providing native support for 4K60 source content to the Just Add Power platform puts our customers ahead of the game on prestige installs for any market," said Taft Stricklin, sales team manager at Just Add Power. "The buzz MaxColor 4K60 has generated over the past months makes us even more thrilled to say that the wait is over. Order your products today."
More information on Just Add Power and its products is available at www.justaddpower.com.