Introducing American Audio's New APX CS8 Column PA System with Bluetooth True Wireless Stereo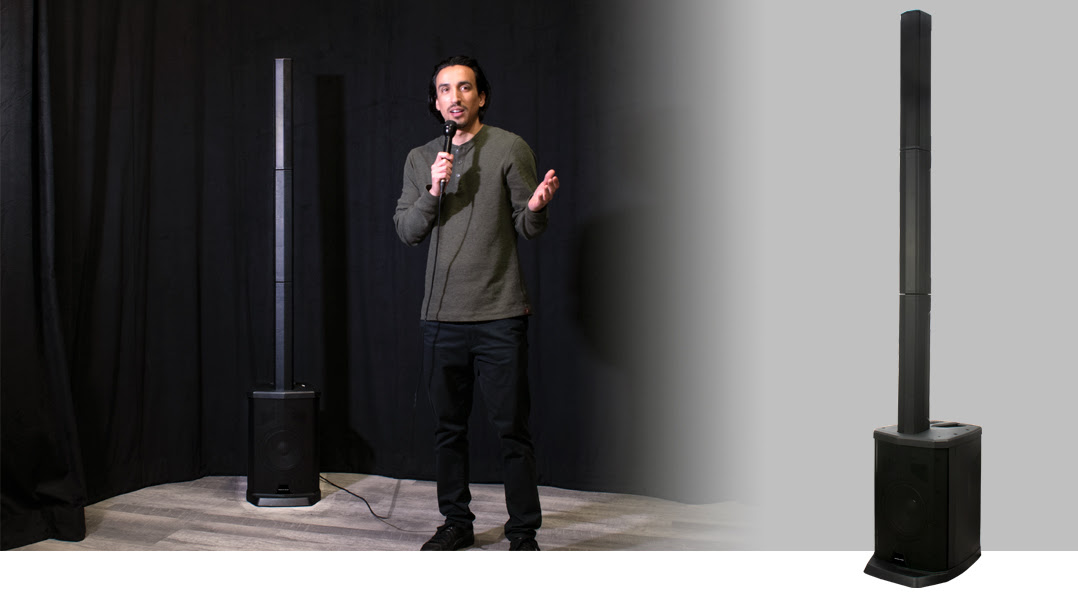 Comprising of an active subwoofer enclosure with an 8-inch driver, a column speaker with four 2.5" neodymium drivers, and two column spacers, the APX CS8 is a versatile AC powered PA system which can be used in a variety of configurations. The column speaker can be connected directly to the sub, creating a very compact full range PA setup which measures just 36.1" (916.6mm) from the ground. Alternatively, one or both of the spacers can be used to lift up the top of the column speaker to a height of 54.6" (1386.6mm) or 73.1" (1856.6mm), respectively. The spacers feature a proprietary connection system, which allows them to lock easily and securely in place, with the audio signal passed through the spacers from the sub to the column speaker meaning that no cable is required.
A class-D amplifier system is built into the sub enclosure, which has a power output of 100W RMS. This drives both the sub-woofer and column speaker array, generating well-balanced audio reproduction that is suitable both for live and recorded music. For smaller venues, a single APX CS8 is ideal for vocal performers, background music or speech amplification. Meanwhile, for larger spaces, two systems can be used simultaneously to create a stereo PA system for live music or DJ performances.
An in-built 3-channel mixer housed within a recessed panel on the back of the sub enclosure features 8 input connections, making this a very versatile system. Two channels are switchable between line and mic level and are provided with both XLR and ¼" jack input sockets, while the third channel is switchable between a 1/8" jack aux input and the unit's internal media player. This features Mode, Play/Pause, Repeat, Skip Back and Skip Forward buttons together with an LED display screen. It supports playback from USB memory sticks or SD memory cards as well as TWS (True Wireless Stereo) BLUETOOTH streaming from tablets, phones, or computers.
In addition to level controls for each of the three channels, the mixer also features an internal Echo effect which can be applied to either of the first two channels using dedicated rotary controls. There is also a single channel EQ to allow boosting of lower frequency reproduction as well as a master level control. LED indicators are included to show when the unit is powered and when the internal audio limiter protection circuit has been engaged. Finally, an output XLR is also included to allow the audio signal to pass to an additional amplifier or active speaker.
The total weight of the system is 40lbs. (18kgs.), which makes it easily portable when broken down into its four component pieces. Despite this, the robust molded plastic enclosures and heavy-duty powder-coated perforated steel grilles, mean the system is ready for a life on the road.
"The American Audio APX CS8 is a lightweight, portable and feature-packed column PA system that sounds great and is built to last," comments Alfred Gonzales, ADJ Group Sales Manager. "It is a flexible system, which makes it ideal for event companies as well as all kinds of solo performers, duos, and even small bands. Its in-built mixer offers lots of connectivity options, which should mean that the right socket is always available, while its internal TWS BLUETOOTH receiver means that music playback can be setup with nothing more than a power cable!"
American Audio equipment is distributed by ADJ Products, LLC and the APX CS8 is available now throughout the USA.
To find out more about the American Audio APX CS8 visit:
https://www.adj.com/apx-cs8
For more information about American Audio visit:
https://www.adj.com/products/american-audio