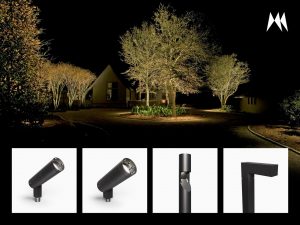 HK Lighting, a leader in crafted outdoor architectural and landscape lighting, today announced the debut of a select residential offering of their premium outdoor fixture solutions at CEDIA Expo 2023 for the CI Channel.
HK Lighting goes beyond the obvious, crafting inspired lighting solutions that are built to last, deliver exceptional performance, and embody clean and timeless design. Working closely with our designers, our mission is to craft perfect outdoor lighting to enhance any project.
Made from top-tier materials and components, HK Lighting products are tested to withstand challenging environments and the test of time. HK Lighting machines every fixture from solid billet 6061-T6 corrosion resistant aluminum, the same process used in aviation manufacturing. The company then anodize and powder coat the finish to ensure performance, even in coastal environments. Every fixture is burned-in and water-tested at the manufacturing end-of-line to ensure reliable functionality and protection from the elements.
At CEDIA Expo 2023, professionals from the Custom Integration (CI) Channel will have the opportunity to explore HK Lighting's exceptional collection of outdoor lighting fixtures, specifically selected to enhance residential landscapes, and is the ideal choice for discerning integrators and homeowners. Visit the HK Lighting experience within the DMF Lighting Booth #4112.
Accent, path, and flood lighting will be on display at CEDIA Expo including:
• ZXL08 – Our smallest 1.00" round, directional accent light for smaller plants and tree mounted applications.
• ZX16 – Our most versatile 2.25" round, directional accent light for most residential landscape and architectural applications.
• MBL08 – Our elegant and versatile 1" round path light for wayfinding and landscape emphasis.
Founder, Hiroshi Kira, grew up in Japan and learned the value of clean, simple design from an early age. With over 40 years of experience, he mastered the art of integrating design with functionality. HK Lighting products are built on the core principles of longevity, performance, and clean design.
"I am creating a 'paint brush' to draw light effects and art on a landscape canvas," commented Kira. "This creates a dynamic effect, like when the sun is going down, there's a certain effect, and a full moon will have a different effect. The effect becomes a major factor and that will contribute to the happiness of the people."