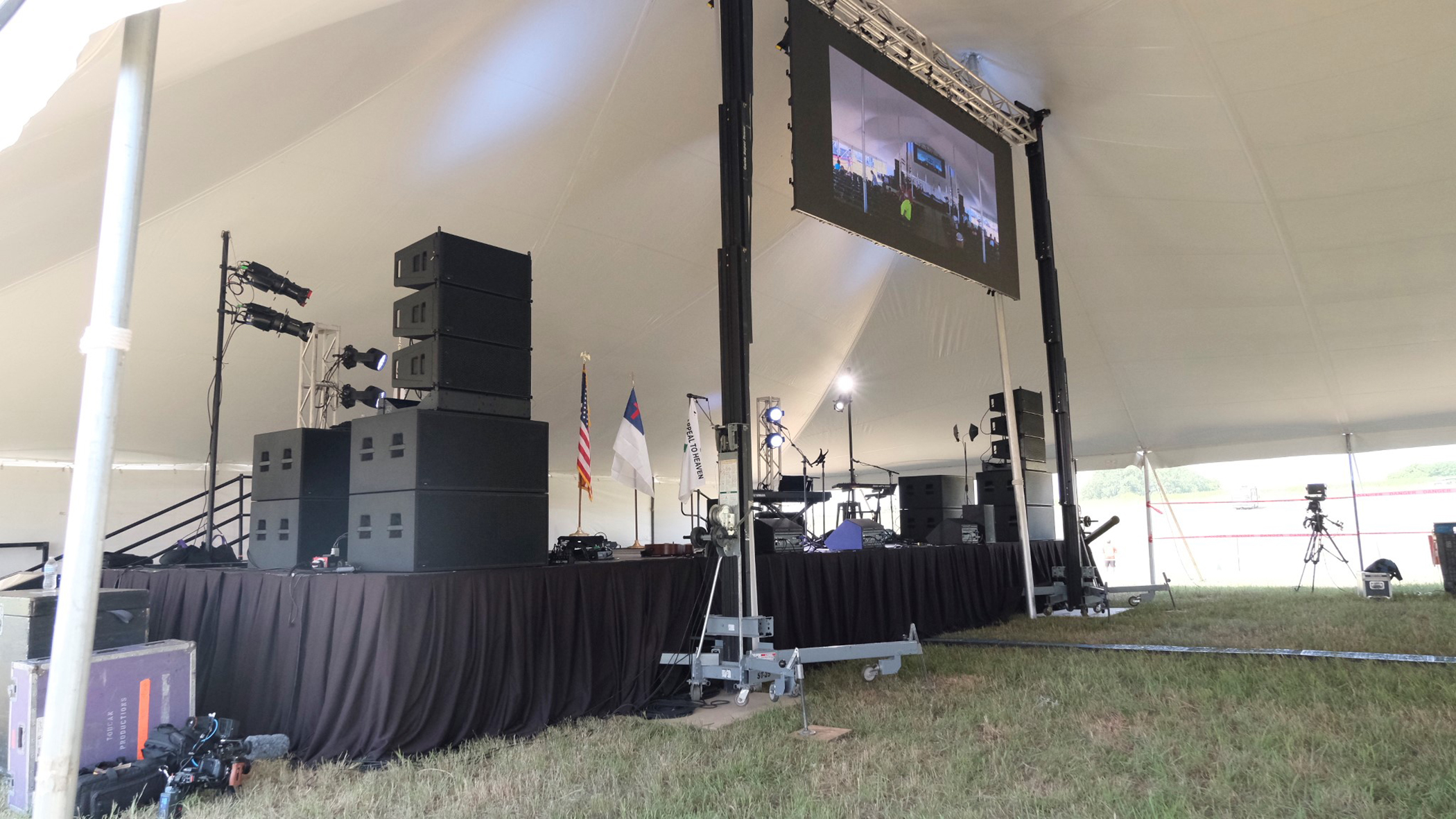 Blake Shelton, founder of Blake's AV Solutions, was always around and drawn to professional audio, from sitting with his father behind the sound desk at church to his pre-teen and teenage years as a DJ. When he founded Blake's AV Solutions, his dream became a reality. The full-service audio installation and rental specialist provides support for a range of live sound projects, no matter the venue—from corporate events to concerts, parties, church services, pageants and much more.
As a dedicated AV integration partner, Shelton has owned-and-operated a variety of PA systems from many of the other manufacturers in the industry. As Blake's AV Solutions' gigs have gotten bigger so has the need for a higher-quality, user-friendly, reliable PA system. Shelton found a solution that checks all the boxes with EAW's RSX Series loudspeaker system.
"When I first began my search for a new PA system, I reached out to Wes Pitzer at Highway Marketing for some advice," says Shelton. "Wes immediately suggested I look at EAW. I have always been impressed with EAW's sound quality, so I was excited to consider the brand's solutions. I wanted a turnkey solution that could provide clients with a speaker system that is simple to use and easy to install…basically something that you could unbox and set up the same day as the event."
To display the full capability of EAW's RSX, Pitzer set up a demo in Texas for Shelton. "The EAW crew demoed the entire line of the RSX series one-by-one, and I really loved the sound of the boxes," adds Shelton. "I've set up about every PA out there, and the RSX system is the most user-friendly line array I have ever rigged or set up, and its profiles are the best I've ever encountered. Most of the other manufacturers' in-the-box presets just didn't sound great, but EAW has figured it out—the system sounds spectacular. Plus, it's the most power, efficient sound system that I've tried out. I can run the entire thing on a couple of 110 outlets, and the amps hardly use any power."
Blake's AV Solutions acquired 12 RSX212 line array boxes, four RSX89 point source speakers, four RSX129 2-way 12-inch boxes and eight RSX218 dual 18-inch subwoofers. Shelton put his new EAW system to the test for the first time at a large, outdoor 5,000-person televised event. According to Shelton, "We set up three boxes per side, ground stacked under a tent with an end fire array of subs. It was amazing and outperformed all our expectations."
Shelton finds the tuning process of his new RSX system to be a standout feature. "I have traveled all over the country tuning systems, and with EAW's RSX and Resolution software, I can complete the tuning process in under 10 minutes," says Shelton. "EAW just makes my life easier, and it performs at a level that I have yet to see in another PA. In addition, the EAW system is a lot more intelligible at louder volumes."
EAW's RADIUS (RSX Series) couples unique and intelligent features, including OptiLogic™ with EAW's signature acoustical design to deliver solutions for rental firms and system integrators. Optimal sonic performance has never been easier or more accessible, and system design and control have never been more approachable. Additionally, EAW's Resolution Software provides total system optimization, plus intuitive room design and prediction in a single, comprehensive application. Also, RSX harnesses full Dante™ integration across the line.
"The EAW RSX system has been truly amazing," adds Shelton. "I have complete confidence that we can throw these boxes up anywhere and they will demolish just about any rig in its class. And when I say in its class, I'm talking about a big, dual 12-inch rock-and-roll box. These things can really pack a punch and I'm very happy with my EAW products. As a matter of fact, we are pushing almost all our installs to EAW."