DMF Lighting Launches New Custom Integrator Focused Website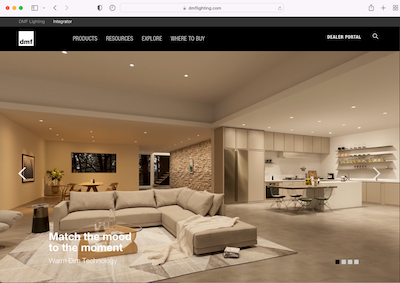 "In keeping with our continued commitment to investing in the CEDIA space, if you're an integrator and want to learn more about what DMF has to offer, this resource is the perfect starting point for you," said Mike Libman, National Sales Director, Residential Systems, DMF Lighting.
Following the introduction of the popular DID Series, exclusive to the integrator channel, DMF has continued to add innovative products to address multiple room needs and has added services to increase ease of doing business with DMF. The DMF Promise guarantees compatibility with lighting controls, access to advanced technical support, and an industry-leading 10-year warranty.
"With the introduction of our DID Series and its seamless integration into major lighting control solutions, we now offer a wide range of lighting applications that we will continue to optimize for residential use cases," added Libman. "From traditional to modern aesthetics, you can match the mood to the moment with whiter or warmer light outputs. The DID Series is engineered to be modular, allowing for optimum flexibility and ease of installation."
To learn more about DMF's portfolio of products engineered for integrators, visit the new website: https://www.dmflighting.com/integrator.