Cotton Bowl Hospitality Suites – Lighting Creates Ambiance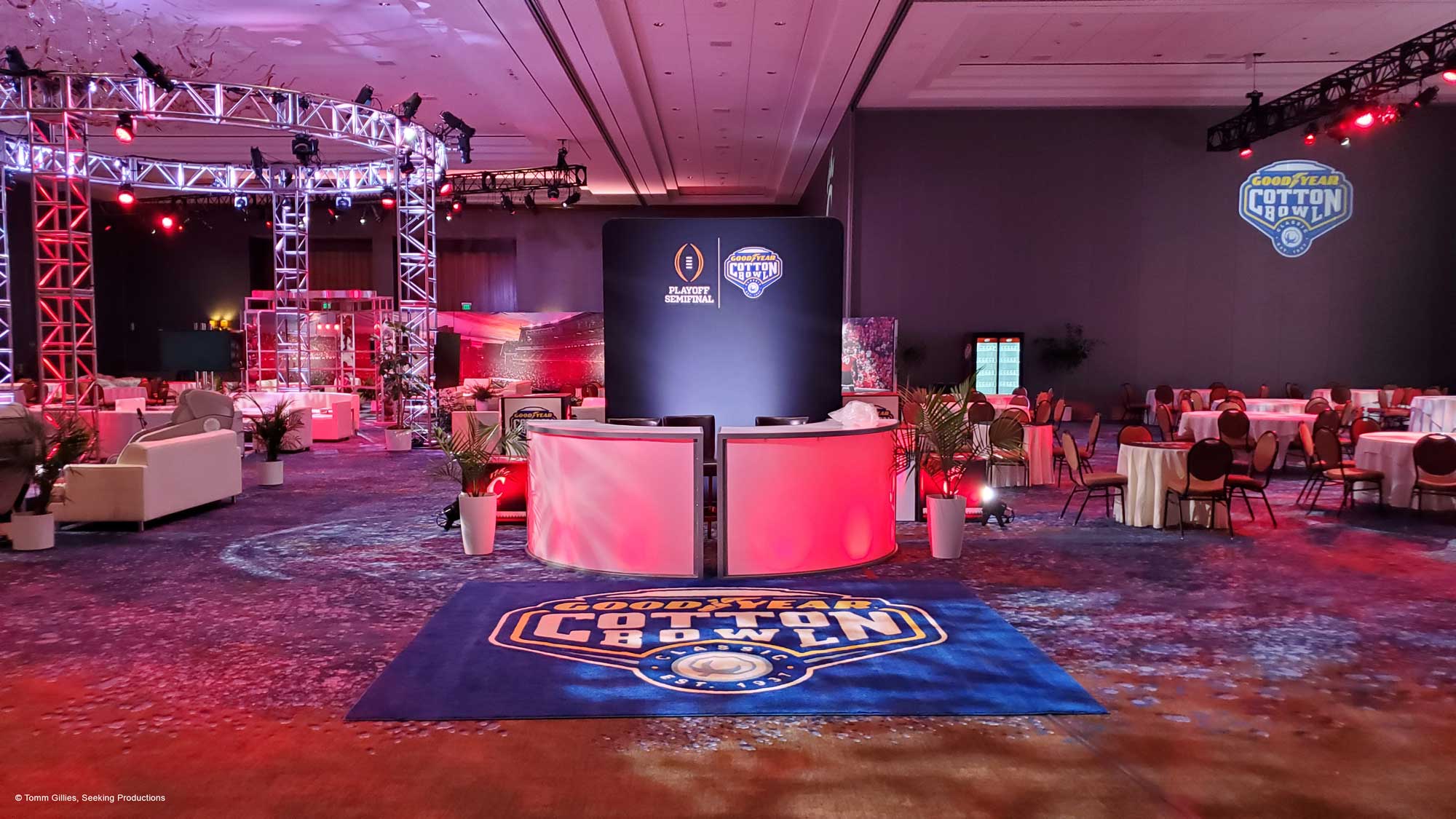 Each year, Arlington Texas welcomes the Cotton Bowl Classica, an American College Football game. On December 31, 2021, the Cincinnati Bearcats faced the Alabama Crimson Tide.
Keith Allen, owner of KW Allen Productions was tasked with lighting two separate venues during the Cotton Bowl. One at the Gaylord Texan Resort & Convention Center, the other at the Hilton Anatole. Working with lighting designer Tomm Gillies from Seeking Productions, and Ralph Foster, producer at XTRADA Productions, the team was able to come up with a relaxing, and enjoyable hospitality suite for both teams and their families.
During the Cotton Bowl, the event host and sponsors create hospitality suites for each team and their families. The hospitality suites offer the players, team, and family members a relaxing environment to go to when they are not playing the game or attending events. Catering to the team, the hospitality suites offer massage chairs, movie rooms, games, food, and more.
"The event requires a giant lighting rig," explains Allen. "All area lighting and décor are designed to transform the ballroom into an immersive space. This year the theme was an outdoor club."
Allen chose PROLIGHTS EclProfile FS (formerly known as the EclipseFS), because of the color saturation in the fixture, its low-powered ellipsoidal, with full color and true one connection was important for engineering to flow through the cabling to have one connector for everything.
The lights were used to break up patterns, highlight the food and beverage areas, and set the event's tone with the team colors and team logos on the wall using gobos.
"The project was interesting, as I needed to match the team colors, perfectly, for each hospitality suite. I used gobos in the EclProfile FS and projected them using the teams' colors on the wall. The entire space was fun," comments Gillies.
The lighting was run on a GrandMA and once the lighting was set, nothing changed.
Chroma-Q Color One 100X and Color Force 48 fixtures were used on the banners and displays inside the hospitality suite. On the field, there were giant banners of the players and coaches. KW Allen Productions used Chroma-Q® Color Force II models 48 and 72 to uplight the banners.
KW Allen Productions used their inventory of PROLIGHTS and Chroma-Q® fixtures while adding to the inventory using rentals from Christie Lites. A.C. Lighting Inc. supplied both KW Allen Productions and Christie Lites with the fixtures.