Cobalt® Digital Targets Need for Multiple Video Feeds with openGear® 9905‑MPx Multi-Channel Processor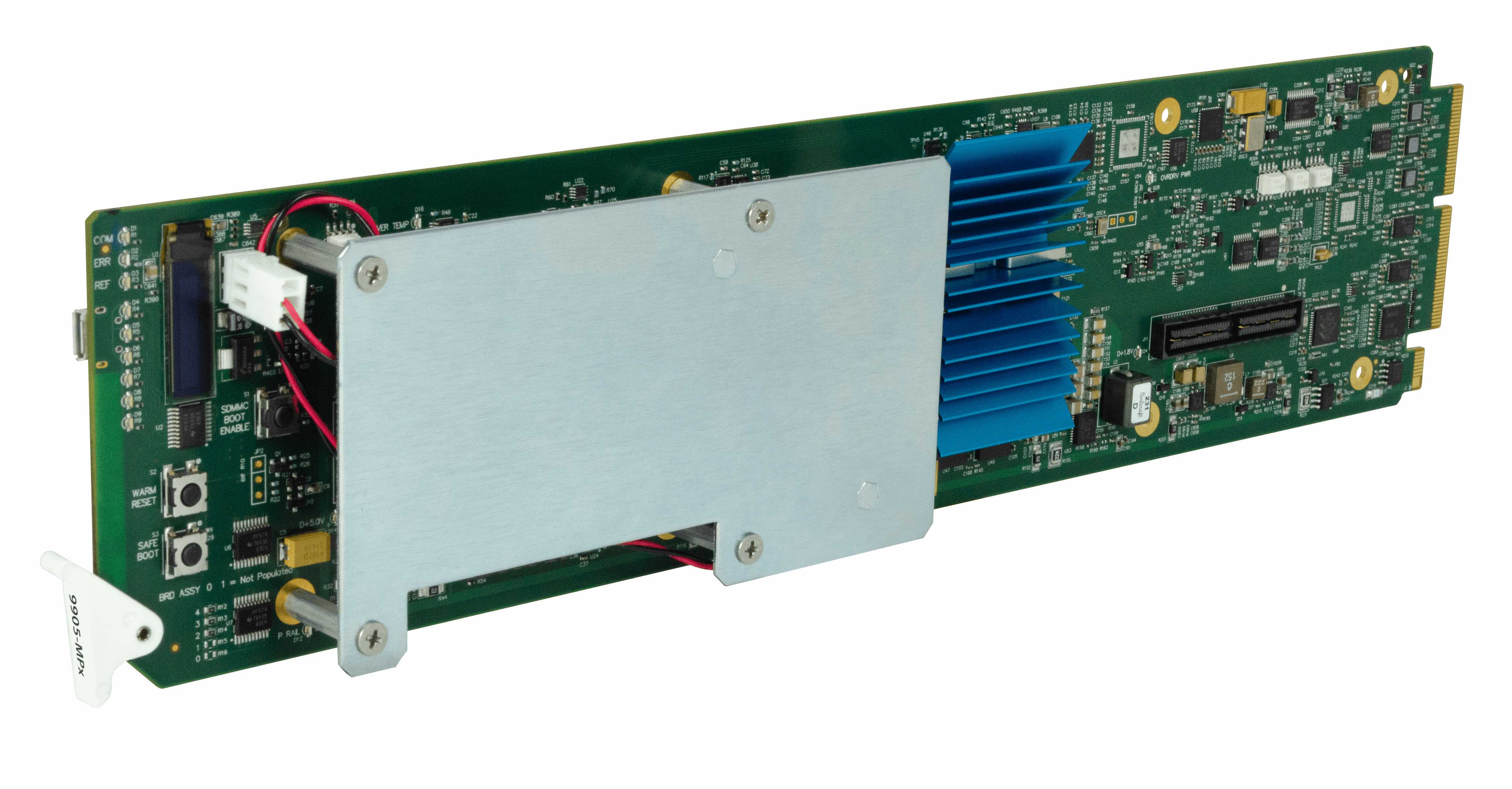 Cobalt® Digital, an industry-leading designer and manufacturer of award-winning edge devices for live video production and master control, and a founding partner in the openGear® initiative, has answered the need for handling and processing multiple video feeds with its 9905-MPx multi-channel processor. The 9905-MPx is a next-generation advanced scaler/frame openGear synchronizer developed in direct response to customer needs for a single module that supports four independent signal paths. The card was highlighted during a press briefing held virtually on October 6th and hosted by Suzana Brady, Cobalt's SVP Worldwide Sales & Marketing, who noted that the 9905-MPx was developed in response to customer requests for increased density, unprecedented multi-input support, and enhanced flexibility. The event also featured presentations by Dr. Ciro Noronha, EVP of Engineering, and Ryan Wallenberg, VP of Engineering.
The 9905-MPx, an audio/video processor for baseband digital signals, is capable of handling up to four independent 3G signals in a single, dense, cost-effective package that provides all common broadcast processing functions without any quality compromises. The card includes individual up/down/cross conversion scalers that are specifically designed for broadcast video formats, with full ARC control suitable for conversions to/from 4:3 and 16:9 aspect ratios. The multi-path design offers discrete AES and MADI audio embedding/routing/mixing/de-embedding to any of the four processing paths. Standard 3D LUT features and available color correction accommodate SDR and HDR processing for downstream HDR systems, on a per-channel basis. The card also supports per-channel logo insertion, as well as ancillary data insertion/extraction.
The 9905-MPx's openGear form factor allows it to be integrated into existing broadcast frames. When used with Cobalt's HPF-9000 20-slot chassis, customers can build a chassis with up to 24 channels (6 cards) of processing in a single frame, representing a new level of openGear packaging density and resulting in unprecedented multi-input support and flexibility with inherent features of openGear such as hot-swappable cards and dual redundant hot-swappable power supplies.
Additionally, the 9905-MPx offers very flexible audio routing, with MADI and AES support and can serve as a full-featured audio router capable of cross-connecting any audio channel from any of the inputs to any of the outputs, as well as the MADI inputs and outputs. All this functionality is provided in a single, dense, low power package that is unique in the industry.
"Sports and studios typically have multiple cameras that are switched/selected by the director for broadcasting," explained Brady. "All these signals have the same processing requirements: they may need to be color-corrected, frame-synchronized, and, if HDR is in use, they may need to be format converted by using one of many custom 3D-LUTs. In such situations, high density without compromising quality is key. This is especially true for broadcast trucks that go to sports venues, where space and power are at a premium. The 9905-MPx is ideal for such applications. It includes all the necessary functions without any quality compromises. Every channel gets best-of-class processing without compromise and without channel-to-channel dependency. Moreover, the openGear form factor allows for channels to be added as needed. Customers can add processing to existing chassis or build a high-density video processing solution by filling a chassis with multiple 9905-MPx cards. These features make the 9905-MPx perfect for any multi-signal environment."
Like many Cobalt cards, the 9905-MPx offers peace-of-mind via the Company's five-year warranty.