BenQ Thinks of Everything With Its BenQBoard Flexible Collaboration Solution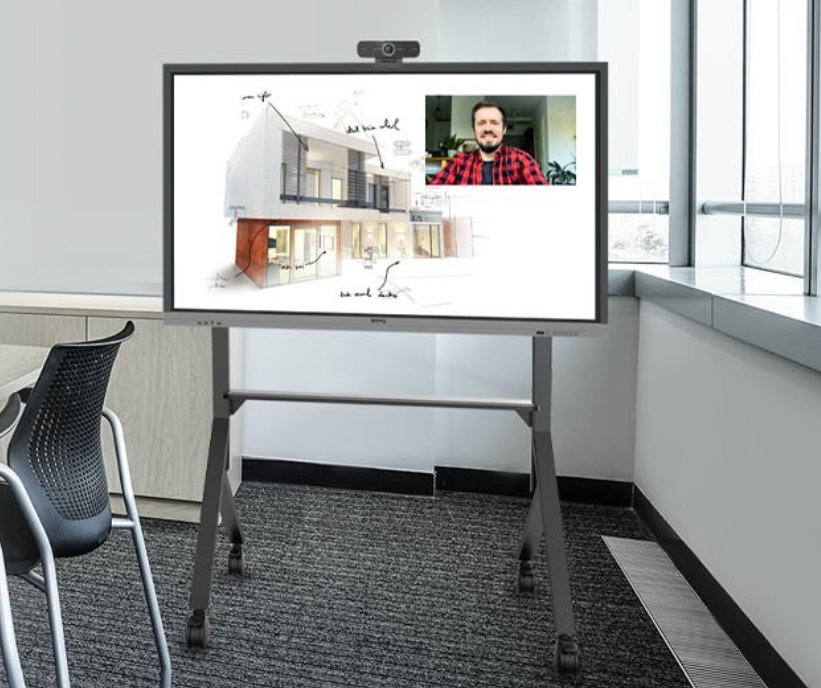 BenQ, an internationally renowned provider of visual display solutions, is making it easier, faster, and exceedingly more affordable for businesses, K-12 schools, and universities to equip meeting rooms, classrooms, and shared spaces with everything they need to collaborate and present with its new BenQBoard Flexible Collaboration Hub. The bundle includes BenQ's award-winning 65″ antimicrobial BenQBoard RE6501 UHD Smart Board, free collaboration and management software, OPS Intel i7 PC, DVY21 HD video camera with microphone, a sturdy TTY22 mobile stand, three-year warranty, and shipping for just $3,999. At last week's InfoComm 2022, the BenQBoard was awarded AV Technology's, InfoComm 2022 Best in Market award.
"We introduced our smart boards more than a decade ago. And since then, we've worked tirelessly to evolve them to incorporate all the features users — from employees, teachers, and students to IT and technology staff — need today," said Bob Wudeck, senior director of business development at BenQ America Corp. "The BenQBoard collaboration bundle is the product of our continuous dedication to meet new demands. It's the most affordable, comprehensive collaboration system on the market. Everything is included — a 65″ 20-point interactive smart board, computer, easy-to-use software, camera, pens, stand, warranty, and even shipping!"
Next-Level Smart Board for Next-Level Collaboration and Productivity
The BenQBoard RE6501 4K Smart Board is unlike any other collaborative display on the market. First, it features the world's only antimicrobial touchscreen. Second, with the i7 PC included, it instantly transforms any room or shared space into a video conference hub. Third, it comes with BenQ's license-free EZ Write software and built-in apps. And finally, it's an intuitive ecosystem to suit any meeting or learning need that's just as easy to use as it is to set up and manage.
Germ-Resistant Screen
All BenQBoards continue BenQ's leadership in health and safety. The displays boast the industry's only certified germ-resistant touchscreen, blue light filters that lower and protect eyes from harmful short-wave light, and flicker-free technology that eliminates screen flicker. These features benefit users by helping to mitigate the spread of germs found on surfaces and prevent the risk and damage caused by the increasing amount of time spent in front of a screen. With these benefits, everyone can feel more at ease in the new digital collaboration era.
Windows Support for Video Conferencing
The integrated, powerful i7 computer is ready to run Windows 10. Right from the BenQBoard, users can load and launch the video conferencing application of their choosing, in the same manner as a standard Windows notebook. It's also capable of running thousands of users' favorite and most-used applications, including Office 365, Slack, WebEx, and Zoom, when running in the Windows environment.
EZ Write Software
BenQ's EZ Write software features easy-to-use, cloud-based tools that allow users to get more done right from the screen. With a plethora of built-in apps right at their fingertips, users can read and edit Microsoft PowerPoint, Excel, and Word files; read and annotate PDF files; as well as record ideation sessions with a single tap on the screen — and then email attendees directly from the board. Plus, users can drive up participation and engagement with the BenQBoard's built-in license-free wireless collaboration and presentation system, InstaShare. The wireless screen-mirroring software allows up to four participants to share their screens at one time, from their notebook, Chromebook, or mobile device. InstaShare also features touchback, which gives users the flexibility to control and interact with content on the screen directly from the interactive display or a personal device.
Fully Managed, License-Free Ecosystem
BenQBoards also enable a seamless, incredibly intuitive, and personalized experience for even the least tech-savvy user. For example, with just a tap, teachers can start lessons or teams can present with instant access to all materials — whether in Google Drive, DropBox, or other cloud storage. They simply scan their personal QR code from the front of the BenQBoard to access all their cloud-based teaching content, apps, and screen personalization in seconds. This feature seamlessly integrates with Windows Active Directory or Azure for secure personalization of the display. With one tap, users have instant access of their network and cloud drives. Plus, with BenQ's central management software, IT managers can set up and sync user accounts with their Active Directory infrastructure drastically reducing the process that traditionally has required hours of manual labor.
Everything Included — At No Extra Charge
Featured in the BenQBoard Flexible Collaboration Solution, the DVY21 video camera offers full HD video with an 88-degree-wide field of view. With an intuitive lens and omnidirectional microphones that capture sound from up to 16 ft. and features ambient noise cancellation, users enjoy clear audio and video output that makes meetings and classes feel face to face. In addition, the kit price includes the robust mobile TTY22 stand to mount securely and move the screen from room to room or to convert a shared space instantly into a collaboration space, plus two pens that allow two users to write or draw simultaneously with different colors on the display, an Intel computer compatible with Microsoft Office and videoconferencing, a three-year warranty, and free shipping.
More information on the award-winning BenQBoard flexible collaboration bundle is available here.