BenQ Debuts Color-Accurate, High-Brightness, Large-Venue Laser Projectors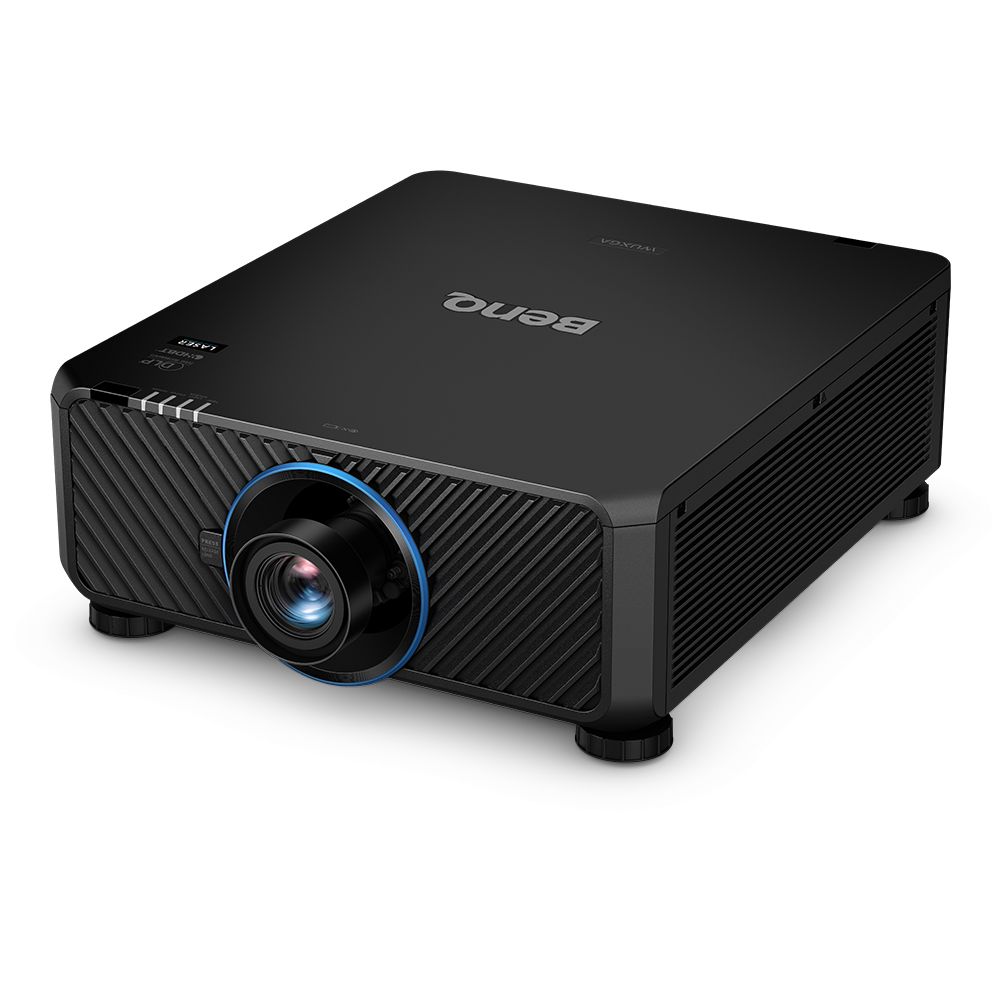 BenQ, an internationally renowned provider of visual display solutions, today added two new laser projectors to its renowned BlueCore laser projector family: the LU9750 and LU9800. Specifically engineered to deliver high brightness, precise image accuracy, and long-lasting reliability with zero maintenance, the new 8500-ANSI-lumen LU9750 and 10,000-ANSI-lumen LU9800 laser projectors are perfectly suited for large venues, simulations, and museum applications.
"Our latest laser projectors were developed for markets and applications that demand brightness and the highest attention to color accuracy but can't afford the steep price tag of a digital cinema projector in which these desired features are traditionally found," said Bob Wudeck, senior director of business development at BenQ America Corp. "In the past, these markets either had to make large investments for a color-accurate cinema projector or compromise on the precision of color and brightness, thereby negatively impacting the outcome of the installation. We're the first company to offer a 10K-lumen, color-accurate laser projector with 95% Rec. 709 color coverage for under $15,000."
An Achievement in Brightness, Clarity, and Color Accuracy
The new BenQ LU9750 and LU9800 laser projectors were specifically built for large-venue, simulation, and museum applications, filling the market gap where no affordable premium-quality projector could be found. These projectors are engineered from the company's decades-long legacy and expertise in creating superior projectors. Because these markets are focused on visual details, the LU9750 and LU9800 laser projectors are built leveraging the technological advances that have made BenQ a leader for esports, health care, and home theaters, where the highest attention to picture detail is required. They provide exceptional WUXGA (1920 x 1200) native resolution that far exceeds full-HD 1080p for greater detail and stunning image clarity at a high lumen count — as much as 10,000 ANSI lumens in the LU9800 — to deliver specified color accuracy that has only been available from the most expensive projectors found on the market today. What's more, these projectors deliver cinematic 95% Rec. 709 color coverage and accuracy out of the box, and will not yellow over time.
Zero Maintenance and Easy to Install Anywhere
The BenQ LU9750 and LU9800 laser projectors are also set apart in their maintenance-free, flexible design. They boast the company's innovative fully enclosed laser engine that is IP5X-certified — the same IP certification earned by today's best smartphones and watches that require rigorous protection. Here, it ensures that dust never has a chance to enter and cause damage that will shorten projector life and the investment made by the organization. Dust leads to a laser projector's demise and can collect on the internal optical components, causing spots that can ruin the picture and cause signal detection failure and brightness and color decay. The fully sealed engine keeps dust out and does so without the labor and maintenance costs of cleaning and replacing filters, which may be ineffective at completely removing dust.
Finally, these projectors offer flexible installation capabilities and tools well-suited for the myriad unique applications in which they will be installed. BenQ laser technology guarantees reliable projection from any angle. Dynamic installation options such as 360-degree rotation and portrait applications allow projection onto ceiling, walls, floors, or angled signage. In addition, motorized zoom, focus, horizontal/vertical lens shift, and customizable memory features ensure the image is perfectly aligned to the room's requirements. Both projectors are compatible with multiple electrical optional lenses to maximize throw ratio coverage to suit any application.
Tames Management Tasks With Free Agnostic Software
BenQ makes management of any projector simple and free. The LU9750 and LU9800 laser projectors are compatible with Crestron, AMX, and PJ Link LAN-based control systems for convenient system integration with various third-party components. When there is no LAN infrastructure, they also can be supported over RS-232 for reliable long-distance installations up to 15 meters. Finally, the projectors come preinstalled with BenQ's MDA centralized control software to maintain multiple projectors with ease. This completely free PC-based management tool enables remote and centralized management of multiple digital projectors by IT administrators/technicians via a local network. The management capabilities include the ability to remotely monitor, control, and configure projectors individually or as groups.
More information on the full line of BenQ WPS is available at https://www.benq.com/en-us/business/index.html.