Allen & Heath to Offer Free Live Sound Training at NAMM 2023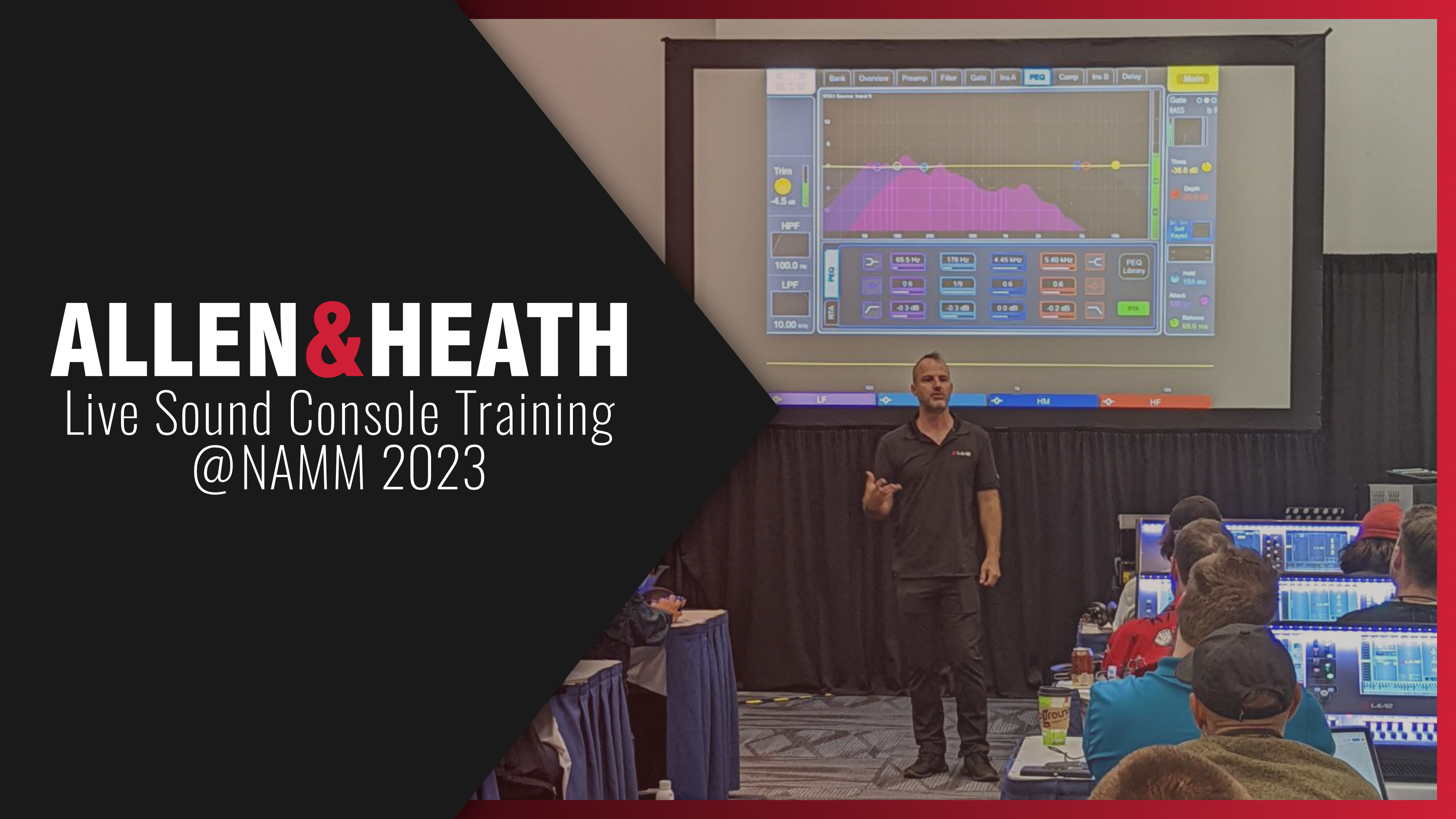 Allen & Heath will present an expanded presence at the upcoming NAMM show — with an enhanced booth featuring their pro audio product line (ACC North Level 1, #14102), a dedicated DJ mixer display area (Hall A, #11110), and multiple free live sound mixing training and certification classes (ACC Level 2, #209A). 
The live sound mixing training sessions, led by veteran Live Sound and Touring Manager Michael Bangs, will cover a range of subjects useful for anyone working in the live sound industry. Different sessions offered throughout the show will focus on dynamics and frequency control, mixing high channel counts on a compact console, quick festival mixing changeovers, house of worship mixing, and modern workflows. A full schedule of training sessions is available on the NAMM Show website, www.namm.org/thenammshow/sessions. 
During the training courses, attendees will have the opportunity to sit at an Allen & Heath dLive console surface and follow along with the instructor. 
"We are so excited to be a key NAMM 2023 console training partner," said instructor Michael Bangs. "Giving back to the community is an honor and essential for the ongoing quality of our audio world. Allen & Heath is very passionate about education and never misses an opportunity to serve the industry. I love meeting and interacting with anyone that has an interest in audio and we're all so very thankful to be a part of this training."
Show attendees will also have the opportunity to see Allen & Heath's full product range at the new booth. With an expanded footprint, Allen & Heath will be showcasing different dLive hardware configurations, the SQ series, the growing AHM series of matrix mixers for installation, and highly popular Avantis—a finalist for both the TEC Awards and the Parnelli Awards this NAMM season. The company's 'Everything I/O' ecosystem will also be on display, which offers I/O expansion to all Allen & Heath digital mixers.
"The NAMM Show is a must-attend event for anyone in the live sound industry as far as we're concerned," remarked Jeff Hawley, Marketing Director for Allen & Heath USA. "We've had the pleasure over the years of connecting with so many engineers and performing artists who rely on A&H gear to get the job done. 2023 is jam-packed with fun events like the Worship Musician Pre-NAMM Hang, the TEC Experience, the Parnelli Awards, fun TEC Tracks sessions—and of course the Live Sound Console Training, presented by Allen & Heath. It's going to be an amazing show and we are excited to see you all there!"