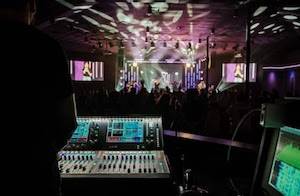 Action Church Taps Trio of dLive for System Expansion
Founded in early 2014 by Pastor Justin Dailey, Action Church has grown by leaps and bounds and it shows no signs of slowing down. Action Church has been in the top ten of Outreach Magazine's 'Top 100 Fastest Growing Churches' three of the seven years of its existence, including a second place nod for 'Fastest Growing Church' in 2018. Action Church has a large number of Allen & Heath audio systems deployed at all four locations, with three additional dLive systems selected for deployment at their broadcast location in Winter Park, Florida.
John Williams, Experience Director for Action Church, worked closely with church volunteers and the Bradenton, Florida-based Crown Design Group for this latest expansion phase. "We started with the original install back in November 2018 and dLive has been a great platform since day one," Williams notes. "We've been blessed to have off the charts growth at the church and when it was time to ramp up further on the audio side, there was no hesitation about going big again with even more dLive."
Action Church drives FOH and broadcast mixes from dLive S7000 Control Surfaces, with 96kHz XCVI core mixing via a DM64 MixRack at FOH and a DM0 at broadcast. The S7000 is the largest Control Surface in the dLive family, with 216 assignable fader strips, 36 faders over 6 layers and dual 12″ capacitive touchscreens. Monitor mix duties are tackled on the compact C1500 surface connected to a dedicated DM64 MixRack. The C1500 is one of the smallest surfaces within the dLive family, packed with 12 faders over 6 layers, built-in audio I/O, an audio networking port, and a 12″ capacitive touchscreen in a 19" rack mountable wide frame.
A collection of two 64x64ch Dante cards, three 128x128ch Dante cards, a 128x128ch Waves card and four 128x128ch gigaACE cards were installed across the MixRacks to provide full 96kHz audio networking flexibility and further expansion and integration options. The gigaACE audio networking card is one of several audio networking options that can be fitted to any Allen & Heath dLive or Avantis I/O Port. It provides a point-to-point link to another dLive or Avantis mixing system with an ultra-low transport latency of only 5 samples.
"Each dLive MixRack can easily handle 128 input channels with full processing, but amazingly we needed even more total inputs and busses in our full system," Williams adds. "The direct plug and play compatibility across the full dLive range made that expansion requirement a cinch. We also kept everything consistent with the original install by adding an additional Bittree patchbay, complete with Whirlwind snakes. And shielded, redundant CAT6 connections, where applicable. This system is very complex, but also extremely flexible. The convenience of digital tie lines and being able to cross between several protocols is totally amazing."