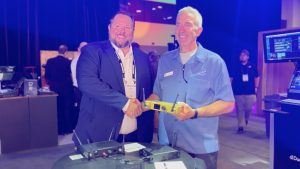 A.C. Lighting Inc., distributor of world-class lighting and rigging technologies, is honored to announce the expansion of our partnership with LumenRadio.
Effective immediately, A.C. Lighting Inc. is the single, exclusive distributor across the United States and Canada for Wireless Solutions and LumenRadio products.
"It is an honor to become the exclusive distributor for LumenRadio's entire product line," remarks Fred Mikeska, Executive VP of Sales. "We are excited to work with LumenRadio through the integration of Wireless Solutions and LumenRadio, and the leading-edge technologies that LumenRadio is engineering and manufacturing. The market share for LumenRadio has grown over the past five years, especially with the introduction of the TNG line. We are looking forward to working with our clients to help them integrate new LumenRadio technologies in the future."
In June, LumenRadio presented Fred Mikeska with the 2022 Distributor of the Year award during InfoComm. A.C. Lighting Inc. has been awarded this honor in 2015, 2019, 2020, 2021, and 2022.
If you have questions or want to purchase LumenRadio Products, please get in touch with Fred Mikeska at 416-255-9494 or email northamerica@aclighting.com.
Don't forget to follow A.C. Lighting Inc. on Social Media: