Stomp Bluetooth 4.0 Page Turner Pedal & App Controller by CODA Music Technologies
By Kent Tinsman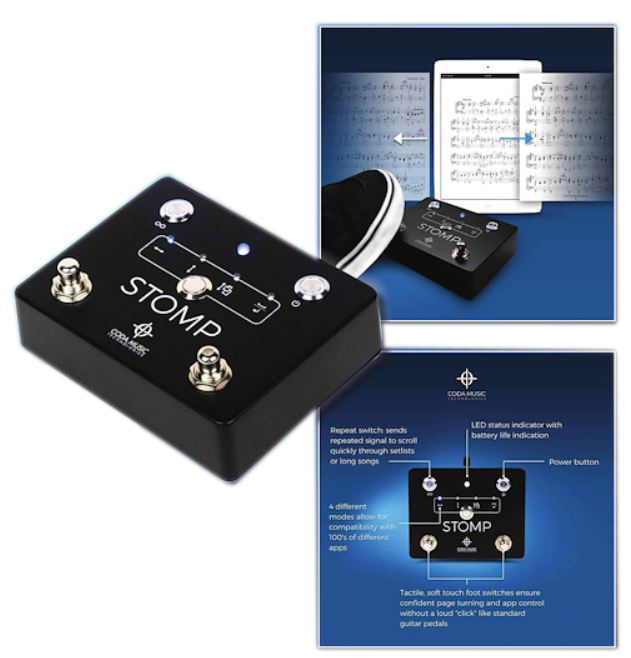 As the Worship Leader for NorthRock Church at our Jackson, Michigan location, I have contributed my time and talents to a few large church worship bands for over 20 years. NorthRock Church started four years ago and has grown into two campus locations with a third location launching this year. Our church model really proves that church startups don't have to cost a fortune. I chose to write this review because I believe that the technology and workflow we have implemented centered around the STOMP pedal can help other churches run a much tighter worship set.
I reviewed many page turning products prior to purchasing one but chose STOMP by Coda because of its rugged construction and small footprint. If you are a guitarist, it can be plugged in and placed right on your pedalboard, which is pretty convenient. It can be powered by on a 9V battery if you don't have an outlet and also has a convenient USB port for charging your phone or iPad.
My initial use of the STOMP pedal was pretty basic. I started creating some power points with lyrics, chords, and special notes to visually help our band tighten up the songs. We have a large confidence stage monitor that we can all visually follow along with. The entire song is a series of slides that are advanced using the STOMP pedal. This has eliminated music stands on stage and the minor hiccups caused from looking up and down on a paper to go back to that chorus that was already played. I would first listen to a song from a worship leader perspective and then add notes to the PowerPoint for anything "unique" that I should be listening for during practice. It's easy to call out those notes/cues verbally but having these visual cues while playing really tightens up the entire band. Notes that I find extremely helpful are things like breaks, builds, when the bass would come in/drop out, drum solos, guitar solos, acapella, etc.
I am still using this PowerPoint method with a stage monitor and have also recently discovered an awesome process that really adds power to our workflow. STOMP is compatible with ProPresenter and that program has a feature called stage display, which offers the ability to add a PDF attachment to each lyric slide. DIscovering this was a light bulb moment for me and I started creating power point slide chord charts to exactly match the lyric slides. Each power point slide chord chart is saved as a PDF, then attached to the lyric slide, and the stage display and overhead monitors will always run in sync. You will never have that moment of wondering why the lyrics weren't right last Sunday. I have seen many YouTube videos and articles explaining how to add pages/sheets of chord charts to slides. I also read recommendations of typing chords in the notes field, but I have not seen anybody mention this PDF slide method before, and it's a game changer.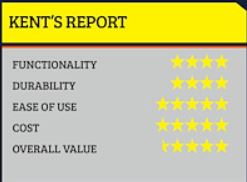 Not only do I have the ability to keep the band in sync using the stage display, but I also have the ability to control the ProPresenter slides using my STOMP and feeling confident about what is on the screen without looking behind me. An entire weekend could be run smoothly using the STOMP pedal without needing a person to advance slides. If you are a smaller church with limited volunteers or staff then the STOMP by Coda is definitely a great addition to your tech arsenal. Thank you Coda for building a great product that allows us to do so much. We will never go back to paper chord charts!
KENT TINSMAN IS THE WORSHIP LEADER AT NORTHROCK CHURCH.