Relevant Audio + Visual light 2020 SMC Conference with Elation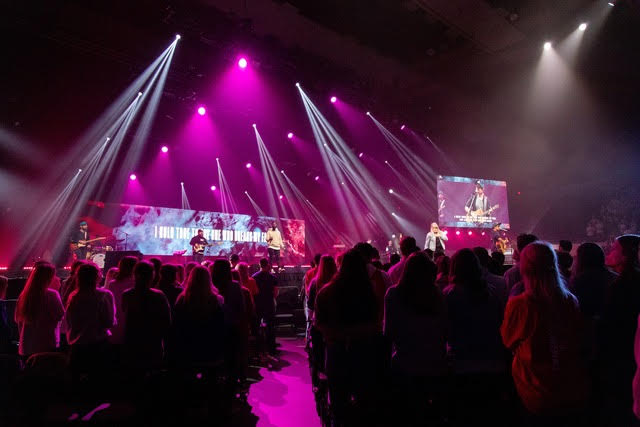 Thousands of college students of faith descend on Oklahoma City each year for the Student Mobilization Conference (SMC), 4-days of worship, camaraderie, inspiration and, in the evening, lively entertainment. Relevant Audio + Visual has collaborated with SMC the past eight years to create an inspiring audiovisual experience for attendees and this year tapped into their inventory of state-of-the-art Elation Professional luminaires to help create the uplifting atmosphere.
The 2020 Student Mobilization Conference took place January 2-5 at the Cox Convention Center in downtown Oklahoma City. Relevant Audio + Visual's challenge was to create an engaging, impactful environment to motivate and encourage attendees to spread the word about Student Mobilization's Global Impact/Mission and summer discipleship training opportunities. The Wichita-based AV production house designed a complete 3D visualization to fit SMC's mission and budget, then provided, programmed and operated all audio, visual, and lighting equipment at the SMC Conference. Lighting design was by Brandon Deibler, Director of Design and Operations at Relevant Audio + Visual.
Relevant Audio + Visual has been investing in Elation gear for the last five years and in that time has acquired an impressive inventory of fixtures that includes Elation's multi-award-winning Artiste Monet™ moving heads. "From the initial design standpoint, we knew we wanted to place a very strong fixture at the furthest upstage edge of the stage and utilize it for specific moments of worship," commented Chris Derstein, CEO and Operations Director at Relevant Audio + Visual. "The Artiste Monet ended up being a great fixture for the job. It allowed us to create some very stunning looks with large gobo breakup effects and was a key fixture in the design."
As Derstein and his team solidified the design, they knew that with such a strong fixture on deck they would need to position punchy fixtures from above and ended up utilizing 16 Platinum Beam 5R Extremes™, 12 Fuze Z350™ single source Par moving heads and 24 ACL 360 Bar™ moving bar effects spread across four trusses raked low to high moving downstage. "The Platinum Beams gave us the punch we were looking for and the Fuze Z350s gave us a strong back/down fill light for the stage. The ACL Bar we have found is a great eye-candy look that gives great punch and also gave us the ability to add nice moving texture to the design," Derstein said, adding that the raked truss grid allowed them to create a large amount of depth in the lighting design.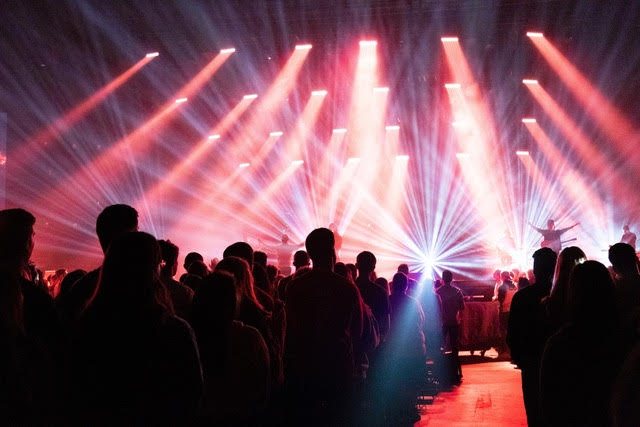 In order to widen the look, two ladder trusses were flown on each side of the stage, each incorporating 8 Fuze Z120™ and 4 Platinum Spot 5R Pro™ moving head fixtures. Derstein says, "We opted to add 6 Rayzor Q12 fixtures under each side video wall, allowing us to have side light for the stage as well as widening the overall design so that the video screens became a part of the design." Also in the rig were 12 of Elation's multi-functional Paladin™ strobe/wash/blinder LED effect lights.
The 2020 SMC Conference was another positive experience for the group of youthful attendees, who left the 4-day conference with plenty of memorable moments that left them energized and inspired. Brandon Deibler shares one of those moments that took place during one of the banner songs for the conference, "Death of Death" by Life.Church Worship. "We needed to open the song in a very chromatic, simple way," he says, "so I chose to use only the Fuze Z350s focused in a down position and slightly tilted out, fully zoomed out and running in white at about 6000K. As the song built, the Platinum Beam 5Rs slow faded in with a slow rotation prism in white as they moved from a straight down position to tilted out toward the crowd. At the climax of the song, the Fuze Z350s faced straight out to the audience in a full zoom white random strobe. On the final drum hit, the full rig snapped full white with full zoom, then slow faded out as the Monets were revealed with a full white, full zoom pinpoint breakup slowly rotating from the far upstage edge of the stage. It was a powerful moment as the band led the crowd into a reflective moment where the crowd sang the chorus while the band fell away."
While the SMC Conference is a transformative experience for many young adults, the team at Relevant Audio + Visual also clearly take pride in being part of the event. Derstein concludes, "It was a privilege to again partner with the SMC team on this successful event and to see them continue to grow their impact through the SMC Conference."
Elation equipment:
6 x Artiste Monet™
22 x Platinum Beam 5R Extreme™
24 x Fuze Z350™
16 x Fuze Z120™
24 x ACL 360 Bar™
12 x Rayzor Q12™
12 x Platinum Spot 5R Pro™
12 x Paladin™