Old Town Temecula Community Theater Invests Heavily In ADJ Automated Fixtures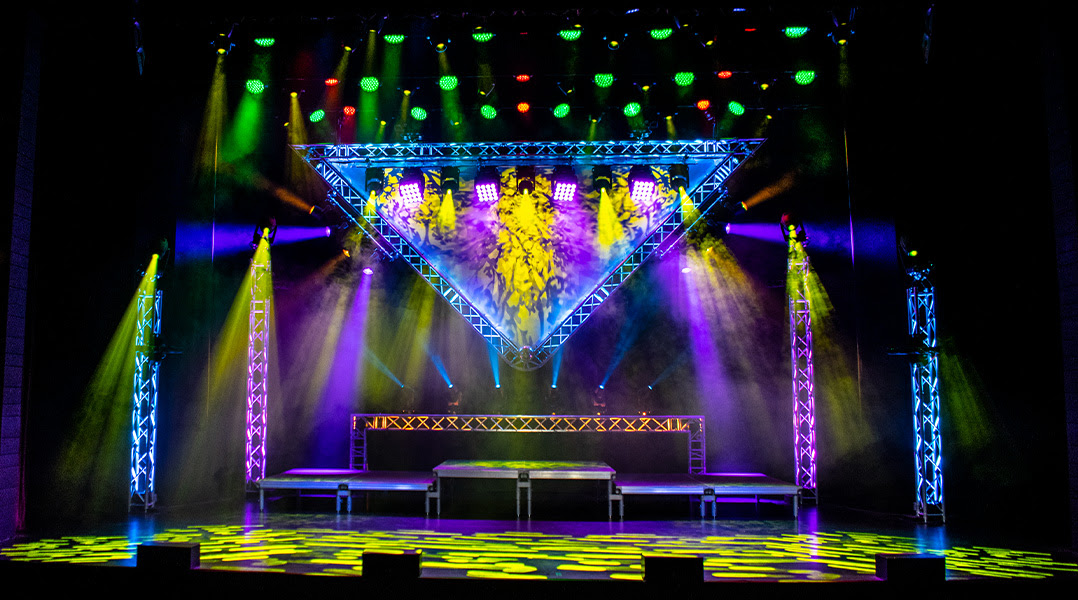 Located in the downtown area of Temecula, CA, the Old Town Community Theater is a 354-seat proscenium stage venue with an adjacent 48-seat intimate 'black box' performance space known as The Merc. Having recently celebrated its sixteenth anniversary, the theater is well established at the heart of the community and hosts an extensive program of performances each year. Its resident companies produce a variety of musical theater productions and straight plays, while the popular 'Temecula Presents' series sees the venue host musical performances covering everything from blues to classical as well as regular tribute band concerts. In addition, numerous promotors and outside theater companies also utilize the space, making for a packed calendar that requires a comprehensive and versatile technical system.
The man responsible for designing and specifying this audio and lighting system is Bill Strawn, an industry veteran with a wealth of experience. Having spent much of his career touring the world, Bill's transition into his current role as Technical Director at the theater was truly serendipitous. On the back of a six-year run working as an Electrician on the touring production of Riverdance, he bought a house in Temecula and happened to see a new theater was being built in town. He knocked on the door, offered his services, and over sixteen years later is an integral part of the venue's team.
During his time at the theater, Bill has become a champion of ADJ fixtures, having recognized the trifecta of usability, durability and affordability offered by the brand's range. This began a number of years ago with an investment in the (now discontinued) Inno Spot Elite LED-powered moving head luminaires, which are still in use as part of the theater's Front of House rig. More recently, Bill has expanded the venue's inventory of ADJ fixtures to the point that almost the entire rig comprises of LED-powered ADJ fixtures, with only a few exceptions.
The venue's new ADJ fixtures were supplied by Musson Theatrical, based in Santa Clara, CA. Commenting on the project, Musson Theatrical Sales Representative Bobbie Odehnal said, "We were very excited to work with Bill Strawn at City of Temecula / Old Town Temecula Theater for updating his lighting rig with LED fixtures. Bill was looking for reliable and affordable fixtures in the LED line. We at Musson were able to help put together a selection of ADJ fixtures that fit their needs and their budget. It was a pleasure working with Alfred [Gonzales, ADJ USA National Sales Manager] and the crew at ADJ."
The Vizi CMY300 is arguably the fixture at the heart of the theater's lighting rig. A total of 36 are in use, with 29 positioned above the stage on the overhead grid and the remaining 8 located on a FOH truss. Powered by a highly efficient 300W LED light engine, focused through a precision-engineered optical system, it offers a huge output. Serving as a hybrid utility fixture, it can function interchangeably as a beam, spot, or wash and offers a huge variable beam angle range of between 8 and 46-degrees. It is also loaded with beam-shaping tools, including its signature CMY color mixing feature as well as a separate color wheel with CTO and UV filters, two GOBO wheels, two rotating prisms and a frost effect. This makes for a truly versatile fixture that is ideal for multipurpose theaters.
For color washing of its stage, the theater makes extensive use of ADJ's Vizi Wash Z37 automated fixtures. 24 of these are interspersed with the Vizi CMY300s on the overhead grid, while 6 additional units are rigged to a separate FOH truss, positioned just in front of the stage, which provide the main front wash. Each of these potent and versatile luminaires feature a circular configuration of 37 x 20-Watt RGBW color mixing LEDs arranged into 11 independently controllable zones and offer a motorized zoom function for a beam angle of between 10 and 60-degrees.
In addition, the theater also makes use of ADJ's smaller Vizi Wash Z19 moving head wash. This unit offers the same versatile feature set as its larger sibling, but with 19 x 20-Watt RGBW LEDs split into seven separate zones. A total of 16 of these fixtures are in the theater's inventory and are usually deployed split equally between the overhead grid and side ladders, where they are used to provide side fill for the stage wash.
To supplement this extensive and flexible main lighting rig, the theater also offers a standard ground package for live music performances. Designed around a variety of truss structures from ADJ's sister company Global Truss America, this also boasts a variety of ADJ lighting fixtures, both static and automated. A large triangular structure, flown centerstage, features five Focus Spot 6Z moving head spots interspersed with Illusion Dotz 4.4 moving panel fixtures along its top edge, as well as the option of an additional Focus Spot 6Z fixture hung in the middle of a pipe which dissects the triangle. Four of ADJ's Par Z Move RGBW automated color changing par fixtures are positioned along each of the remaining sides of the triangle, while six MOD HEX100 LED wash fixtures serve as truss warmers. This configuration allows for a wide variety of looks to be created, including retro ACL-style 'fingers of light' as well as more modern animated aerial effects, while a scrim attached to the inside of the triangle provides a projection surface for other fixtures in the rig.
The central triangle is flanked by a pair of upright truss totems on either side, each lit internally by another MOD HEX100 and topped with an additional Focus Spot 6Z. At the back of the stage is a low truss goal post warmed by a pair of MOD HEX100s and supporting six Focus Spot Three Z moving heads, which can be used to shoot aerial effects up from behind the band. Finally, two more low goalposts are positioned on side wings, which each extend from the stage apron down either side of the house. These are used to each support four Focus Spot 5Z moving head fixtures, which are ideal for generating aerial effects above the audience as well as for GOBO projections onto the side walls of the auditorium.
With its large quantity of automated lights, split across wash, spot and hybrid fixtures, the Old Town Temecula Community Theater is fully equipped for even the most demanding of productions. What's more, since the almost exclusively ADJ rig is also almost exclusively LED-powered, the temperature on stage always remains at a comfortable level for performers and the venue's use of electrical power is as efficient as possible.