Nicky Romero Rings In The New Year Illuminated By ADJ Lighting For A Second Time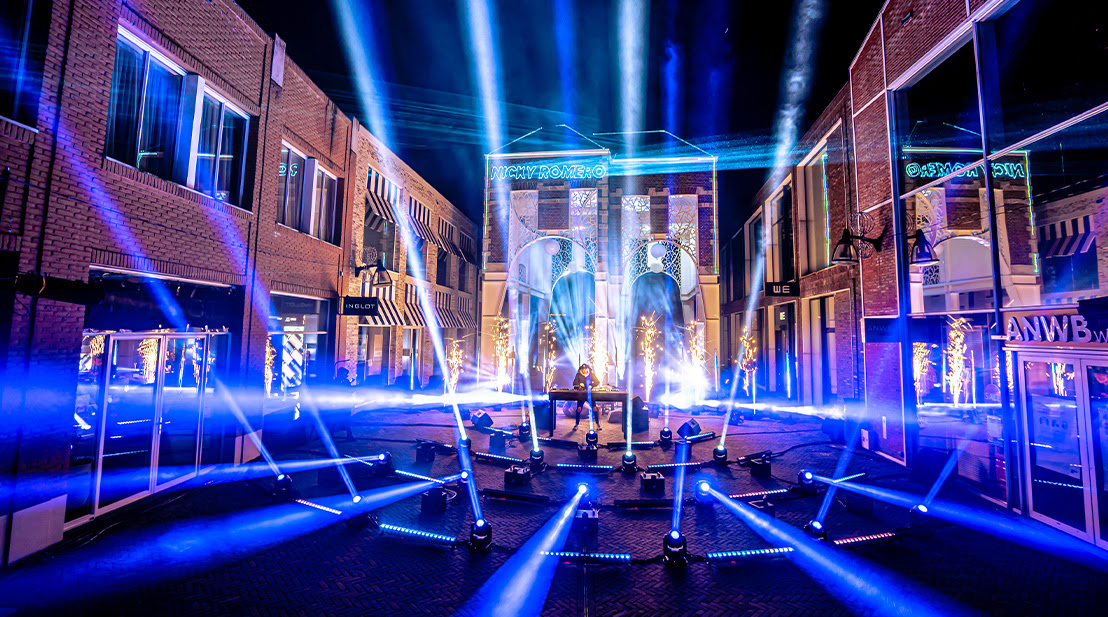 'Nicky Romero and Friends Presents NewYear Show 2022' was streamed exclusively on Nicky's website from 10pm until 1am, local time. It featured warm up DJ Marc Benjamin, a guest performance from Wildstylez, and an hour-long set from Nicky himself to welcome in the New Year. Filmed outdoors in front of the iconic Kreelpoort (town gate) in Nicky's hometown of Veenendaal in The Netherlands, the livestream was organized by his management company, Artist Division. Ronald de Man, through his company RDM Productions, was responsible for managing the project and brought in local rental company N.T. Sound to supply all the lighting and audio equipment, including over 100 ADJ fixtures. The company's owner and manager, Jonathan Jansen, designed the lighting rig, while programming and operating duties were handled by Koen van Elderen, one of the most prolific Lighting Designers and Programmers in the Dutch EDM scene.
"The brief from the customer was to create something nice with LED strips and moving heads that would fill the street in front of monument and they liked the idea of curved lines," explains Jonathan. "So, I came up with a design based on four arcs of fixtures in front of the DJ position and another arc, curving in the opposite direction, behind. This put Nicky and the other DJs right in the middle of the rig. Then we also lit the Kreelpoort itself and put moving heads behind and also within the structure, so that it could be filled with beams and GOBO projections. Koen did a really great job of using the rig to its full potential, he created a really interesting show that made good use of all the different fixture types and locations. He is a very talented programmer and operator; he is very creative and everything he does looks nice, so kudos to him on a great job!"
Koen was bitten by the lighting bug at the age of 17 when volunteering at Intents Festival, one of the biggest dance events in The Netherlands. Right there he set himself the target of running lights for the main stage, a goal he achieved only a few short years later. Having learnt his trade working as an inhouse tech for a busy production company, Koen soon went freelance and has since designed a large number of festivals and dance events – particularly in the hardstyle scene – as well as toured the world as LD for both Nicky Romero and Steve Angello. Having spent two years on the road with Nicky, Koen is very familiar with the artiste's music as well as what he likes in terms of lighting, which made him an obvious choice for this project. However, he is quick to point out that there are important differences between working on live events and streaming projects.
"The main difference between a livestreamed event and a regular show is obviously that there is no crowd," states Koen. "This allows for flexibility in the placement of fixtures – in this case the whole floor in front of the DJ booth – where the crowd would be for a live event – was filled with fixtures. But what it means for me is that I have no audience to react to, so it is purely about the music. I put in my in-ears and really lose myself in the music, translating what I hear into lighting. The other important thing to remember is that the audience are watching on a screen, they're not dancing in the middle of a big crowd. So, it's important to focus on the eye candy, to change the looks regularly, to keep things fresh for the viewers. If it looks constantly the same, they might switch off and go watch something else!"
Koen was able to achieve this on Nicky Romero's New Year's Eve show thanks to the variety of fixture types included within Jonathan's rig design. However, ADJ's Vizi Beam RXONE was the common factor running throughout the whole setup. These units were utilized in all five of the arcs of fixtures and also positioned behind the Kreelpoort to allow beams to be shot through its arches. An incredibly popular dedicated beam moving head, the Vizi Beam RXONE offers immensely powerful output from an extremely compact, lightweight unit which is also very tough. Utilizing an efficient Osram® Sirius HRI 100W 1R discharge lamp, focused through precision-engineered optics into a tight 3-degree beam, it is popular with designers who want a moving light that can be deployed in significant quantities.
"I have worked with the Vizi Beam RXONE many times before and it does exactly what a beam has to do; it is fast, it has a nice prism and GOBOs, which is all I need from a beam," comments Koen. "It is very bright, especially considering its compact size. It is also very light, which means that it is easy to fit a large quantity of fixtures into a design without having to worry too much about weight loadings for truss."
The four arcs of fixtures positioned in front of the DJ booth each featured Mega Tri Bar linear LED washes interspersed with the Vizi Beam RXONE moving heads. These were angled forwards and programmed by Koen to create color chasing eye candy effects. These were continued behind the DJ position by pairs of Pixie Strip 60 LED pixel bars, rigged to upright pipes, and spaced between the RXONEs in the rear arc. This provided a backdrop to the DJ position without obstructing the Kreelpoort. The monument itself was illuminated by ADJ's 32 HEX Panel IP LED wash fixtures, which were positioned in front of, within and, behind the arched structure. The rear of the building was lit specifically to allow for drone shots captured by flying in from behind the performance area. Finally, SIXPAR 200IP LED par fixtures from ADJ's sister company Elation Professional were utilized to illuminate each of the Kreelpoort's eleven structural pillars.
Completing his lighting design for the project, Jonathan positioned Vizi CMY300 moving head fixtures within the arched structure beside each of the upright pillars. These were specifically chosen to create GOBO projections and wider aerial effects behind the DJ position to provide contrast from the tight beams of the Vizi Beam RXONEs. This addition to the rig was much appreciated by Koen as a tool to create the variety of looks he feels are essential for all shows, but especially live streamed performances.
"To keep within budgets, a lot of designers are skipping spots these days at dance events, because they are expensive," explains Koen. "And they try to create the same kind of effects using beams with a prism, but I just don't think it looks as good: it's a prism, not a GOBO, so there will always be a hole somewhere! For this reason, I always like to have some proper spot fixtures in my rigs; so, I was glad that Jonathan included the Vizi CMY300s. In my mind, lighting design starts with spots and washes, and beams are effect lamps that we can add to that base. If you just have beams, there's not a lot you can do to add variety when it comes to the soft music in the breakdowns."
Powered by a highly efficient 300W LED light engine, focused through a precision-engineered optical system, the Vizi CMY300 offers a huge output. Serving as a hybrid utility fixture, it can function interchangeably as a beam, spot, or wash and offers a huge variable beam angle range of between 8 and 46-degrees. It is also loaded with beam-shaping tools, including its signature CMY color mixing feature as well as a separate color wheel with CTO and UV filters, two GOBO wheels, two rotating prisms and a frost effect. This makes for a truly versatile fixture that is ideal for a wide variety of lighting applications.
"I think the Vizi CMY300 is amazing!" enthuses Koen. "It isn't really that big, but its output is fantastic. This was my first time using it outdoors and I was shocked at how well it performed; even zoomed out the output remained bright and punchy. I also liked the color mixing. Using just one color can make a live stream seem flat, so I used a lot of mixed color looks and color effects, which worked very well. Some of these I ran across the LED bars, pixel strips, as well as the spots, which looked very effective."
By combining the eye candy chase patterns of the Mega Tri Bars and Pixie Strips, the beam effects of the Vizi Beam RXONEs, the aerial GOBO projections of the Vizi CMY300s, and the vibrant illumination of the Kreelpoort by the 32 HEX Panel IPs, Koen was able to create a truly stunning lightshow. Not only did it offer a sufficient amount of wow factor but was varied enough to ensure viewers remained as engaged with the livestream's visual content as they were with the musical performances. Such a large rig comprised predominantly of ADJ fixtures also provided a compelling showcase of the brands' potential, which didn't go unnoticed by Koen.
"When I first became aware of ADJ Lighting, early on in my career, the products were smaller, cheaper fixtures designed for club installations," he concludes. "But over the last few years I've really seen the brand evolve hard and now, for me, these latest fixtures work just as well as those from the 'big name' brands. However, because ADJ fixtures are really good value, I can include five fixtures in my lighting designs where the budget might only allow for one from those big names. Most of my work is on festivals and large EDM shows, and ADJ fixtures work really well for those while also being very affordable. I was already feeling that way but doing this show, which was 90% ADJ fixtures, was a real eye opener and showed me the full potential of the latest fixtures from ADJ."