NDI – The Great Enable For Live Video Production
By Jim Cawthon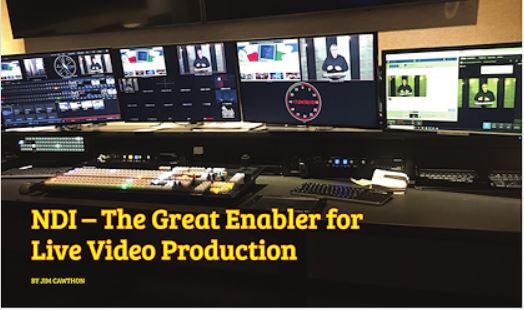 When Rock Springs Baptist Church had to shut its doors recently due to the COVID-19 pandemic, we were thankfully pre-adapted to provide services to our congregation by streaming over the Internet, something we have been practicing for a while. Since the outbreak, our viewership numbers quadrupled immediately and as a result, we were able to quickly ramp up our production from three live streams a week to nine. As a church congregation, we've been intrigued by live streaming technology for years and now consider ourselves on the cutting-edge thanks in part to one new technology we adopted last year called NDI.
NDI has transformed the way we create video content at Rock Springs Baptist Church. First and foremost, there is one aspect of NDI that needs to be stated as clearly as possible: NDI is absolutely, 100 percent, free to use. Not just free for churches but to anyone to use. NDI is simply a transport mechanism, so you'll still need to purchase cameras and other essential equipment. It was developed by NewTek, a company that makes TriCaster live video production systems which is what we use at Rock Springs. Look for cameras and other production equipment that are NDI-enabled. The main effect of implementing NDI in a live video workflow means it is easier, less time consuming, and less expensive to make multicamera video look like high-quality regular TV. It also allows us to do things we wouldn't have considered before because of the technical complexity of getting live video signals from one place to another. NDI makes it easy.
Because of NDI's ability to share video (and audio and metadata) signals across a network in real time, it has seen adoption across the broadcast and pro AV worlds. NewTek uses it in their own products – from TriCaster live production systems to their own PTZ cameras – but many other manufacturers are utilizing NDI as well. Sony and Panasonic and other camera manufacturers make
NDI-enabled PTZ cameras – we use Panasonics – and convertor boxes exist which can bring any HDMI or SDI device, like cameras, into an NDI workflow.
SO, WHAT IS NDI? NDI is a network protocol that allows for video and audio to be transferred over standard, 1 gigabit Ethernet networks. In practical terms, that means you can send these signals over the infrastructure you are using in your building or campus right now. There is no need to build out a proprietary network nor run costly SDI cabling one channel at a time from one room to another. You simply plug your devices into the network, and you see all the NDI sources available to you. This opened up huge possibilities for us.
Further, there are a number of NDI tools that are also free to use. These allow you to bring atypical sources such as computer screens and mobile device cameras into your workflow. Yes, that means you could get a live video workflow together using just your cellular phone and a NewTek live production system.
NDI also means you can be flexible and scalable with your production. When we shut our doors due to the pandemic, we were able to quickly ramp up our production from three live streams a week to nine. We didn't need to buy any extra gear or cabling, we just plugged in the cameras to the network near our new studio setup.
The convertor boxes also deserve an additional mention here, because they allow any non-NDI camera to immediately be converted at the camera into a network signal. This means your current cameras aren't being left behind when you make the switch.
HOW TO GET STARTED WITH NDI The onramp I suggest to people is to go with the 'system in a box' approach. We're a NewTek house and use both the NewTek TriCaster TC1 and the TriCaster Mini with Panasonic PTZ cameras. There is also the option of using NewTek PTZ cameras, but the beauty of NDI is that NewTek has made it not just free, but interoperable. You have the choice of using the gear you are most comfortable with.
But, with TriCaster you gain a few key capabilities: switching of video signals between multiple video sources, computer graphics to bring in production capabilities, and the ability to stream online to multiple sources simultaneously directly from the TriCaster. Even as we have increased our production to nine streams a week, the TriCaster still provides all we need to make each one look exactly as we envisioned it.
THE VERDICT
NDI is free to use, making the cost here a true five-outof-five from anyone who uses it. It is a great enabler in this space.
And, as mentioned, it is also flexible and easy-to-use thanks to its true 'plug-and-play' nature. By working with your existing network, you not only save on traditional costs, but you elegantly simplify your setup and workflow.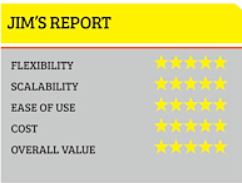 Stability is, of course, key in a network technology. For our use over the past couple of years, we have zero complaints. A good testament to this, however, is to head to the NewTek or NDI website and see the list of clients that trust their broadcast-first brands with the NDI technology. It's so stable that businesses are staking their product on it – and when it comes to our stream, we do too.
JIM CAWTHON IS THE MINISTER OF MEDIA AT ROCK SPRINGS BAPTIST CHURCH