IMS Technology Services Strengthens Managed Services Layer with SyncPro CloudOS Platform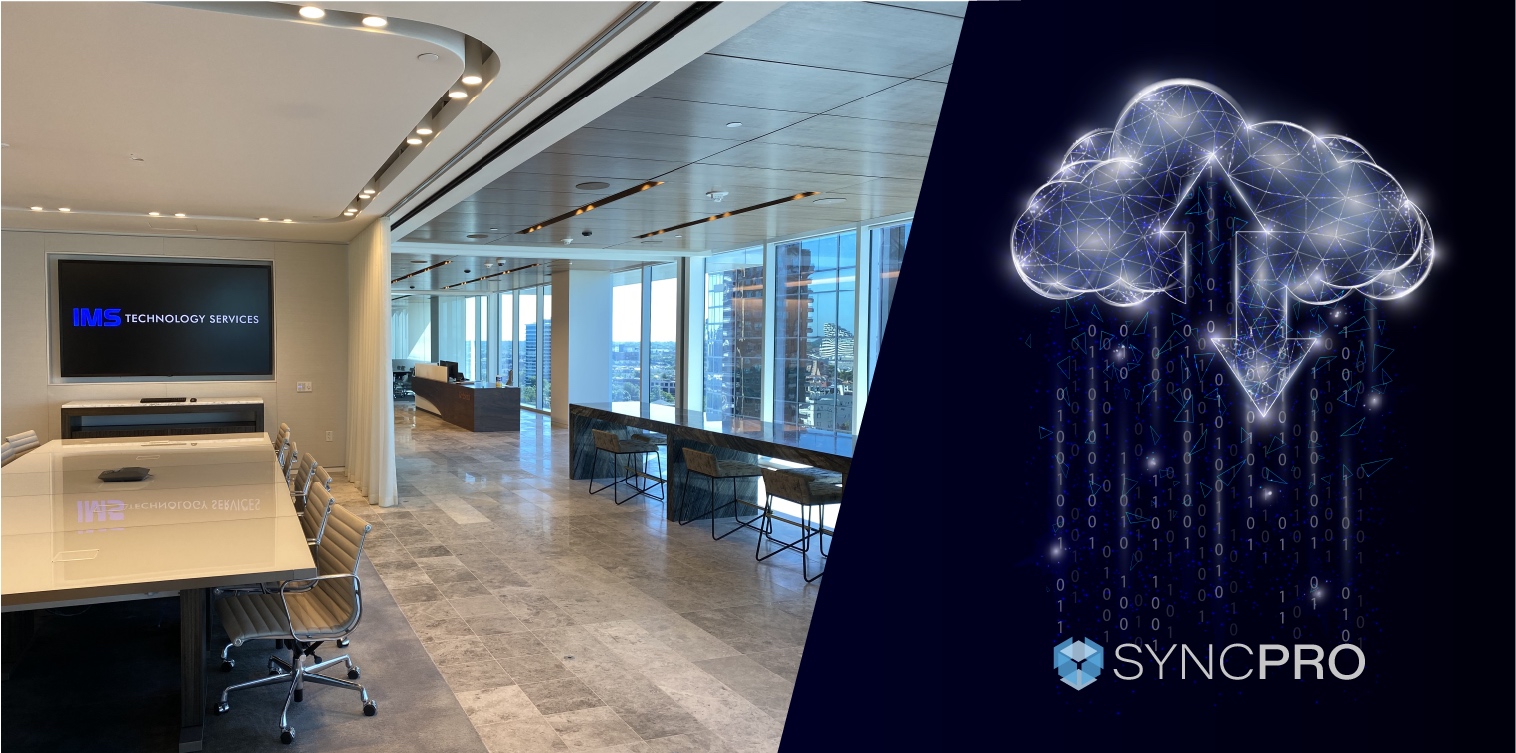 SyncPro announces that IMS Technology Services (IMS) has joined its growing AV community of CloudOS-connected integrators. Leveraging SyncPro's managed services platform, IMS can now remotely monitor and troubleshoot its commercial AV installations, strengthening its value proposition for end users.
Based near Philadelphia, IMS often monitors the health and performance of its AV projects post-installation. In addition to standard troubleshooting and diagnostics, IMS monitors how often and when equipment is used to determine when systems should be replaced, upgraded or scaled. Importantly, the CloudOS platform will greatly extend IMS' reach across a client's AV ecosystem, instead of limiting access to specific components as before.
"SyncPro provides us with a manufacturer-agnostic system that gives us quick access to digital signage, UC and professional Audiovisual equipment for the first time," said Gary Schellhas, Quality Assurance Manager, IMS Technology Services. "SyncPro offers direct integrations with messaging platforms and ticketing systems and an open API that immediately connects us to the dashboards that push data to CloudOS. This not only gets us online much faster, but helps us maximize system uptime for our clients and understand how they use their AV systems. We are no longer weighed down by the custom programming of proprietary systems."
Schellhas explains a recent installation where he connected SyncPro to Microsoft Power BI, a business analytics service that would have been a time-consuming process with his previous cloud monitoring platform. "It goes back to SyncPro's API," he said. "We can develop a connection point to anything through a few simple lines of code, and quickly start to monitor, filter and log important data. Instead of requesting the customer to develop something in their dashboard, we had instant access to important business analytics. We can compare and contrast data with other databases to really understand how a system is performing."
Service Manager Michael Spitale emphasizes the importance of having broader insights into system performance as a service-oriented company. That not only includes in-the-moment troubleshooting, but extends to predicting technical problems before they happen.
"ClousOS connectivity reduces the need to manage truck rolls or schedule technicians for access to a room," said Spitale. "We can troubleshoot problems and reboot systems remotely, and often resolve problems before they impact the client. CloudOS immediately opens a ticket within our system if a component falls offline or below a performance threshold, and automatically closes it once reconciled. We can now monitor our systems from a network standpoint, and rarely require interaction with the client."
Schellhas points to system latency and hours of operation as two important thresholds they intend to monitor as they use the system more. For example, Schellhas will notify clients when projectors or displays have reached 10,000 hours in operation to warn of reduced light output. He adds that CloudOS will inform him when video codecs drop below latency thresholds, which can cause problems in corporate environments with many meeting spaces.
Speaking of meeting spaces, Spitale says that this is where CloudOS will provide strong value in recommending technology changes and upgrades for clients.
"Maybe there is a piece of equipment that gets utilized more than another piece, or more importantly, a meeting space that is neglected compared to others," said Spitale. "CloudOS helps us understand how every meeting space was used over a chunk of time. If one room is used 90 percent of the time over six months while the other is used 10 percent of the time, CloudOS will provide the data we need to understand why, and how user-friendly the equipment in these spaces truly is. CloudOS will help us make decisions that benefit our clients."
Ease of use is what attracted Schellhas to CloudOS most of all. "They have done a very good job with layout and usability," he said. "We can all connect our phones and devices directly to their admin portal, and change the settings and configuration without reaching out to SyncPro. They are constantly adding features we have requested, including email notification, support for Cisco Teams, new API calls, and more. They are responsive and open to our suggestions, which ultimately gives us a lot of freedom."
SyncPro CEO and Co-Founder Omer Brookstein adds that joining CloudOS will save IMS thousands of dollars in short and long-term development costs and labor. "CloudOS enables system integrators like IMS to add managed services to their portfolio. By doing so, they can not only form longer and stronger relationships with their customers, but also offer an unparalleled user experience. Our SaaS model will create immediate and long-term value for IMS and its customers, eliminating upfront expenses along with continued investments in technology development required to keep cloud platforms viable, efficient and up to date. We have found great partners at IMS, and we look forward to the great things that we can do together."