Elation Professional Announces Leg 2 of SUMMER TOUR 2021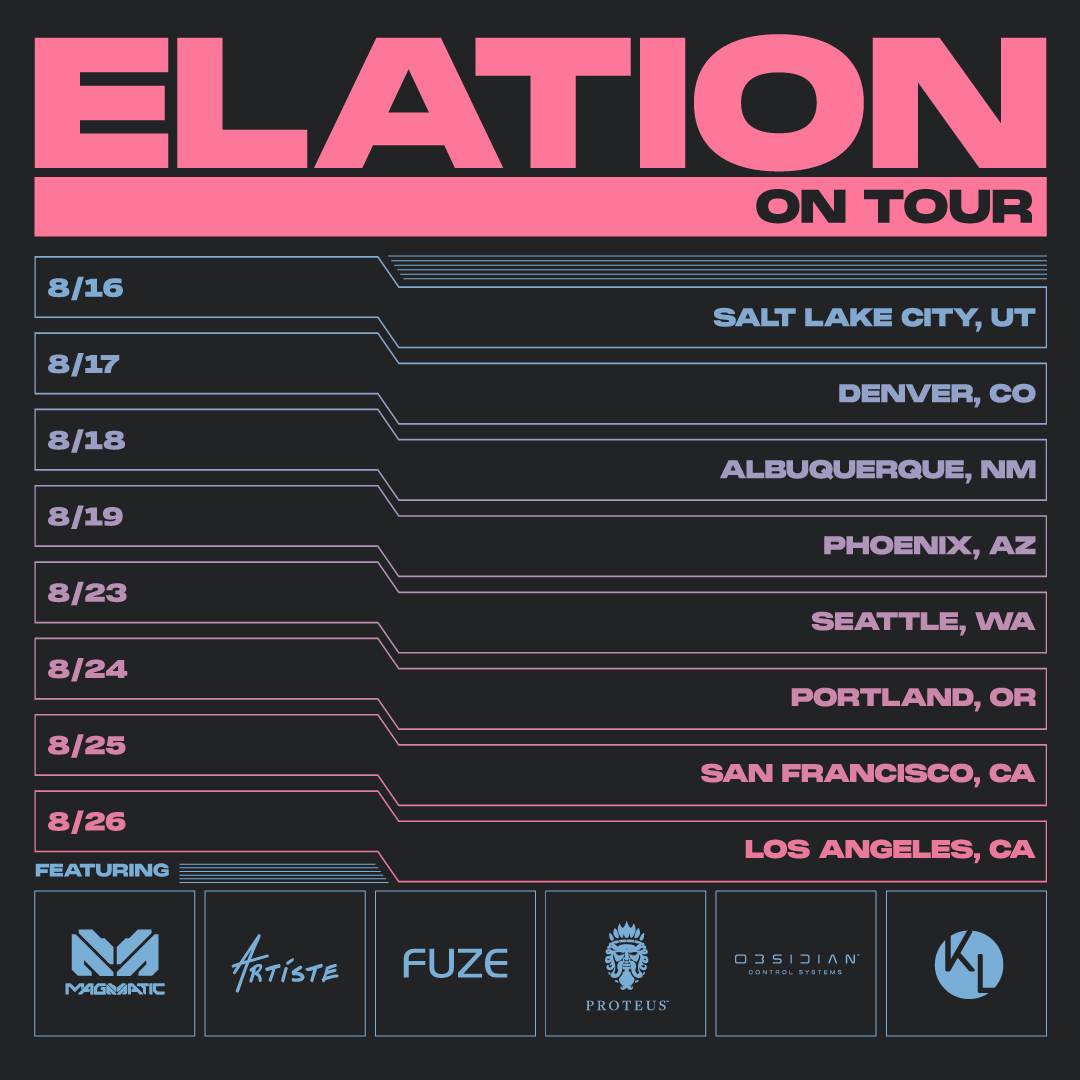 On the road again! Elation Professional is extremely pleased to announce the 2nd leg of our very successful ELATION ON TOUR. The Elation US team will be back on the road again this August meeting clients and demoing products on Elation ON TOUR LEG 2 across the western US states.
Elation ON TOUR Leg 2 dates and locations registration links below:
8/16/21 Monday Salt Lake City, UT (BOOK HERE)
8/17/21 Tuesday Denver, CO (BOOK HERE)
8/18/21 Wednesday Albuquerque, NM (BOOK HERE)
8/19/21 Thursday Phoenix, AZ (BOOK HERE)
8/23/21 Monday Seattle, WA (BOOK HERE)
8/24/21 Tuesday Portland, OR (BOOK HERE)
8/25/21 Wednesday San Francisco, CA (BOOK HERE)
8/26/21 Thursday Los Angeles, CA (BOOK HERE)
Elation ON TOUR LEG 2 is geared towards giving local lighting pros the chance to get hands on with some of Elation's latest lighting gear and provides an ideal opportunity to discuss how the company can support their unique lighting needs. "We are very excited to finally have the opportunity to see our partners and customers again in person," said Eric Loader, Director of Sales & Marketing at Elation. "While we realize that travel is still limited and many customers may not be able to see us at upcoming trade shows, we wanted to get out and come to them. We are excited to show all the amazing new products we have to help inspire future designs for what is sure to be the big industry come back we are all preparing for later this year. Our crew is fully vaccinated and ready to go!"
Elation product specialists – factory staff and local Elation sales representatives – will be available at each stop to meet face-to-face with lighting professionals on their home turf. On-site demos and product discussion will focus around the newest products from Elation's most popular product lines including Artiste™, Proteus™, Fuze™ and KL™. Lighting control solutions from Obsidian Control Systems, as well as Magmatic brand atmospheric effects, will also be on hand.
The second leg of Elation ON TOUR will begin in Salt Lake City, Utah on August 16th and makes its way through the Mountain states and West coast states of CO, NM, AZ, WA, OR and ending in Los Angeles, CA. Sessions are free and in order to maintain a safe environment meetings are time-slotted with limited tickets available each day. Interested professionals are encouraged to register early to secure a spot.