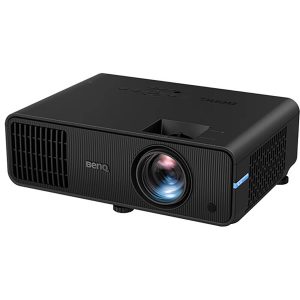 BenQ, an internationally renowned provider of visual display solutions, announced its latest golf-sim projector, the BenQ LH600ST. It features a 4LED light engine and can be placed about 10 feet from the screen — safely away from the hitting area — while delivering a stunning realistic image from ceiling to floor for just $1,099 MSRP. With BenQ's exclusive Screen Fill feature, the projector is able to easily switch from native resolution to best match the desired aspect ratio of the impact screen with maximized pixel counts while avoiding image distortion — all with just a few clicks in the on-screen menu. In addition, BenQ is making it easy to calculate and see the room dynamics for almost any golf-sim setup – including 1:1 — with its new 3D Golf Simulation Room Planner. 
"Realistic golf-sim setups require two things: color accuracy and an aspect ratio that fills the screen without distortion," said Bob Wudeck, senior director of business development at BenQ. "We've built the LH600ST to provide golf enthusiasts with a projector that will fit almost any golf-sim setup without sacrificing any of the image details. The result is the ability to support a golf simulator studio using any aspect ratio and that fits nearly anywhere. We also felt that as the BenQ family of golf-sim projectors continues to grow and be the trusted projector manufacturer for golfers, it was time to put our projector and golf-sim expertise into a free room planner. It takes all the guesswork out of creating these niche spaces." 
BenQ LH600ST Puts the Magic in Golf Sim 
For most first-time golf simulator buyers, figuring out where to put the screen and enclosure is one of the biggest challenges, especially if there's not a lot of extra room.  The latest enclosures and screens are now available in a 1:1 aspect ratio and are ideal for use in garages, basements, and multipurpose entertainment rooms in the home. This format enables enthusiasts to have a tall enclosure that can handle wedge shots but doesn't use a lot of wall space. The BenQ LH600ST is the perfect projector companion for a 1:1 screen and enclosure.  
The BenQ LH600ST boasts 4LED light technology with a long-lasting 20,000-hour life that eliminates the hassle and cost of installing replacement lamps and starts without waiting for a lamp to warm up. With 1920 x 1080p resolution, it provides sharp, detailed images without downscaling or compression, which is perfect for golf simulation, full HD movies, and gaming. Like other projectors in the BenQ golf-sim family, the LH600ST features BenQ's Golf Mode. The company teamed up with color experts to develop this exclusive mode, which optimizes the colors found on the golf course. Golfers can immerse themselves in pleasantly natural reproductions of blue skies and green grass. 
Adding to the realism is the LH600ST's 4LED light source with 95% Rec. 709 coverage — the industry-wide standard for color reproduction in HD video and movies. It guarantees higher color saturation and greater color precision compared to lamp projectors. Users can enjoy golf, movies, and games in perfect color, knowing that what they're seeing on screen is exactly what the course designer intended. In addition, the increased color ratios and BenQ's 4LED technology dramatically enhances color saturation for tremendous realism compared to lamp projectors. 
For most golf simulation setups, using a short throw projector ensures it is located where it is needed to fill the screen while being mounted safely outside the hitting area and without casting a shadow. With 0.69-0.83 throw ratios, the LH600ST can project a 164" image outside the swing zone and without shadows, which makes it perfect for golf sim setups in garages or other environments with limited space. It also includes installation features for greater flexibility and projection alignment. To counteract the trapezoid effect that can occur when a projector is installed or placed off-center, the LH600ST offers a 2D keystone correction range of up to ±30° on both the horizontal and vertical axis. Corner Fit control adjusts each corner for perfectly aligned image geometry. 
Industry's First Free 3D Golf Simulation Room Planner 
BenQ's 3D Golf Simulation Room Planner makes it easy for users and installers to build out a golf-sim space with their chosen BenQ projector. Users simply plug in the golfer height, launch monitor placement, room size, image size, and BenQ projector. The program will output all the necessary calculations and room drawings to look at the space from any angle for the perfect golf space.  
BenQ and GSPro Golf Designer Tekbud Team Up for a Thrilling Golf-Sim Course 
BenQ and GSPro Golf Designer Tekbud have put together a special golf course game, Course Of The Dead. This entertaining golf-sim course features tee-offs from towers, zombies, animations, bombs, and more. Available from GSPro, this thrilling and suspenseful golf match is just as much about staying alive as it is a good handicap. Stay tuned for other upcoming golf course designs.  
For more information on the BenQ LH600ST, visit www.BenQ.com/en-us/business/golf-simulator-projector/lh600st.html.