The Maxell WU5603 3 LCD WUXGA Laser Projector
By Camron Ware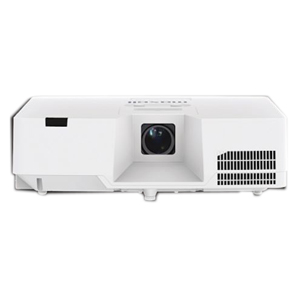 I've been doing projection mapping for churches and events for almost 15 years now, and when a new projector comes out from one of my favorite manufacturers, I can't wait to give it a test drive. We use this projector in our rental inventory when we need a smaller, lightweight projector to hang on a theatrical set piece for projection mapping, but still need all the features of a higher end model. The Maxell WU5603 is a great work-horse projector that would serve many churches for their main worship space projectors, portable churches, churches who can't access their projectors easily, and travelling ministries that need to carry a projectorfrom venue to venue.
This model has a 1.7x zoom lens, 1.4 – 2.4 throw ratio. This means if you have a 12-foot-wide screen (16:9 aspect ratio), the projector can be placed between 16' 10" and 28' 10" away from the screen. That's a great throw range and should work for most standard throw projector mounting locations. Of course, you can ceiling mount it and invert the image within the projector, and using Maxell's PerfectFit2 feature, you can corner-pin (or 4-way keystone) the image to fit your screen perfectly if the projector is not shooting perpendicular to your screen. There is a horizontal and vertical lens shift knob on the projector as well, but they are not motorized. You'll have to turn them by hand, but once they are set, they are set.
At 6000 ANSI lumens of brightness, it will look great in worship spaces with even some light from windows. I have used it on a 20-foot-wide screen, and it looks great, but remember that your stage lighting and ambient lighting plays a huge factor in how this or any projector will look. (That's why if you are looking to replace projectors, I always recommend getting someone to do a live demo in YOUR worship space first) This has a 1,500,000:1 dynamic contrast ratio High Dynamic Contrast Range (HDCR2) setting which gives better shadow detail and color saturation to keep images from being washed out in bright ambient light. The color engine uses 3 LCD panels to create rich colors, no 'rainbow' effects, and delivers the same white brightness AND color brightness lumen rating. This is the something I am very strict on when using projectors: I don't like single-chip DLP projectors. They cannot reproduce the same color accuracy as 3-LCD (or 3-DLP) projectors.
When looking at a spec sheet for a projector, the lumen rating can be misleading. A 3-LCD or 3-DLP projector will have the same number of lumens in both white AND color tests. A 1-DLP projector might list "5000 lumens", but when showing colors, that rating drops significantly because single-chip DLP cannot reproduce as much brightness in colors. A good resource to learn more
about this is found at www.colorlightoutput.com. The 1920×1200 resolution means that it has plenty of pixel density to give you high-definition images from a computer, or live video feeds. The projector is native 16:10 aspect ratio (computer-sized aspect ratio) but will accept and display 1920×1080 (video/ camera/media aspect ratio) just beautifully.
Of course, the best feature about this projector is that is has a laser-phosphor light source. This means you do NOT have to change any lamps! It's perfect for churches who have hard-toaccess projector locations, or if you have the headaches of people accidentally leaving the projector on. (That never happens…right?) However, a laser source projector does NOT mean the image quality is inherently better, it simply means almost no maintenance and a consistent image over the years. The laser-source is rated at 20,000 hours in full-brightness mode, which, if you used the projector for only 10 hours a week, the light source will last decades. With a laser-source, this also means that the projector turns on within about 10-15 seconds from when you push the power button. No more waiting for a few minutes to see an image on your screen, so this is a great feature for portable churches.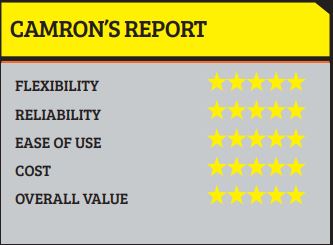 That, coupled with the size, durability, and flexibilityof this unit, and I would highly recommend it to portable churches that need to setup and tear-down their worship experience quickly. The other helpful maintenance topic is the filter rated at up to 20,000 hours, so yet again another perfect solution for churches who have hard-to-reach projectors. Lastly, Maxell has a great 5 year/20,000-hour limited warranty on this projector, and I'll say that it gives me great peace-of-mind to know that if something happens, I can ship it out without hassles. I really love this projector. It's just a solid workhorse with enough features to cover most small to midsized churches, portable churches, and those that need a portable projector for travelling ministries. If you need help finding a trusted source for this or any other projector, feel free to contact me.
CAMRON WARE IS OWNER/OPERATOR OF VISUAL WORSHIPER AND LIGHTWARE LABS WHICH BRINGS PROJECTION MAPPING EXPERIENCES TO CHURCCHES AND EVENTS ALL OVER THE COUNTRY. VISUAL WORSHIPPER.COM / LIGHTWARELABS.COM