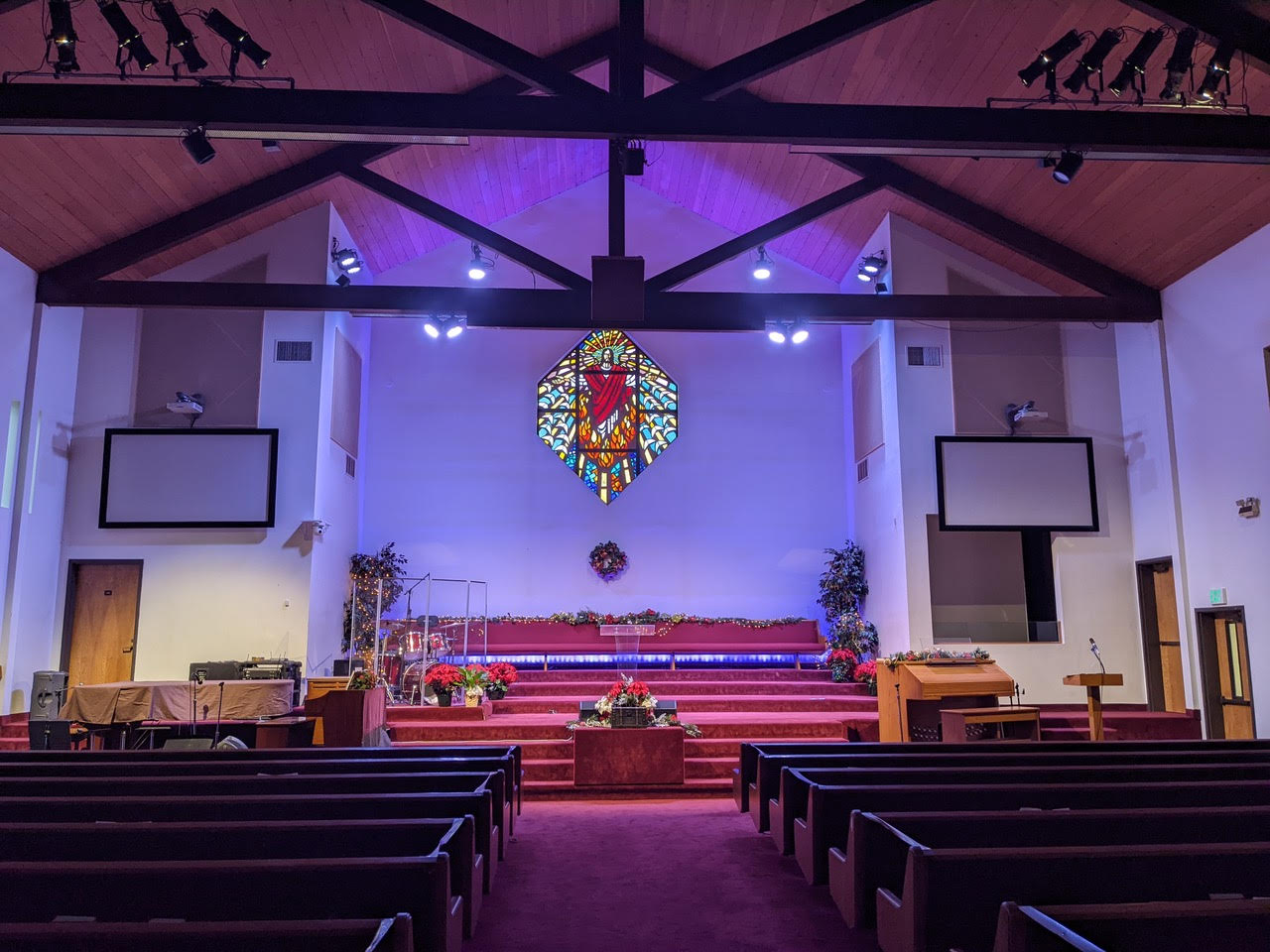 Phased Upgrades Save Money
by Tim Adams
Many churches this year either needed to upgrade their streaming systems or as they were re-opening, needed to make upgrades to their installed systems.
This won't be a typical Tech Spotlight as we are going to highlight a selection of Timato System's projects from this year, rather than one project in its entirety. The reason for this is because smaller churches often read articles that show huge upgrades costing tens of thousands of dollars (or more!) and develop a belief that a tech upgrade is hugely expensive when it doesn't have to be.
East Woods Presbyterian Church
While I have worked with East Woods Presbyterian on many upgrades over the last several years, the one we did this year was unique – they needed better lighting in their foyer. With a church as tightly knit as East Woods, the foyer is THE place for connection and socializing. It also serves as something of a multi-purpose space for some of the church groups that meet in the foyer, so having good lighting would make a huge difference.
The original lighting consisted of pendant halogen lights that were rather spotty, so the church quickly swapped those out for CFL bulbs. Of course, the main issues with CFLs are they take a few minutes to reach maximum brightness and they often lack the power necessary to cover a larger space. When you factor in the hazardous nature of a broken CFL bulb, they become a less than desirable option. However, finding an LED solution had proved difficult as well, because the readily available LED bulb options at the local hardware store tended to be too spotty when they needed a good amount of coverage.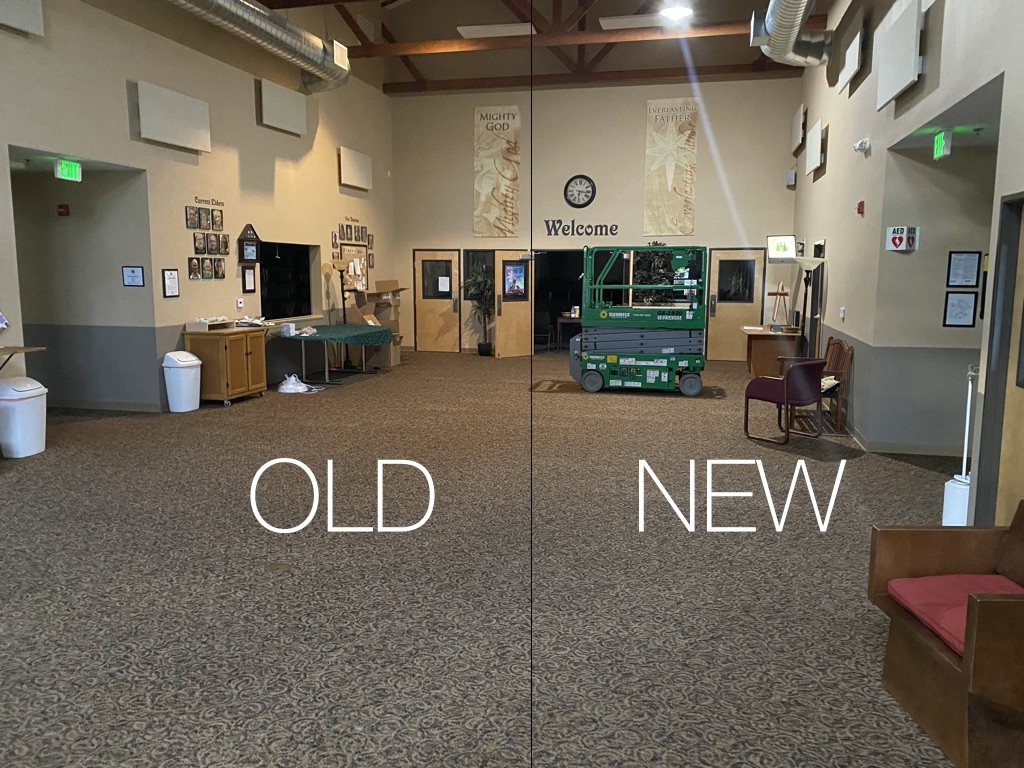 After running a few options by the church, including a commercial high-bay LED fixture that proved a little TOO bright, we opted to go with replacing the pendant lights with barn light fixtures from a local home improvement store that included a white "reflector" that would help spread the light out. You can see the differences for yourself in light output between the old and new.
This project was a perfect illustration of how working through a problem by taking time to look at different options before making a decision is both wise and extremely helpful. Not only was the fix implemented extremely cost-effective, but it also provided a solution that will be long-lasting, with readily available replacement bulbs and an aesthetic that is pleasing and functional.
Joy Community Church
Next, we will look at a consulting-only project Timato did with Joy Community Church. They needed a projection solution for their newly renovated space and while they had done a fair amount of research already, they just needed that extra little bit of checks and balances to make sure they were on the right track.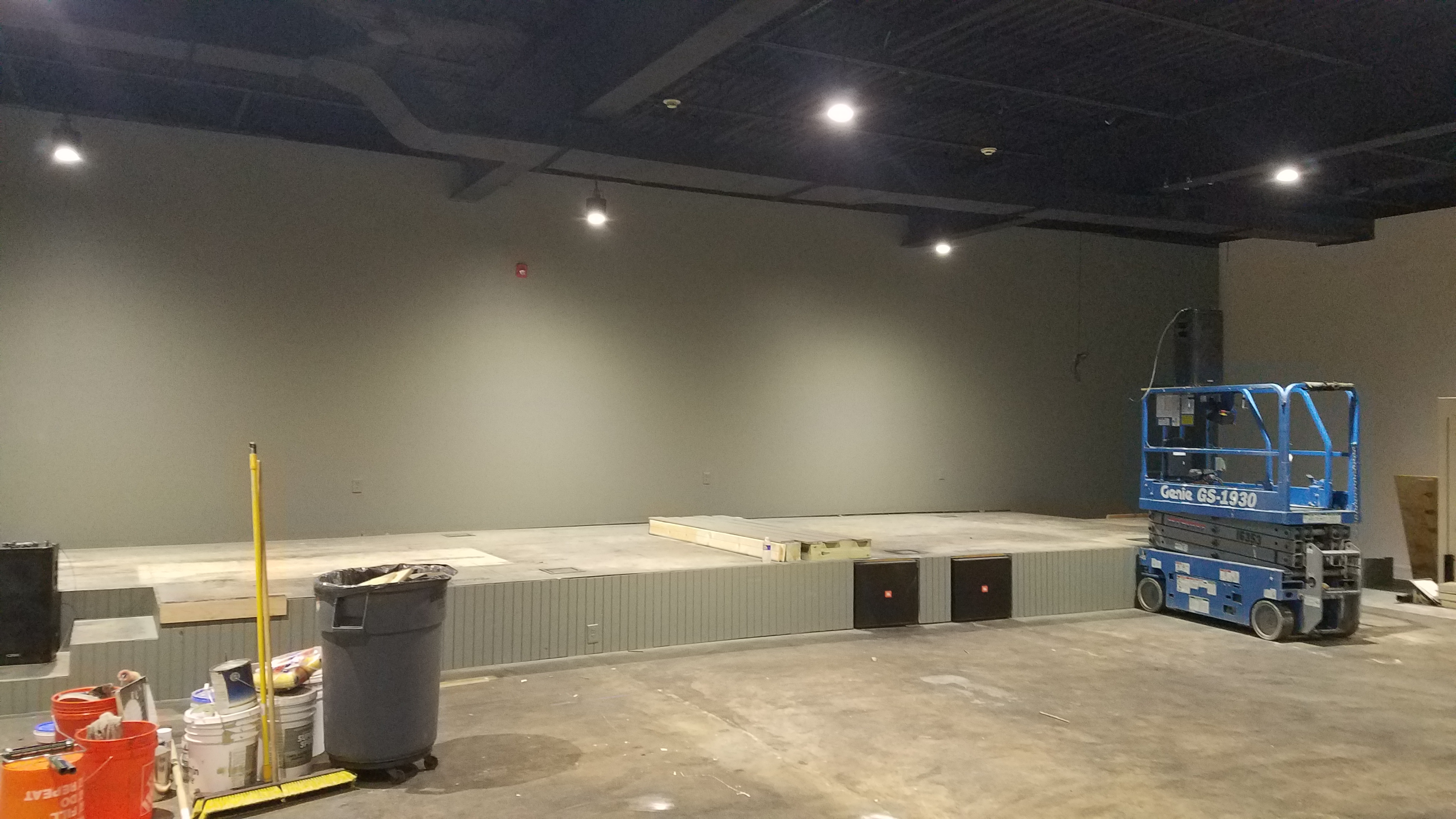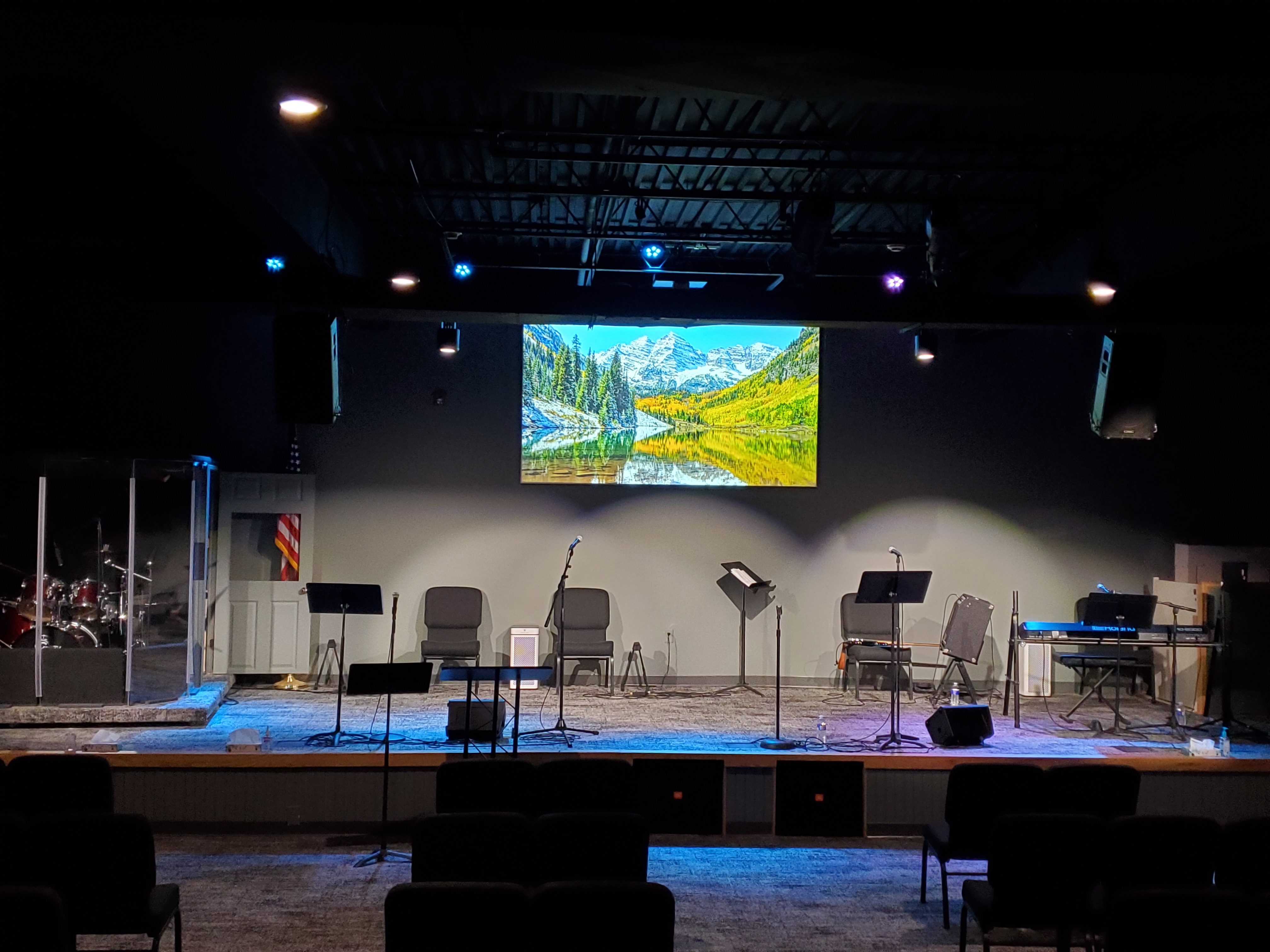 After several emails back and forth, with pictures and links and the rise of a "projection expert" amidst their own membership, the church was able to finalize what they wanted. The screen size and type changed from 150" motorized to 110" fixed frame, the projector changed from a medium throw to a short throw, and we had to work through the mounting solution as there wasn't an available beam to hang from so one had to be created. The Epson 805F 6000 lumen laser projector Joy Community chose to install produces an astonishing image that the church has been extremely pleased with. The mount had to be customized since they were mounting to a piece of Kindorf, which I had never heard of. A competing product to Unistrut, Kindorf also has a slew of mounting accessories and methods and I had to dig deep into their catalog to find what was going to work with the projector and the Chief RPMAU universal mount. The basic connection was the Chief mount which holds the projector and screws onto a 1.5" threaded pipe, which then screws into the Kindorf attachment mount. The Kindorf rail holds it all from the I-Beams.
This one was an interesting challenge, as I was piecing together a mounting solution with a system I'd never even heard of, but which resembled Unistrut, which I have worked with plenty. Calculating whether the projector would be bright enough was simple with the right formula (lumens / screen square footage x screen gain = foot-Lamberts), along with calculating how large the screen needed to be based on the distance to the back of the room from the screen. While this wasn't a large project, it was an important one for the client and that is what matters.
St. Barnabas Episcopal Church
St. Barnabas Episcopal Church provided one of the more challenging projects. The church had been badly impacted by the COVID lockdowns, as they did not have a streaming system in place. They had limped by with equipment sourced from members and using smartphones and tablets to stream directly to YouTube but wanted to upgrade the experience that was being delivered.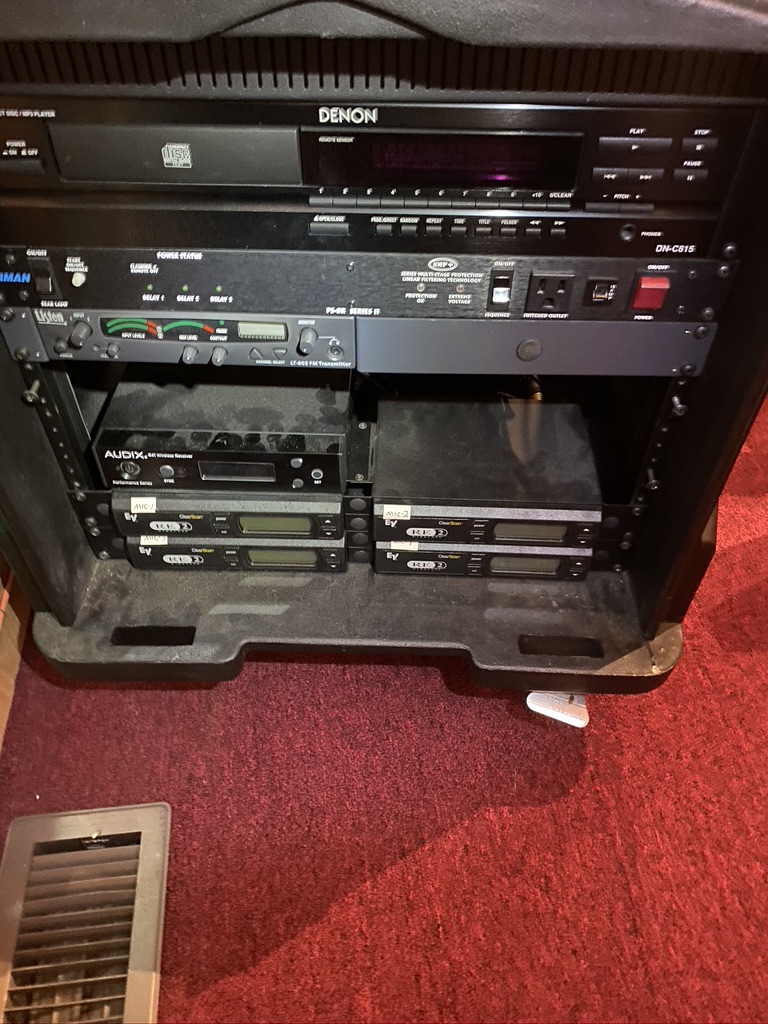 The scope of work they required also included improving their in-person projection to better prepare for re-opening. The church had long used an off-axis projector that was under-powered and produced a less-than-pleasing image. Their audio mixer and wireless microphones were also out-dated and experiencing issues. Finally, to better facilitate their streaming connection, we also upgraded their Wi-Fi system for better reliability and more even coverage.
What made this project so satisfying is that Timato was solving a variety of real issues, rather than one main issue, as well as providing a variety of affordable equipment to make those solutions a reality.
For the projector, we went with an Optoma ZH403 4000 lumen laser projector, painting a couple of project panels for their screen, as there were cost and space considerations that dictated an extremely low-cost screen solution.
A Soundcraft EPM8 analog audio mixer replaced their ancient mixer; again, budget and their specific use case precluded even offering a digital mixer solution. We opted for Shure SLX-series body pack and handheld microphones to replace their "illegal" older systems, and also replaced their omni-directional room mic with an Audix M1255B cardioid microphone to provide ambient sound for the live stream. To get audio to the streaming system in the balcony, we chose an Alto Stealth 2-channel wireless transmission system.
Their new streaming system consists of a Panasonic Lumix GH4 micro 4/3 camera with an Olympus M.Zuiko 40-150mm f/2.8 lens, providing a massive upgrade to image quality and shot size selection.
Finally, to upgrade the Wi-Fi system, we installed 7 TP-Link Deco Mesh "pucks" around the facility that immediately improved overall Wi-Fi in the building. Regardless of where you stand in the facility, you get full signal.
All in all, a comprehensive upgrade for the church and the impact of these upgrades has been both immediate and full. St. Barnabas has been very appreciative of the difference and can now move on to more mission-focused work and programs, knowing that their technical systems are taken care of.
Emerald City Seventh-day Adventist Church
Lastly, we will look at Phase 3 in a 4-phase upgrade for Emerald City Seventh-day Adventist Church. This had been an upgrade I had been particularly looking forward to, as the former lighting system had long outlived its utility and reliability.
We knew we would be moving to LED and we also knew the church wanted "zones" of lighting for use in special programs and to provide more localized control. Finally, Emerald City wanted to try and move away from their reliance on overhead fluorescent lighting, if possible.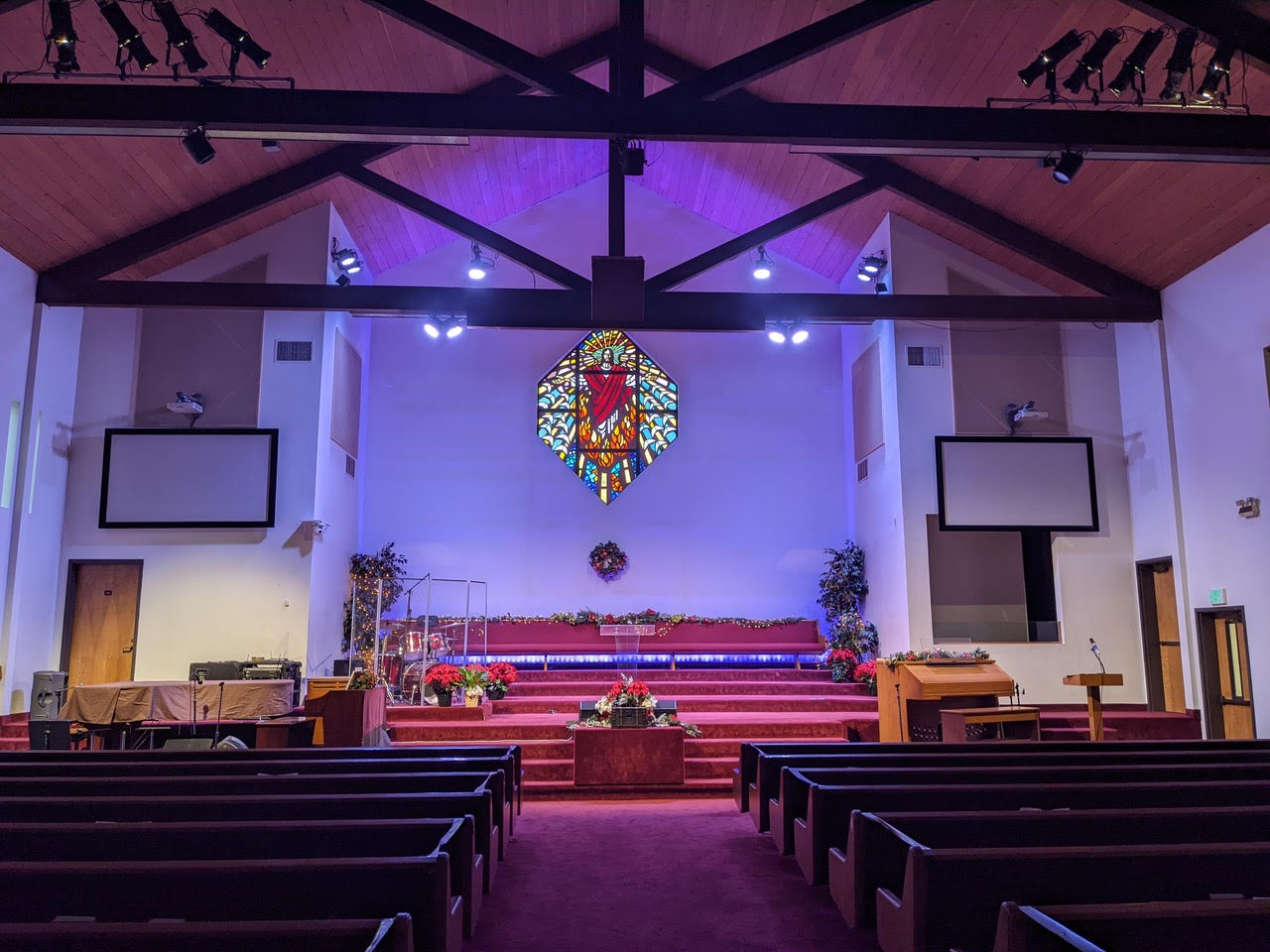 We ended up installing nine Springtree 200-watt warm white LED ellipsoidal spotlights, 10 ADJ 18P RGBAW+UV Hex par lights, 11 ADJ COB Cannon Wash ST RGBA house lights, and eight ADJ UB 12H RGBAW+UV Hex linear lights to uplight the upstage wall, along with a Springtree wall panel for basic lighting control via pre-programmed presets, a Chauvet Data Stream 4-way DMX splitter and an ETC ColorSource20 lighting controller.
The wall plate is an awesome product because it has DMX loop through which detects when there is DMX signal coming from the controller and makes the wall plate inoperable. This means you're not fighting for control between the controller in the booth and the wall plate.
This was a challenging project because virtually every pew had to be moved to accommodate the lift we had to bring in. We had to get a large group of volunteers together to move the lift on and off the platform, and we also had scaffolding on the platform to install electrical outlets and the four 18P Hex pars we used to backlight the upstage area.
Overall, the church has been very happy with the results and the wall plate has revolutionized how the lighting system is used. Prior to this, the fluorescent lighting had to be turned on upstairs, with the control behind a locked door. For obvious reasons, the wall plate has been a blessing in many ways: the ability to control individual groups of lights with presets, rather than trying to remember which fader controlled which lighting fixture, has contributed to the smooth flow of services and programs at Emerald City.
As these smaller projects illustrate, small churches don't have to do a massive upgrade to achieve a noticeable difference in capabilities and impact. Breaking an upgrade into phases is extremely beneficial in a variety of ways, but you must start with a master plan so you know what the end goals are. If you don't, you're just spending money on upgrades you may or may not need in the hopes that your tech team will still be able to support the vision and mission of the church in ten years. That is just poor stewardship.
Working with churches in other parts of the country and around the world is an amazing experience, and providing that extra bit of assurance that the path they are on is the right one delivers much-needed stress relief and peace-of-mind that it always brings a smile to my face.
Tim Adams spent over 20 years volunteering in church technical ministry and now, through his company Timato Systems, focuses on helping small churches achieve technical excellence through equipment upgrades, training, sharing best practices and teaching leadership how to cast God-sized vision.