Panasonic AW-UE150 4K PTZ Cameras
By Preston Fuqua
Heading into 2020, Denton Bible Church made the decision to replace our old, SD cameras and broadcast workflow with something more current and dynamic. With an average 4,000 congregants over three services every Sunday, we recognized that the quality of our content needed a serious upgrade in order to create the high-impact worship environment that would meet our needs and help us take our live streaming to the next level.
We knew what we wanted: cameras that would be easy for our volunteers to use, that would provide quality HD imaging and have a wide field of view, while having as little a footprint within our sanctuary as possible.
The system we were looking to replace was old. Really old. Our cameras ranged from 15 years to 25 years old. We had to run composite video out of the older cameras, up convert it to SD-SDI and then to HD-SDI to be able to feed it through our switcher. We had also replaced our two SD projectors about five years prior with 16K DLP projectors and had planned to change the cameras eventually, but it was exciting to be given the go ahead to make that switch.
We chose to purchase five Panasonic AWUE150 4K PTZ cameras and two AW-RP150 touchscreen remote camera controllers after testing a variety of options. The AW-UE150s were the best choice for us – the image quality they provided was stellar, and the cameras can output simultaneous HD and 4K capture, which meant they would grow with us as we make future improvements. They have a large 1" MOS sensor and 20X optical zoom, which means our volunteers can get good, close-up shots, and allows our congregants to fully immerse themselves in our live-streamed services. Combined with the two AW-RP150 touchscreen remote camera controllers, our volunteers are able to use the cameras in a variety of ways and manipulate multiple cameras at once, capturing great shots with very little training – they are that intuitive.
Our old setup consisted of three fixed camera positions in the middle of our sanctuary, each on its own 8' x 8' platform. Once the tripod and camera operator were added, the line of sight for anyone behind the cameras was clearly obstructed. While the new cameras are in the same spot, they are mounted on static pedestals 8-feet off the ground and permanently mounted, keeping lines of sight nice and clean, with a fourth movable camera on stage. These cameras are used for both IMAG and streaming of our morning services. The fifth is being used in our student auditorium, where our evening service and student ministry events are held, along with other ministries during the week. This solo camera is primarily used for streaming and program feeds to other parts of the building.
Panasonic's camera systems have been a very versatile tool for us. Our camera operators have caught on quickly and really enjoy the ability to customize the user experience, as well as the ability to quickly jump between pre-programmed shots and moves. HD Crop is a feature on the cameras that we are excited to use. It allows a 4K UHD image to be sent out along with three separate FHD 1080/720 cropped signals. This is super useful for panel events that we host. We can use the one camera to produce three different video shots and still be able to manipulate the three 1080/720 signals within the 4K frame. Images shot in 4K can be
output in their entirety while simultaneously cropping parts of those images. The cropping position can be specified from a maximum of three locations to enable simple operation from the AW-RP150 remote camera controller, a web browser or other operations screen.
Historically, Denton Bible Church had needed three camera operators to pull off the Church's three Sunday services, along with our midweek events. With the new camera system in place, our volunteer operators are able to show up prior to service, review the notes for the day and check the configurations on their control surface. Additionally, Panasonic's RP150s remote touchscreen camera controllers allow the volunteers to output multiple resolutions, control them via a webpage and capture multiple shots from one camera, which they utilize with the different speakers and panel events they host. The timing of our purchase couldn't have been better.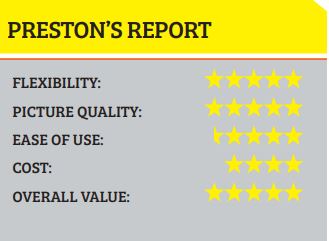 Shortly after we added the cameras and controllers, the pandemic hit. Instead of being caught with an old, sub-par SD broadcast system in place for our socially distanced live-streamed worship, we instead had our new HD setup running. We could never have imagined when we first started the process that this upgrade would become so important to our church worship so quickly. We quickly added a broadcast suite with separate audio mixing and video switching capabilities, and the new streaming capabilities allowed us to add a new weekday series as well, allowing us to reach approximately 6,000 viewers weekly, more than we were seeing with our in-person live services.
Preston Fuqua is the Technical Director at Denton Bible Church in Denton, TX. He oversees the AVL staff and volunteers for weekly services and events, along with the maintenance and upkeep of all technical systems.