FEATURED PRODUCT: RUSHWORKS PTX Model 3 PRO Pan/Tilt Head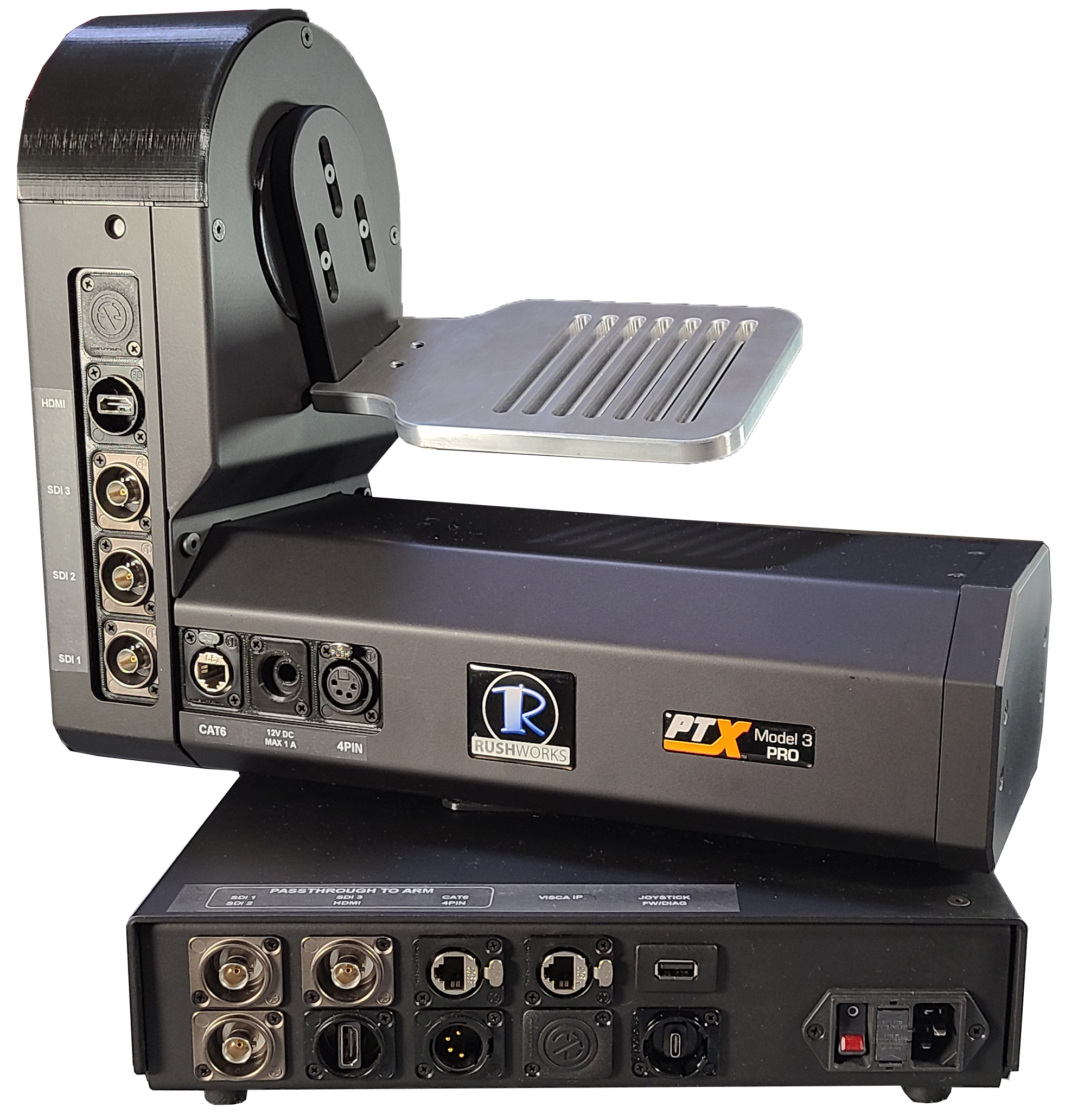 The PTX Model 3 PRO pan/tilt head is the larger, more powerful and versatile successor to the company's PTX Model 1, Model 1L and Model 2 heads that have been marketed worldwide since 2017. Due to supply line uncertainties and materials shortages, we elected to design and manufacture the PTX Model 3 PRO from the ground up. Now built in Texas, USA, this head addresses the expanding need for a more robust platform capable of handling dimensions and payloads of cameras and lenses from virtually all manufacturers.
To maximize compatibility with a wide range of PTZ controllers, the PTX Model 3 PRO uses VISCA over IP communications protocol, extracting pan and tilt-related commands for controlling speed and direction. This assures that even non-technical volunteers will be able to operate it right out of the box. All joystick and presets incorporate smooth speed ramps that simulate what you expect from a skilled operator using a camera on a high-quality fluid head.
Whisper quiet operation and precision are the foundation of the design and operation, which makes the PTX Model 3 PRO the ideal choice for worship areas where extraneous equipment noise can distract from the message. This is achieved by carefully tuned motor control of the two big stepper motors that control the pan rotation and tilt plate positioning.
The unit is made of steel and aluminum, with carrying handles on either side, and four rubber feet for flat surface mounting. It also has three equally spaced 3/8" tapped holes in the bottom for balancing your camera/lens payload using the appropriate hole for a heavy-duty tripod with a 3/8" threaded screw on a flat plate. The PTX Model 3 PRO weighs 43 pounds, designed to safely support your expensive camera and lens investment during production.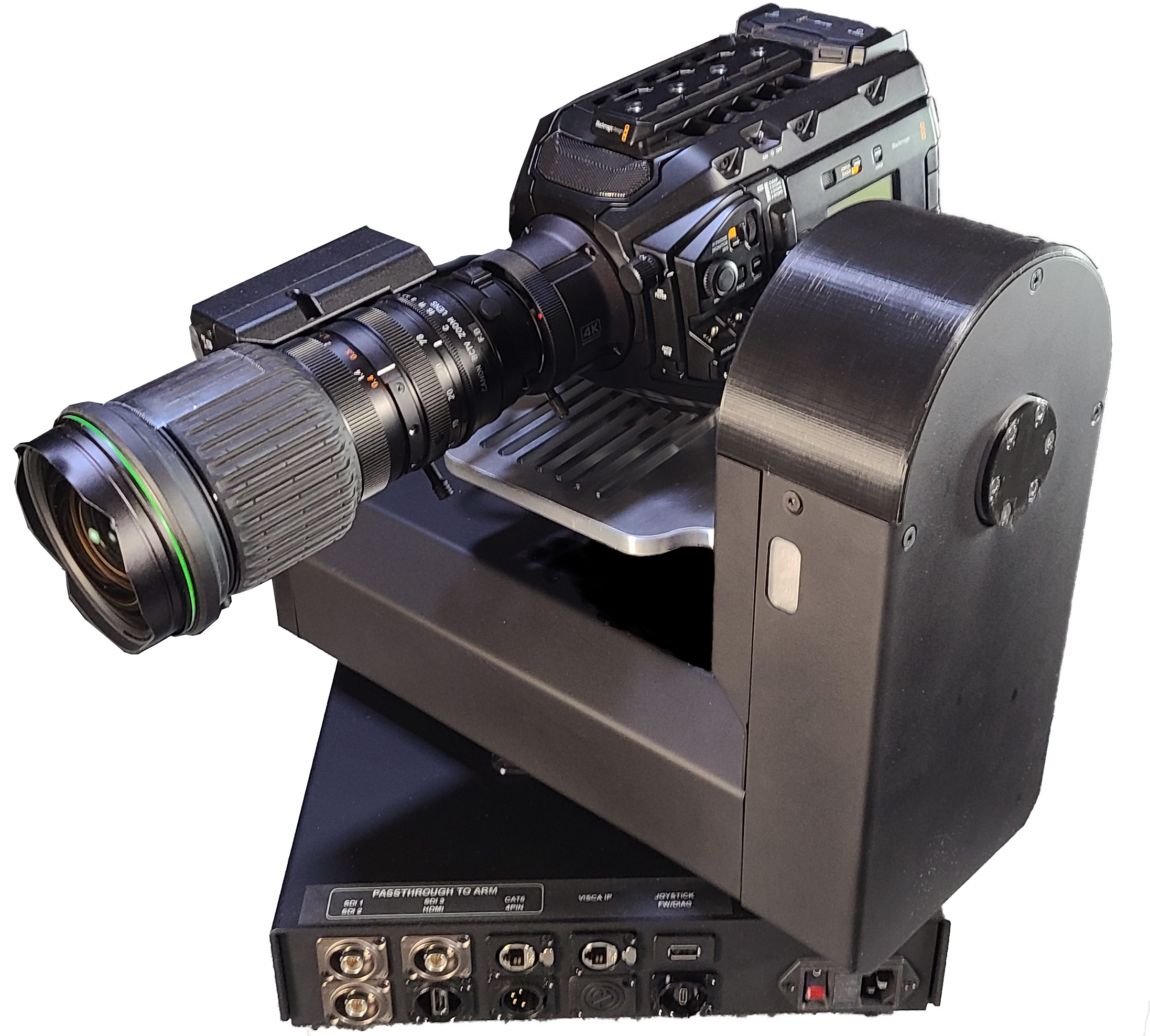 A Rigging and Mounting Accessories sheet is available to place orders for a steel safety cable, steel eyebolts for the safety cable, a baby to 3/8" male threaded adapter, a baby pipe clamp for 1.5" to 2" pipe, a ceiling mount for a pipe arm extender for inverted operation, and a heavy-duty tripod with 3/8" mounting thread.
Base connections provide six passthrough chassis mounts to the vertical pan arm of the fixture. They include SDI 1, SDI 2 and SDI 3, HDMI, CAT6, and a 4-pin connector for powering some cameras. Also on the chassis are a Network IP connector, a system reset button, a USB joystick connector, and a USB port for updating firmware and diagnostics, an on/off power switch with active LED, and an AEC male power cord receptacle.
Connections on the vertical pan arm include the passthrough connectors for HDMI, SDI 1–3, the CAT6 connector, 4-pin power connector, and a 12V DC output that provides power for cameras requiring up to 1A of voltage. There is also a bright LED with red diffuser for Tally On/Off display.
Available now. Learn more here.