ADJ Expands Lime Par Series With Compact & Punchy Encore LP5IP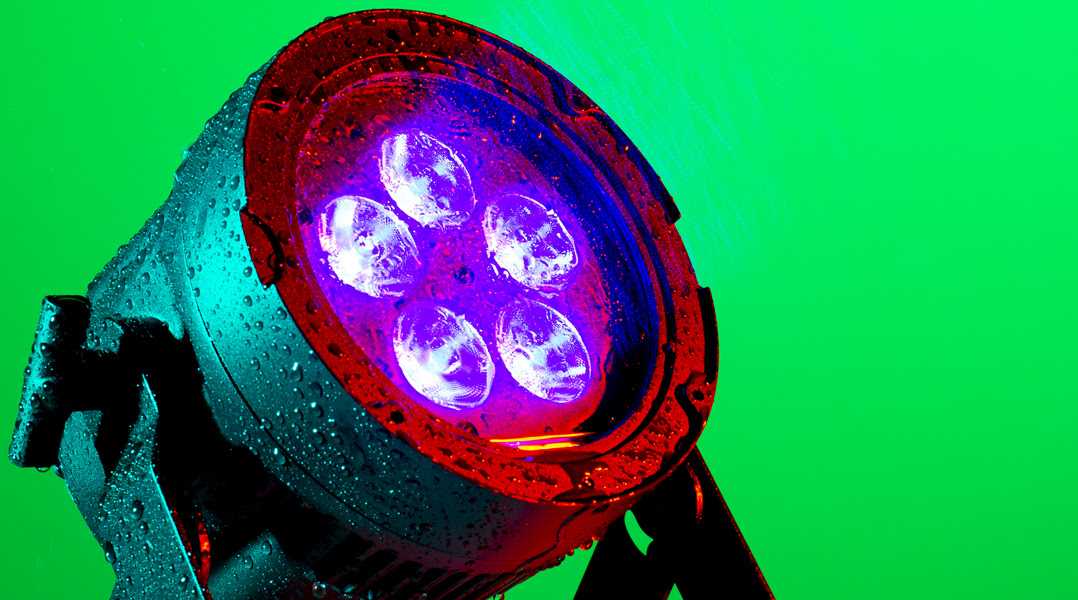 Launched earlier this year, ADJ's Encore Lime Par Series of fixtures all feature the same potent quad color (RGB + Lime) LEDs. This ensures perfectly uniform color mixing when different fixture types are used together within a lighting design. Each model also has the same style of robust IP65-rated casing but features a different number of the LEDs. Following the original introduction of the Encore LP7IP, Encore LP12IP and Encore LP18IP models – with 7, 12 and 18 LEDs, respectively – the range has now been expanded to include the new Encore LP5IP model – which features five LEDs arranged into the smallest fixture in the series.
Each LED is rated at 20-Watts and combined in multiples they generate a potent output with an even, soft-edged beam. Through precise 16-bit dimming control over the four primary LED colors – red, green, blue and lime – the fixtures are able to generate a large gamut of colors and hues. The inclusion of the lime LED chip helps certain colors to appear more vivid and also boosts the CRI to an impress 86.2.
In addition to full RGBL color mixing control, the Encore LP5IP features 64 built-in color macros, 5 preset white color temperatures and linear color temperature control (between 2700K and 7000K) to aid with quick setup and programming. It also offers an adjustable refresh rate (14 presets between 900 and 25,000Hz) for flicker free operation when used for video recording and broadcast as well as 6 selectable dimming modes (Standard, Stage, TV, Architectural, Theatre & Stage 2) and 4 selectable dimming curves (Linear, Square, Inverse Square & S-Curve). In addition to smooth digital dimming, the fixture also offers strobe and pulse effects at variable speed.
The Encore LP5IP offers a concise 9.6-degree native beam angle, which allows for a punchy output of vibrant color. However, it is also supplied with a 25-degree frost filter, which clips neatly and locks securely over the LEDs, allowing the beam angle to be easily enlarged for applications where a wider wash of light is required. In addition, a comprehensive collection of additional lenses are also available as optional accessories. 20, 60 and 100-degree frost filters are available, as well as two LSF (Light Shaping Filter) options: 30×60-degrees and 1×40-degrees.
Featuring an IP65-rated enclosure, the Encore LP5IP is specifically designed for temporary outdoor use as well as for temporary use or permanent installation indoors. Its sealed design means that its LEDs and internal electronics are safely protected from liquid, dust, and moisture. This not only makes it ideal for use on outdoor stages and for outdoor event illumination, but also for use indoors, with protection from split drinks, dust/debris, and smoke/haze residue. The fixture has a tough aluminum construction with a durable black powder coated finish and tempered glass covering the LEDs. It is supplied with a heavy-duty dual yoke, which locks securely into place on both sides with substantial bar handles and can be used either as a floor stand or hanging bracket.
The fixture offers a choice of six different DMX channel modes (4, 7, 8, 10, 13 or 16) to suit the needs of different applications and supports the RDM (Remote Device Management) protocol, which allows fixtures to be addressed remotely by compatible control equipment. An easy-to-use menu interface for DMX addressing and mode selection is also facilitated on the fixture itself through a 16-character backlit LCD display on the rear panel. The menu is navigated via four push buttons and is intuitively designed to make setup and alteration of operating parameters extremely quick and easy. The unit features IP65-rated 5-pin DMX input and output sockets as well as locking power input and output connections, which allows for the power supply for multiple fixtures (up to 21 at 110V / 44 at 240V) to be connected to a single outlet. These sockets all feature rubber caps to offer protection from moisture and particulates when not in operation.
Despite its robust metal construction, the Encore LP5IP's compact dimensions of 5.92" x 8.23" x 10.06" / 150.48mm x 209.00mm x 255.40mm (L x W x H) ensure that it is an easily transportable fixture, with a weight of just 5.3 lbs / 2.4 kgs. Large heat sinks around the outside of the casing allow the noise created by the fixture's cooling fan to be kept to a minimum, while a Quiet Fan mode reduces this even further for theatrical applications which demand near silent operation.
In addition to the other previously available Encore Par models – the Encore LP7IP, Encore LP12IP and Encore LP18IP – the Encore LP5IP will also soon be joined by complementary panel and bar fixtures. Debuted at the recent Prolight+Sound trade show in Frankfurt, Germany, the Encore LP32IP is a panel wash fixture which features 32 LEDs arranged in a 4 x 8 matrix and divided into 8 separate zones and the Encore LB15IP is a linear fixture featuring 15 independently controllable LEDs.
"The initial three Encore Lime Par models were extremely well received and the new LP5IP model is the perfect expansion to the range," comments ADJ USA's National Sales Manager, Alfred Gonzales. "It offers the same high output RGBL color mixing LEDs, with their vibrant output and high CRI, but packaged into an exceptionally compact fixture. This is ideal for small stages, venues with low ceilings and to fit inside square truss to serve as truss warmers. The consistency of LEDs across the growing Encore Lime range means that rental houses and production companies can stock multiple fixture types and use them interchangeably, and in any combination, to deliver perfectly uniform color washes, something that we know will appeal to many customers."
Shipping of the Encore LP5IP began at the start of May 2022, from both ADJ USA and ADJ Europe.
To find out more about the Encore LP5IP visit:
www.adj.com/encore-lp5ip