Zylight Upgrades Product Line for NAB 2013
LOS ANGELES – March 26, 2013 – Zylight, a leading manufacturer of innovative LED lighting solutions, will debut new accessories and configurations for its current product line, formally introduce its F8 LED Fresnel, and announce lower prices on select products at the 2013 NAB Show (Booth C5446), which runs April 8-11 in Las Vegas, Nev.
The IS3c LED light, an updated version of Zylight's acclaimed IS3 large panel cyclorama and beauty light, now ships with a custom soft box produced exclusively by Chimera for Zylight. The fully dimmable IS3c is a wide, high-output soft light with built-in controls for adjusting color temperature, color correction, and Zylight's Color Mode, which produces millions of colors without gels or filters.
"We've made some software improvements, but the big difference our customers will see is the Chimera softbox as part of the package," said Charlie Collias, senior vice president, worldwide sales. "The IS3c is great for many setups, but some beauty shots require the diffused uniform light you get from a softbox. That's where this new standard configuration really shines – the new IS3c provides the versatility to handle studio cyc wall washing as well as productions where a large soft light source is needed."
Zylight will also unveil an optional travel case for its compact Z90 LED light. Available in DV, ENG, and DP configurations, the new case features custom foam cutouts for secure storage of the Z90 and its accessories. The versatile Z90 can instantly switch between daylight and tungsten, and offers full Color Mode output with separate hue and saturation control.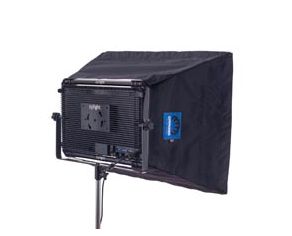 After showing a proof of concept at the NAB Show last year, Zylight will formally introduce its 2013 F8 LED Fresnel in tungsten (3200K) and daylight (5600K) versions. For easy transport and storage, the rugged F8 collapses to less than four inches thick. It is also water resistant (IP54 rated) for use in challenging environments, and can be powered by a worldwide AC adapter or standard 14.4V camera battery. The fully dimmable F8 is also equipped with an eight-inch SCHOTT glass lens, maintains traditional Fresnel beam shaping, and offers a patented focusing system for spot and flood operations.
To help introduce the F8, two invited speakers will share their shooting experiences at Zylight's NAB booth. On Monday, April 8, at noon, Boston-based DP Tom Guilmette will discuss how the new Zylight F8 performed in the unforgiving weather conditions at the top of Mount Washington. Matt Kearney, vice president of Fastec Imaging, will show how his company's ultra-portable TS3Cine high-speed handheld camera works with Zylight's flicker-free LED lights on Tuesday, April 9, at 1 p.m.
Zylight will also debut new lower pricing at the show. The new IS3c with custom softbox has an MSRP of $2,699, while the Z90's MSRP has been reduced to $935. The new custom Z90 travel case has an MSRP of $279 and will be available in May. The F8 has an MSRP of $2,400 and will ship in June, but NAB attendees can receive a $200 rebate on all F8 orders through May 15.
www.zylight.com