Yard Master Sport Is An Ultralight 4-lb. Projection Screen That Can Be Free-Standing or Wall-Mounted for Indoor/Outdoor Presentations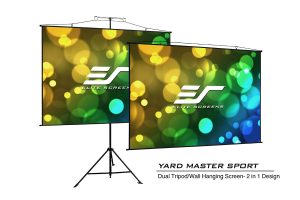 The Yard Master Sport by Elite Screens is a lightweight, versatile, portable projector screen that has a 2-in-1 "free-standing" or "wall-hanging" design. Its ultra-light (4-lbs) design comes to about half the weight of other portable screens. It is also ideal for either indoor or outdoor presentations.
Free-Standing Configuration
The tripod support adjusts to provide a stable base. Its telescoping upright design provides variable height settings.
Wall-Mounted Configuration
The design features a 2-piece screen & upright support design that may be separated from one another. The screen material itself may be detached and hung independently on the wall.
Lightweight for Indoor/Outdoor Presentations
The Yard Master Sport is an ultralight projection screen that weighs in at 4-lbs (1.8-kg). It is easy to transport and set up for either an indoor or outdoor presentation.
For more information, please visit www.elitescreens.com.