Yamaha Unveils World's First Earphones with Beta-titanium Sound Tubes to Deliver New Level of Comfort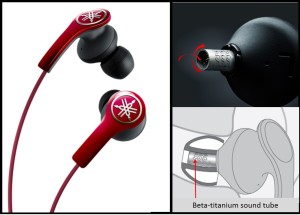 Yamaha today introduced the EPH-M200 earphones, the world's first with sound tubes made from highly flexible beta-titanium material that enables them to conform perfectly to the shape of the listener's ear canals for unprecedented comfort and sound quality.
The beta-titanium material, a uniquely strong and lightweight alloy typically found in high-performance goods ranging from eyewear to surgical implements, is cut with a high-precision laser to give these earphones their high degree of flexibility. The EPH-M200s also employ large-caliber dynamic drivers within spacious, acoustically ported housings to deliver exceptionally clear, full-range audio reproduction.
"For in-ear headphones, getting just the right fit is critical to providing both comfort and amazing sound—they go hand-in-hand," said Bob Goedken, general manager, AV Division, Yamaha Corporation of America. "The innovative sound tubes used in the EPH-M200 are a perfect example of how Yamaha applies innovation to deliver the best listening experiences to music lovers."
Yamaha also introduced the EPH-M100, a more affordable version that employs the same housing design and large-caliber driver size as the EPH-M200. The EPH-M100 comes with special ear tips made from two types of silicone, with a serrated design on the inside that helps the tip retain its shape when inserted into the ear canal.
Both the EPH-M200 and EPH-M100 models come with in-line remotes and mics compatible with Apple® iPods®, iPhones® and iPads®. The EPH-M200 also has a premium cord that reduces tangling and friction noise.
The newly-developed drivers for the EPH-M200 and EPH-M100 models employ neodymium magnets for efficiency, as well as Yamaha's tangential edge technology that combines stiffness and flexibility in a unique shape to produce optimal diaphragm movement. Both models come with a carrying case, a ¼" adapter, and a choice of five different ear tip sizes for a custom fit.
The EPH-M200 is available in three colors: Adrenaline Red, Piano Black and Ivory White. The EPH-M100 is available in Racing Blue, Piano Black and Ivory White.
For more information, please visit http://4wrd.it/YAMAHA_EPH-M200_M100.
Pricing and Availability
The Yamaha EPH-M200 and EPH-M100 earphones will be available in November for MSRPs of $149.95 and $99.95, respectively.