First Baptist Church Of El Reno Brings Versatility To Worship Stage With CHAUVET Professional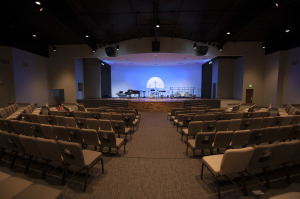 Many of the worshippers at First Baptist Church of El Reno are very aware of their church's rich history; as well they should be. Founded on October 12, 1890, when twelve people gathered to worship in what was then still the Oklahoma Territory, this dynamic house of worship, which now counts close to 600 members in its congregation, is one of the oldest and most storied in its state.
Powered flight, the automobile, radio, television, space shuttles, the Internet and countless other changes have altered the course of history since those dozen worshippers gathered in central Oklahoma on that October day, but through it all First Baptist Church of El Reno has remained relevant to the everyday lives of its members.
This is evident in the church's calendar, which includes things like "Parent's Night Out," an event that allows couples to drop their children off at church so they can catch up on errands or enjoy a dinner together. It's also very much on display on the church's stage, which was designed to make worshippers feel at home in traditional and contemporary services, thanks in part to some flexible LED fixtures from CHAUVET Professional.
"The church wanted a lighting system that would help engage all worshippers in its services," said Robert Rogers of Audio\Video Designs (Moore, OK), which installed the fixtures. "They were looking for lighting that could provide warm comforting colors for traditional services with a choir and then stretch things out a bit for the contemporary praise band services with bolder colors and zooms."
Rogers and the Audio\Video Designs team helped the church achieve this flexibility by installing 10 of CHAUVET Professional's COLORado 2-Quad Zoom Tour fixtures upstage and another 10 units downstage in the church's worship area. High-output par-style fixtures with a digitally or manually controlled zoom range, five dimming curves and color temperature presets from 3200K to 10000K, the COLORado 2-Quad Zoom Tour fixtures have been particularly adept at moving from subdued traditional service lights to more impactful contemporary fixtures.
"We've been very impressed with the zooming capabilities and the user-friendliness of these fixtures," said Rogers. "The zooming ability of these fixtures is very impressive and very important to creating the presentation wanted at contemporary services.  We run everything in DMX, plus we have some preset zooming programs. The volunteers love the preset zooming because it takes a lot of pressure off them."
The zoom capability of the COLORado 2-Quad Zoom Tour has been so impressive that the church has been able to use them almost as projector fixtures, according to Rogers. "There is a 42' wide by 20' tall curved white screen behind the stage," he said. "We have three projectors on this screen. Sometimes we'll turn off two of those projectors and zoom in on the screen with the vividly colored light of the COLORados.  The whole thing is very dramatic.
"Another thing we'll do is project white gobos from ellipsoidals on the blue light from the COLORado," continued Rogers. "The light is so bright that it really makes the gobos pop, adding a nice extra dimension to the contemporary services. This is just one of the many ways that the new lighting system gives the church more flexibility – and more ways to engage people."
For more information, please visit www.chauvetprofessional.com