WHERE ELSE BUT SUMMER NAMM, MAY I ASK?
Where else can one play a Baldwin "Zebra Piano" featuring "white keys" that are red, and "black keys" that are black and white? I mean where else on earth can you see a $20,000 flute and a few aisles over pluck an upright bass made from a cardboard box and Weed Eater string, an "instrument" that has "proven sonically to be the equivalent of an upright bass costing thousands"? Tell me, where can you round the corner from every Mel Bay book known to mankind and then bump into Cookie Monster and Bob from Sesame Street? Only at Summer NAMM 2008, of course – a place where you can only look, but you cannot buy. (Would someone please call my wife and confirm this fact for her?)
NAMM is, indeed, a musician's paradise, one that allows equipment dealers (and trade media) to see the latest and greatest musical wears and interact with people like Hartley Peavey and Bob Taylor whose equipment bears their name. Dealers go home, order merchandise and publish those sparkling product photos. We return to our humble abodes and drool over their Christmas wish books (and some of us publish their product reviews).
The last time Nashville hosted Summer NAMM was 2004. The event moved back to the country music capital from Austin, Texas. As we did four years ago, my friend, guitar picker extraordinaire, Larry R. Fail, and I loaded up from our homes in L.A. (Lower Alabama) and headed to the capital of barbecue and country music, again to enter the doors of the Sommet Center in downtown Nashville (the former Gaylord Center). Was it ever fun!
Summer NAMM often gets the reputation as "the world's largest guitar show" because of its wall-to-wall goodies for pickers and grinners. But make no mistake, there is something for every musician and wannabe instrumentalist; it just requires a little more calculated walking.
And for the record, NAMM doesn't end when it ends. After the show wrapped up on Saturday afternoon, we took a trip to a Nashville recording studio a few miles away, located across the street from the Country Music Association (CMA). There, Yamaha and Steinberg jointly introduced new studio recording gear. Again, I ask: where else can you meet the Japanese engineers who design such equipment? After that fun, we took a trip back downtown to the historic Ryman Auditorium to take in The Muriel Anderson All Star Guitar Night.
Yes, you can see it all in Nashville, including the billboard we couldn't believe across the street from the Ryman promoting Def Leopard and Poison concerts slated for the days after NAMM ended. Country music legends Minnie Pearl and Ernest Tubb sure wouldn't agree with everything going on in Nashville, but you've got to believe they most certainly would have liked the line-up of incredible music gear at Summer NAMM, not to mention meeting the fabulous equipment makers. Larry and I sure enjoyed ourselves.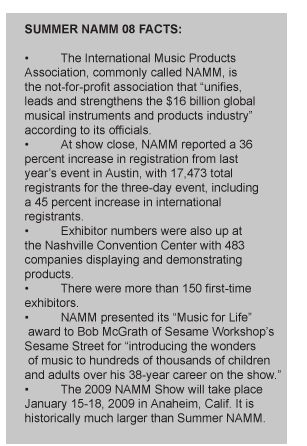 A TRIP DOWN MEMORY LANE
Have you ever had a time when a mere sound sent you spinning back years? That happened to me at Summer NAMM. Walking an exhibit hallway clamored with the deafening whaps and whops of digital drums and grating grinds of acid guitars, I picked out a sound that I'd not heard in years – more of a style than a sound, actually. It catapulted me back years, to a south Alabama town where I grew up – where Saturday morning festivals often featured an organ, or more accurately said, an organist seated at an organ centered on a flatbed trailer, parked front center of a stately courthouse that looked like a scaled down version of the U.S Capitol.
This time the peppy strains of Southern Gospel music played on an organ drew me inside a room at NAMM marked "Roland". There I saw something I'd not seen in more than three decades: the fancy footwork of an organist who could dust off two tiers of keys and a pedal board effortlessly, with refrains that seemed to touch the center of my soul. It made me smile, just as it did as a kid on the courthouse steps in the 1960's.
To my dismay, however, I'd gotten in on the very end of the presentation of the Roland Music Atelier AT-900C (pronounced ah-tee-lee-aye), but Chuck (as I could read from his Roland name tag) saw my interest and began to chat.
"Excuse me just a minute," he said, escaping to a back room for a split second, returning with a small black case full of USB jump drives. He pulled one out toward the top center of the case and plugged it into the front of the organ.
"Grab a set of headphones," he said, pointing to two sets that were lying on top of the organ. "I'll put on the other," he said, as he adjusted the volume for both of us.
Chuck began to play the old Bill Gaither tune, "The King is Coming". He started simply, as a child would play at his first recital. Then the music began to quickly build. Did it build! Later I'd find out that only the drum track had been sequenced (or recorded on the jump drive), everything else was played live: trumpets, pipes, choirs, large and small – yielding an eloquent combination of – well, the Boston Pops, you could say, mixed with an infamous pipe organ and choir of, maybe the Crystal Cathedral, and most certainly played with the vigor of a Gaither Homecoming video. As I saw the fancy footwork, I mumbled to myself, "This guy is the real deal." Following this man's fingers and feet were like watching a world-class fireworks show on the Fourth of July.
Then, with a rousing crescendo, the music ended. I pulled off the phones and so did he. "Wow," I said. "Great instrument, but an absolutely masterful player, AMAZING!"
"Terry, I used to play for a group called the Imperials," he said. "Ever heard of them?" "Why yes," I said with a big smile. I glanced a little closer at his name badge. Chuck Wright. He explained that he'd not long moved to Nashville, a return to the city actually, where at age 17 he began playing gospel music full time for Southern Gospel legend Rosie Rozell and later for The Imperials, Andrus Blackwood and Company, and Pat Boone's oldest daughter, Cherry Boone O'Neil.
While we had to end the display floor chat early because of other NAMM attendees waiting in the wings, we didn't lose a beat of the conversation, thanks to follow up e-mail and telephone chats. I had to find out more about the Roland Music Atelier and Chuck.
About the organ, Chuck explained the lower keyboard on the Music Atelier has 76 keys (compared to a traditional organ's 61) and features a sustain pedal that allows one to play in a typical piano style with a waterfall keyboard that resembles a piano keyboard and has the sound of a 9' concert grand.
"You can also split the lower keyboard into three different sections, a feature typical of a keyboard, but not an organ," he explained. As for the magical footwork?
"On the Music Atelier you can assign all the sounds from either of the two keyboards into the pedal keyboard. At times, I may be playing in a piano style from the lower keyboard and playing 3-4 note vocal ensembles with my feet on the pedal keyboard.
"Using another style, sometimes I assign a piano sound into the pedal keyboard, where I am playing two pedals at once, playing in 10th's, creating a stride piano style along with a piano sound on the lower keyboard, freeing up my right hand for a totally different sound, like maybe a steel guitar where I can control the bending of the pitch with a pitch bend wheel."
One can play this instrument like a traditional organ with all of the traditional pipe organ samples or gospel organ sounds with physical onboard drawbars or H-Bars as it is called on the Atelier.
"However for me," Chuck says, "the organ sounds become secondary with the vast array of orchestral instruments available. Playing this instrument has opened up a whole new world of creativity for me and has allowed me to do things I would never be able to do on a typical keyboard or an organ," he said.
The Music Atelier appears to be the perfect answer for the church seeking the traditional organ look but desiring the sounds of an orchestra or a praise and worship band, without consuming massive sanctuary space, a point that Chuck laughs about.
"Today, a group taking a live band on the road, is a thing of the past. While the singers today carry the 'band' under their arm with music tracks, I'm carrying in my 'singers' and the rest of my 'band' with the Music Atelier and it's all live! It's a fun contrast."
And one that audiences across the nation are enjoying, including the congregation at Victory Baptist Church, Mt. Juliet, Tenn., where Jim Murray is minister of music. Murray sang with the Imperials when Chuck played for the group.
"Chuck is not only a great friend, but he brings a unique personality and energy to our services when he plays. He recently gave a concert in our church using the new Roland Atelier. Our people really enjoyed the professionalism with which he played the instrument. Here we are 30 years later, enjoying working together again."
For Chuck, this instrument has rekindled a musical dream. "First and foremost, don't let anyone steal your dream! When I was a kid, my buddy who had introduced me to gospel music said, 'You don't stand a chance to play for a gospel quartet. Piano players are a dime a dozen.' All I can say is, I'm glad I didn't listen to him!" And secondly, Chuck advises, find a tutor.
"The only piano training I had was at the Stamps School of Music. My tutor was Tony Brown, who at the time, played for J.D. Sumner and the Stamps Quartet and later, went on to play for the Blackwood Brothers, Oak Ridge Boys and Elvis Presley. One couldn't dream of a better tutor than Tony Brown!
"Also, start networking with people in the field that you want to pursue. It's great to have artist influences, but develop your own style and uniqueness. Next to desire, most important is having the right spirit about you and God will open doors."
Terry Wilhite, a longtime contributor to TFWM, specializes in fried pork rinds, barbecue ribs and instruments made from cardboard boxes, making him the ideal columnist to cover this event for us.