Wham City Lights For Your Holiday Service
Wham City Lights App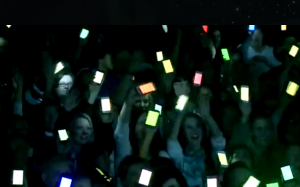 Wham City Lights is proud to present a new app update to be launched on November 21st. Available in the App Store and the Google Play store for all iOS and Android devices. This app update will allow for more interactive user experiences. Wham City Lights is an application that allows you create beautiful and interactive lightshows on your audience's smartphones.
The app update provides improved synchronization and new features: the One Pixel Camera and the Light Painting. Our new pixel camera focuses in one color from the camera and blast it onto the screen. The light painting feature reduces the exposure and creates a live feed that focuses only on the brightest lights. Both additions to our application ensure an individualized and fun component to the lightshow. With our new app redesign you can explore the world around you through curiosity, light, and color.
Christmas is soon approaching, Wham City Lights provides an uplifting connective moment for any congregation. With our technology, everyone is invited to enjoy and experience the lightshow through their own phone. Lightshows are an exciting, creative tool to interact with the audience while bringing your live event to another level of entertainment. Each lightshow can be specifically tailored to the phone-choreography that you are seeking. Our lightshows offer wide range of color palettea, LED flash, vibrations, as well as our new user interface app upates.
Wham City Lights is free to download. Packages for congregations start at $49 and increases depending on the size of your church and the experience you would like to deliver to your audience. Every package can be accommodated to your community's needs to create a unique and memorable moment during the holiday season.
If you'd like to learn more, email us at TFWM@whamcitylights.com or visit our website!